World's Best Vegetarian Omelette, for a healthy and happy start of your day. It is too easy to make, and the secret to an absolutely great omelette is using fresh ingredients. You'd be surprised how this omelette tastes like a restaurant one. Low carb, gluten free recipe.
I might be able to skip lunch or dinner, but l can't possibly start my day without breakfast. I'm like an engine that does not work without fuel. An omelette is filling and gives you the energy you need to get going.
This recipe makes one big portion, in case you are really hungry, or share it with one more person, and it's still a filling and delicious breakfast. Omelettes are so easy to make and only require a few unexpensive ingredients, but, of course, you can adapt this recipe to your own taste.
Also, some people like egg white omelettes only, in which case you separate the yolk from the white and follow the same simple steps. It might not be as easy to flip it over, and the omelette is likely to stick to the pan though, so make sure you add plenty of butter, and perhaps less vegetables, to make the omelette lighter.
How TO make a good vegetarian omelette
Making an omelette is super easy, but you need ONE GOOD NON-STICK PAN if you want your omelette to look good, and not like scrambled eggs. Moreover, always grease the pan, whether with oil or butter, just a small amount would do, otherwise it will stick to the pan big time.
Crack and add the eggs to a bowl, beat them with a fork and season with salt and pepper.
Once the butter is melted, add the beaten eggs, and spread over evenly, tilting the pan to ensure you get the same thickness.
Leave to cook undisturbed until the edges start to cook, but there is still raw eggs in the middle. Now you can add your toppings, then carefully flip the omelette over with a spatula, and leave to cook on the other side.
And that's your omelette! Easy, right?
What can you add in omelettes?
The answer is pretty much anything you like. Cooked bacon, cooked chicken, cooked any other meat, salmon, or any fish you like. Then we have veggies, spinach, kale, arugula, mushrooms, tomatoes, onions, garlic, peppers, zucchini, and the list is endless.
Grated cheese is just amazing, parmesan, cheddar, gouda, again, whatever you have in the fridge. Just make sure you don't overcrowd the omelette, as it won't be easy to flip it over to the other side.
My 2-egg and veggie omelette has 279 calories, so good healthy breakfast to fuel you up with energy. For some more healthy breakfast ideas, how about my egg muffin cups?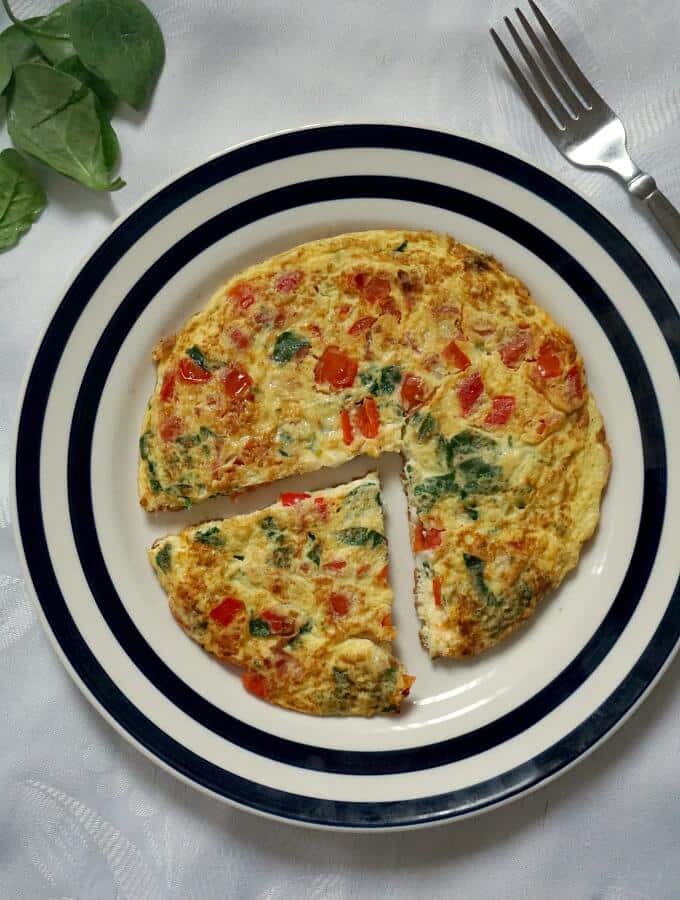 I probably mentioned it before, by my parents live in the countryside. Oh, heavens above, that is the real life! Everything is fresh and healthy, chickens running everywhere eating grass to their hearts' content. And, as we know, happy hens lay happy eggs, right?
I must say that whenever I buy eggs from the supermarket, I always go for the free range ones. I want to think they are a tad healthier than the eggs coming from caged chickens. Although, I would not be surprised if they are as unhealthy.
God knows what these birds are fed, as long as the producers' pockets are full at the expense of the poor consumer. But hey ho. Looking for some more breakfast ideas? What about some Fluffy Scrambled Eggs with parmesan? They are some seriously nice eggs.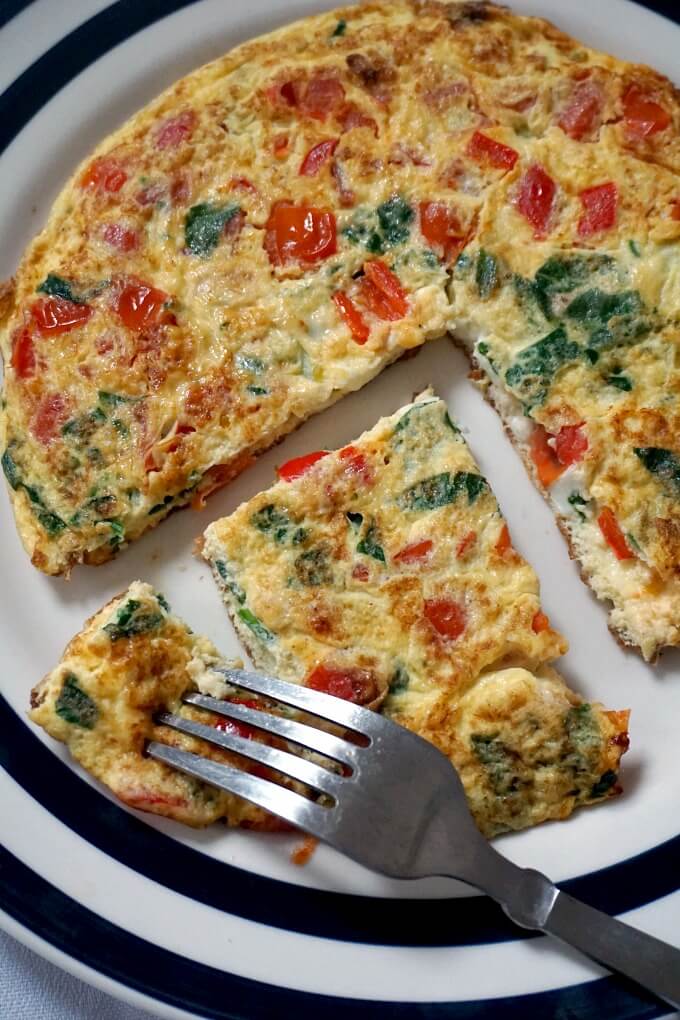 If you've liked the VEGETARIAN OMELETTE or any other recipe on the blog then don't forget to rate the recipe and let me know how you got on in the comments below, I love hearing from you! You can also FOLLOW ME on FACEBOOK, and PINTEREST to see more delicious food and what I'm getting up to.
World's Best Vegetarian Omelette
World's Best Vegetarian Omelette recipe for a super healthy and so delicious breakfast. This is not an ordinary omelette, but the very best.

Keyword:
vegetarian breakfast
Ingredients
2

large eggs

1/4

red pepper, chopped

1/4

cup

Cheddar cheese, grated

a few leaves of fresh baby spinach

2

cherry tomatoes, chopped

salt and pepper

1/4

tsp

butter
Instructions
Cut the cherry tomatoes, red pepper and spinach leaves.

Melt the butter in the frying pan.

Beat the eggs with a fork and season with salt and pepper.

Add the mixture to the pan and spread it out evenly. When it starts to firm up, but still has a bit of raw on top, add grated cheese and also the cherry tomatoes, spinach, and red pepper.

Using a spatula, ease the edges and quickly turn it over onto the other side.

The other side will cook a lot quicker, it only needs about 1-2 minutes.

When it is done, place a large plate on top of the pan and flip the omelette as fast as you can.
Nutrition Facts
World's Best Vegetarian Omelette
Amount Per Serving
Calories 264
Calories from Fat 171
% Daily Value*
Fat 19g29%
Cholesterol 360mg120%
Sodium 314mg13%
Potassium 258mg7%
Carbohydrates 4g1%
Protein 19g38%
Vitamin A 1856IU37%
Vitamin C 46mg56%
Calcium 253mg25%
Iron 2mg11%
* Percent Daily Values are based on a 2000 calorie diet.
Save