Healthy Banana Muffins, a delicious afterschool snack for older kids, but also great for babies and toddlers. The muffins have no refined sugar added, their sweetness coming from the mashed banana.
Feeding our kids can be pretty overwhelming sometimes. From the moment you start the weaning journey, you constantly worry about the quality and quantity of food that is offered to them.
Later on, when they discover the sweet taste, it becomes quite though to still get them to eat healthy food, and that's when the hunt for healthier recipes starts.
With my first daughter I started the traditional way with pureed food, and she was not really the best eater ever. By the time I had my second, I relaxed a bit and I started with the baby led weaning, which proved to be a lot less stressful, and a lot more successful.
Unlike her older sister, little one is not very keen on the sweet taste, and prefers vegetables and some fruit. The ideal baby, isn't it? Although l must say they are both ok with cooked food, and meal times are easy peasy most of the time.
The struggle comes when kids reject any new food you offer, and prefer the same dishes over and over again. Thank God for pasta and rice, otherwise I would be completely lost.
And although the main meals are pretty good, I still want to offer them healthy snacks in between meals. And that's when these muffins come to the rescue.
They have absolutely no refined sugar added, not even brown one, which people swear is healthier (is it, though?), and I did not sweeten them with honey or maple sugar either.
If you really want to go for honey though, please be mindful that honey is a big no no for children under one year, but the older kids can safely consume it.
But they are just perfect if you choose a well-ripen banana which is naturally sweet. Mash it with a fork, and add it to the other ingredients, and you get the best muffins ever.
As a grown-up I might think they are not sweet enough for my taste, but that's because I am so used to the sweet taste, where a baby can't tell the difference. This is way is so important to avoid added sugar for as long as possible, so that they can get to appreciate the real taste of the food.
With salt it's exactely the same thing, we tend to add way to much salt to our food, and find the unsalted food tasteless, but for a tiny little child salt can only do harm, and they are more likely to acept the food the way it is.
You can add any pieces of fruit to the muffins, nuts or seeds for extra goodness (again, careful with bigger pieces of nuts, as kids can choake on them).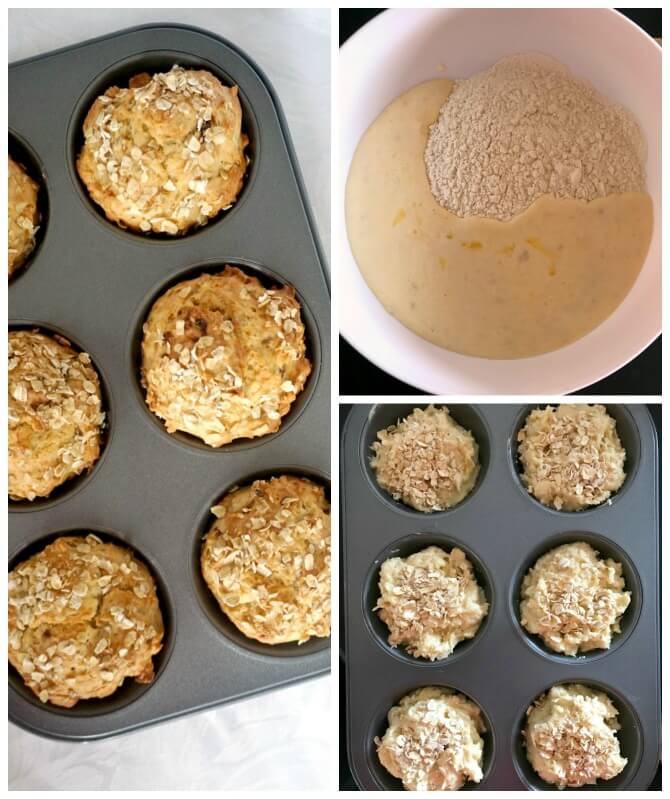 TIPS FOR MAKING THE BEST HEALTHY BANANA MUFFINS
As with all muffins, there is one big tip when it comes to great taste and texture. DO NOT OVERBEAT the batter, the muffins will become too dense and unlikely to rise as nicely.
I know that baking with kids, apart from being way too messy, can get a bit out of control, my little one would stir the ingredients for hours at the time if she could, she's only ever interested in stirring.
It's best to use a silicone spatula, and mix the ingredients gently before adding the batter to the muffin tin. It does not have to be beaten to perfection, even a few lumps here and there are ok.
Another tip is never to open the oven before the muffins are baked, and that is true for baking in general. I know the temptation is great, but better check nearner the time, and not too often.
Also, make sure the bananas are fully-ripen, the ones starting to brown are actually the best, as they are very sweet, and thus the muffins won't need extra sweetness.
And that's pretty much it. My Fluffy Blueberry Muffins and Homemade Chocolate Chip Muffins With Cherry Jam Filling  have added sugar, but can be adapted for kids by replacing the sugar with mashed banana too.
If you've liked my HEALTHY BANANA MUFFINS FOR KIDS or any other recipe on the blog then don't forget to rate the recipe and let me know how you got on in the comments below, I love hearing from you! You can also FOLLOW ME on FACEBOOK, and PINTEREST to see more delicious food and what I'm getting up to.
Healthy Banana Muffins for Kids (No Sugar Added)
Healthy Banana Muffins, a delicious afterschool snack for older kids, but also great for babies and toddlers. The muffins have no refined sugar added, their sweetness coming from the mashed banana.
Ingredients
1

cup

plain flour

1

large banana

1

tsp

baking powder

3

tbsp

Greek yogurt

1

egg

1/8

cup

butter

(30 g)

1

tsp

vanilla extract

oats for topping (optional)
Instructions
Pre-heat the oven to 200 degrees Celsius (360 Fahrrenheit).

Sift the flour and add it to a bowl together with the baking powder.


Beat the egg until foamy, then add the yogurt and mix together until you get a smooth paste.

Add the melted and cooled butter to it, then mash the banana with a fork and add that too.

Mix everything together, add the vanilla extract, then add this to the bowl of flour and baking powder.

Use a silicone spatula to gently mix the ingredients together, making sure you don't overbeat.

Grease a 6-hole muffin tin with butter, then divide the batter between the 6 muffin holes, and sprinkle some oats over.

Bake for about 30 minutes or until golden brown.

To remove the muffins from the tin, use a sharp knife to loosen the edges, the muffins should pop out easily.
Nutrition Facts
Healthy Banana Muffins for Kids (No Sugar Added)
Amount Per Serving
Calories 144
Calories from Fat 36
% Daily Value*
Total Fat 4g 6%
Cholesterol 37mg 12%
Sodium 48mg 2%
Potassium 197mg 6%
Total Carbohydrates 21g 7%
Protein 4g 8%
* Percent Daily Values are based on a 2000 calorie diet.