Savoury Muffins with tomatoes, red peppers and mozzarella, a delicious and healthy finger-food idea for baby-led weaning. Super easy to make, ready in about 25 minutes. These veggie muffins taste like mini pizzas, and are a great favourite with kids and grown-ups alike.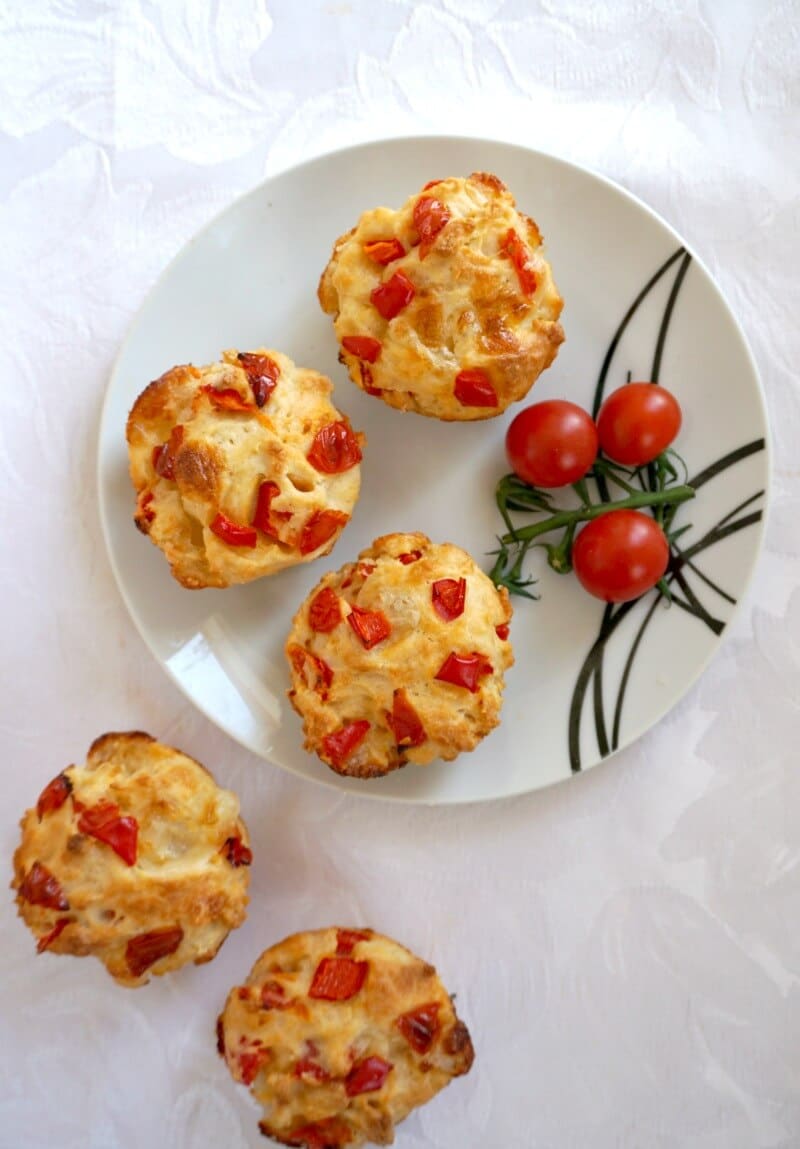 Muffins are one of the most versatile bites. They can have pretty much any flavour, and a combination of any possible ingredient. The sweet muffins might be the favourite with all ages, but how about we add some veggies, a bit of cheese, and make the most delicious savoury muffins?
They are a fantastic option for your child's school packed lunch, picnics, a healthy afterschool snack, or even a healthy breakfast on the go.
They are basically great any time of the day, and can be enjoyed on their own, or as part of a meal. And if you are a fan of baby-led weaning, this is a recipe your you. It has no added sugar or salt, and uses only fresh and healthy ingredients.
What is baby-led weaning?
Bay-led weaning means forgetting about spoon-feeding your babies with super smooth purees, and letting them feed themselves with finger-foods right from the beginning.
While the idea of letting a baby eat eat pieces of food from as young as 6 months can sound like scaring at first, it's actually a healthy and safe way of getting your baby enjoy meal times. I know that the fear of your baby choking can be overwhealming, but trust me, babies can do really well right from the beginning.
With my fist daughter, I started the traditional way, and fed her pureed food at first. Not sure if it's related, but she is a lot fussier than her little sister, who fed herself right from the start.
And she is still a great eater, wolfing down veggies and meat, and enjoying her food. I do believe that the baby-led weaning is the best, and I highly recommend it.
How TO make savoury muffins
These savoury muffins are a great way of using lots of veggies that your kid might otherwise not like. They actually taste like pizza, given that they have some of the regular ingredients used in a classic pizza. So, perhaps call them vegetarian pizza muffins?
The muffins are super versatile, you can add any veggies you like, and any cooked meat; leftovers are particularly good. I used the same ingredients for my healthy banana muffins, which are another great option for kids. The sweet-kind of version though.
sift the flour into a bowl, add the baking powder, and mix
beat the egg, add the Greek yogurt, and mix well to form a smooth paste
add the slightly cooled melted butter, and add everything to the dry ingredients
cut the tomatoes, pepper and mozzarella into small cubes, and add them to the other ingredients
mix lightly, then grease a 6-hole muffin tin, and divide the batter evenly
bake in the preheated oven at 200 degrees Celsius (390 Fahrenheit) for 20 minutes or until golden.
How to store the muffins
The muffins can be safely frozen. But I think that reheating them slightly changes the texture of the muffins. Having said that, I must say I never tried to freeze them, so I might be wrong here.
The freshly-baked muffins are beautifully moist. If you plan to bake a bigger batch and freeze, perhaps it's best to leave the muffins slightly undercooked, and just pop them in the oven from frozen.
Another option is leaving the frozen muffins in the fridge to thaw completely, then heat in the oven for a few seconds. If you don't plan to freeze them, just place the muffins in an-air tight container, and they should be fine for 2-3 days.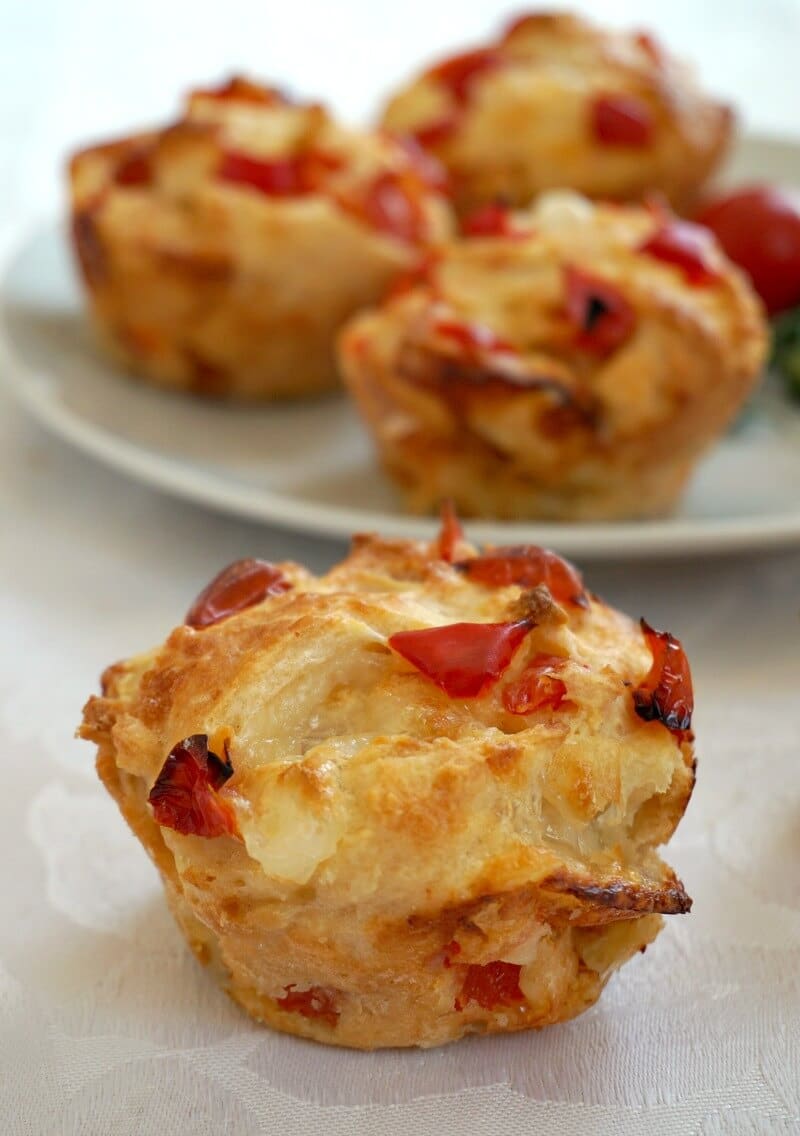 If you've liked my BABY LED WEANING SAVOURY MUFFINS or any other recipe on the blog then don't forget to rate the recipe and let me know how you got on in the comments below, I love hearing from you! You can also FOLLOW ME on FACEBOOK, and PINTEREST to see more delicious food and what I'm getting up to.
Baby Led Weaning Savoury Muffins
Savoury Muffins with tomatoes, red peppers and mozzarella, delicious and healthy finger-food idea for baby-led weaning. Super easy to make, ready in 25 minutes.
Keyword:
baby led weaning recipes
Ingredients
1

cup

plain flour

3

tbsp

Greek yogurt

1/8

cup

butter, melted

1

tsp

baking powder

1/2

cup

cherry tomatoes

1/2

red pepper

1/4

cup

cubed mozzarella cheese

1

egg
Instructions
Sift the flour and add it to a large bowl together with the baking powder.

Beat the egg, add the Greek yogurt and mix to form a smooth paste.

Add the cooled butter, and mix again.

Add the egg mixture to the dry ingredients.

Chop the cherry tomatoes, making sure to remove the seeds, then chop the red pepper too and add them to the bowl together with the mozzarella.

Mix gently to combine, making sure you don't overmix.

Pre-heat the oven at 200 degrees Celsius (390 Fahrenheit).

Bake the muffins for 20 minutes or until golden.
Nutrition Facts
Baby Led Weaning Savoury Muffins
Amount Per Serving
Calories 144
Calories from Fat 45
% Daily Value*
Fat 5g8%
Cholesterol 41mg14%
Sodium 79mg3%
Potassium 175mg5%
Carbohydrates 17g6%
Protein 5g10%
Vitamin A 560IU11%
Vitamin C 15.5mg19%
Calcium 75mg8%
Iron 1.3mg7%
* Percent Daily Values are based on a 2000 calorie diet.