Naturally-dyed Easter eggs, a fun way to get Easter started. Dying eggs with onion skins is not only a lot easier, but also healthier, since no chemicals come into contact with the eggs.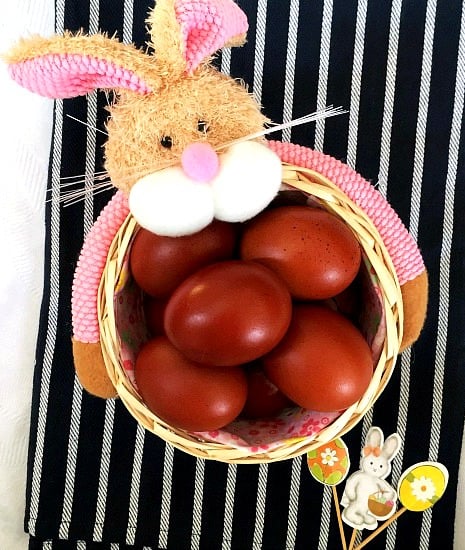 Naturally-dyed Easter eggs are found on every table in Romania on Easter day. Although other colours like yellow, blue, green or purple are quite common, red is the main colour, as it symbolises the blood of Jesus Christ.
Dying eggs red is one of the many beautiful traditions we have for Easter. There are quite a few legends about why we dye eggs red for Easter, one of them saying that, when Jesus was crucified, a woman who was passing by carrying a basket of eggs, stopped to look at Jesus. She put the basket next to the cross and blood poured over the eggs, colouring them in red.
Special egg colour can be bought, but then, that's not quite healthy, after all it's chemical, so better use natural ingredients. You still get a lovely colour though.
This year we celebrate Easter on the 1st of May, as Romania is mainly an Orthodox country and Easter day rarely falls on the same day as the Catholic or Protestant Easter, and that is because we follow a different calendar. Even so,  as l live in the UK, l always get very excited about Easter, since over here it is usually celebrated first. One can never have too many Easter treats, and if l can have twice, why not!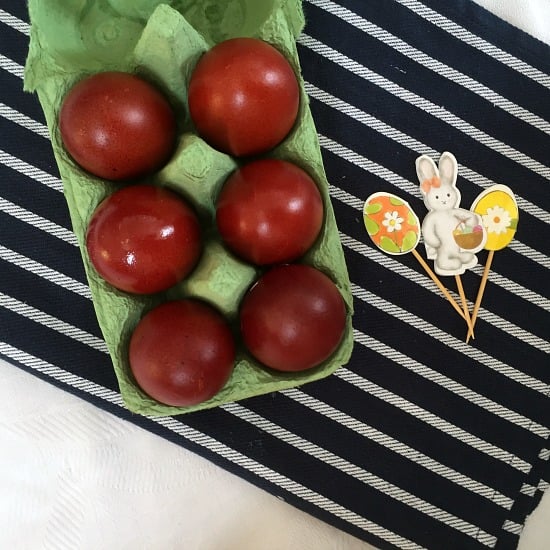 Unlike other countries, in Romania we don't really eat chocolate eggs for Easter, but the natural eggs dyed in different colours. The eggs are usually dyed on Maundy Thursday.
Up until a few years ago, it was my grandmother who was always the one in charge of baking Cozonac, which is a traditional sweet loaf we eat on Easter day, and dyeing eggs red, but now it's usually mum. Whenever l go home the week before Easter, l always love giving a helping hand in the kitchen. So much to do!
It is not only about preparing good food, but also about cleaning the whole house and making sure that everything is sparkling clean. Then, every evening of the Holy Week, there are special masses in Church and we all go. Easter Sunday is all about  celebration, spending time with the family and indulging in the most spectacular dishes.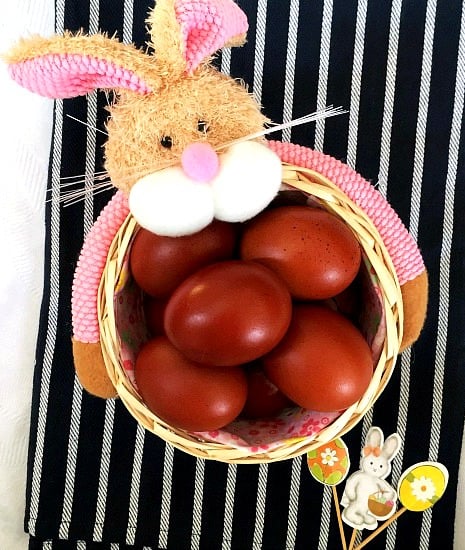 Weather permitting, we usually have a picnic on the grass and enjoy the day. I have such lovely memories related to Easter and l would love my daughter to grow up feeling the magic of Easter, the same way l did when l was a child. And l still do.
Going back to our eggs, to get a red colour, we use red onion skins, the more, the brighter the colour. Beetroot also works l hear, although l have never tried. Do get your kids to help, they will love it. Use wax from a candle to draw different patterns on the eggs before popping them into the saucepan to colour, I quite like to have marble-looking eggs.
If you've liked these NATURALLY-DYED EASTER EGGS or any other recipe on the blog, then don't forget to rate the recipe and let me know how you got on in the comments below, I love hearing from you! You can also FOLLOW ME on FACEBOOK, and PINTEREST to see more delicious food and what I'm getting up to.
Naturally-Dyed Easter eggs
Naturally-dyed Easter eggs, a fun way to get Easter started. Dying eggs with onion skins is not only a lot easier, but also healthier, since no chemicals come into contact with the eggs.
Ingredients
8

eggs

8

red onions

2

tbsp

vinegar

4

cups

water
Instructions
Place the eggs into a pan, remove the skins from the onions and place over the eggs. You can chop the onions and freeze to use later on when you cook, no point in throwing them away.

Next, cover the eggs and onion skins with water and add the vinegar.

Boil for at least 20 minutes, so that the eggs can get a lovely colour. You can leave them longer, if you want a darker colour.

Remove from the heat and place them on a kitchen towel. Polish them with any oil to make them nice and shiny.
Nutrition Facts
Naturally-Dyed Easter eggs
Amount Per Serving
Calories 143
Calories from Fat 45
% Daily Value*
Total Fat 5g 8%
Cholesterol 218mg 73%
Sodium 97mg 4%
Potassium 295mg 8%
Total Carbohydrates 14g 5%
Protein 8g 16%
* Percent Daily Values are based on a 2000 calorie diet.