Simple deviled eggs recipe or stuffed eggs are a great starter for any party, picnic or family reunion. They are posh, tasty and look great on any plate. The perfect choice for your Easter menu.
The best part is that you can choose any filling you like and decorate them however you like. I like to keep the filling quite simple though. Nothing fancy, just egg yolk, mayonnaise and mustard and season well. And it tastes like nothing else in the world.
When I was a child, my mum used to make deviled eggs quite often, especially in summer time when we used to have our meals outside. And we all loved them. Summers in Romania can be pretty hot with temperatures going up to +40 degrees Celsius in July and August especially.
No one can possibly have any hot meals when you feel like you are going  to melt, so having cold starters, salads or sandwiches is a much better option.
And these cold deviled eggs work wonders. Of course, you can have them anytime, they are fantastic no matter what season.
They are also a great starter for Easter, we usually paint eggs red and there are always plenty left.
I have here a lovely recipe for Naturally-dyed Easter eggs, you will love them. So what a better way of using up leftover eggs than these delicious deviled eggs.
How far in advance can I make deviled eggs?
I personally wouldn't prepare the deviled eggs to far in advance, 2-3 hours maximum. Yes, they taste better cold, but if you leave them too long in the fridge, they won't look that fresh anymore.
Unless you just boil the eggs, and refrigerate them unpeeled. Then you can refrigerate them up for two days and make the filling before you serve them.
Depending on what kind of mayo you use, it is also a good idea not to have any leftovers. The store-bough mayo is usually safe, as it's pasteurised, but the home-made one, if made with raw eggs, should be consumed sooner rather than later.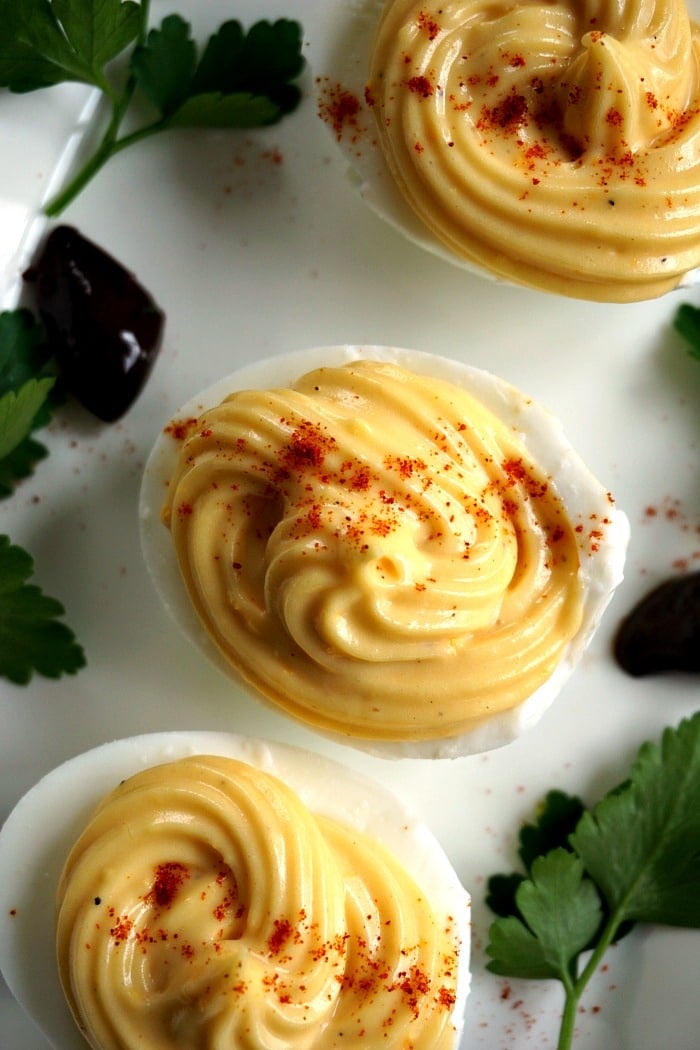 How do you make deviled eggs?
They might look super posh, and perfect for a fancy party, but they are actually super simple to make.
boil the eggs in salted water for at least 15 minutes until the eggs are hard boiled
transfer the eggs into iced cold water and allow to cool
peel and slice the eggs lengthwise
remove the egg yolks, and add them to a bowl together with the mayonnaise, oil, salt, pepper and yellow mustard
mix well to combine, then stuff each egg white half with the yolk mixture
garnish with paprika powder if you wish
You can use a piping bag with any noozzle of your choice if you'd like the eggs garnished nicely, they do look a lot better.
And sure to impress your guests.
If you've liked my SIMPLE DEVILED EGGS RECIPE or any other recipe on the blog then don't forget to rate the recipe and let me know how you got on in the comments below, I love hearing from you! You can also FOLLOW ME on FACEBOOK, and PINTEREST to see more delicious food and what I'm getting up to.
Simple Deviled Eggs Recipe
Simple deviled eggs or stuffed eggs are a great starter for any party, picnic or family reunion. They are posh, tasty and look great on any plate.
Ingredients
4

eggs

1

tsp

yellow mustard

1

tsp

mayonnaise

1

tbsp

extra virgin olive oil

a pinch of salt

a pinch of black pepper

paprika to decorate
Instructions
Boil the eggs in salted water for at least 15 minutes until hard.

Drain the water, transfer to a bowl of ice cold water and leave to cool completely.

Remove the shells and cut the eggs lengthwise.

Use a teaspoon to scoop out the egg yolk, then add them to a bowl, add the oil, mayonnaise, mustard and season well with salt and pepper.

Fill each half egg with the mixture, arrange on a plate and dust a bit of paprika over.

Serve chilled from the fridge!
Nutrition Facts
Simple Deviled Eggs Recipe
Amount Per Serving
Calories 101
Calories from Fat 72
% Daily Value*
Fat 8g12%
Cholesterol 164mg55%
Sodium 83mg3%
Potassium 60mg2%
Protein 5g10%
Vitamin A 240IU5%
Calcium 25mg3%
Iron 0.8mg4%
* Percent Daily Values are based on a 2000 calorie diet.