One-Pan Butternut Squash Sausage Pasta, a cheap and easy dinner recipe that can please the whole family. A delicious alternative to the good old pasta with tomato sauce.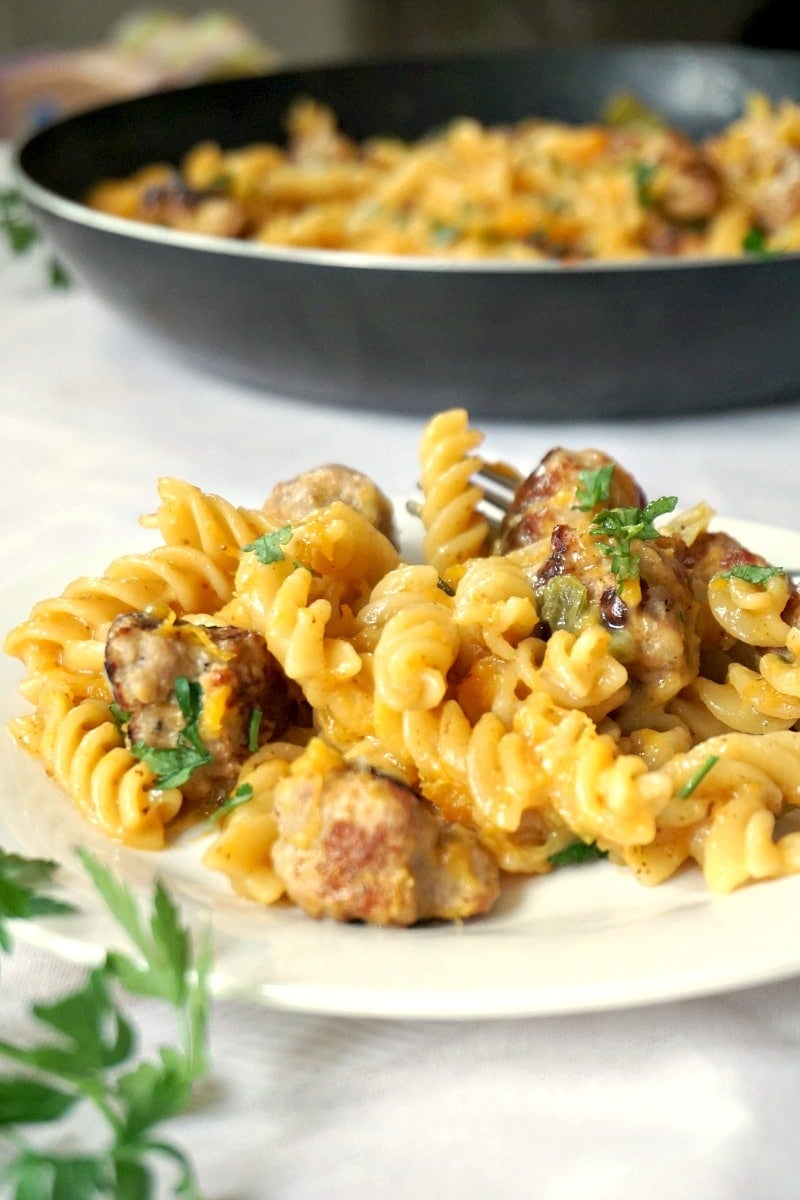 As a mum of two little girls, one fussy, and another one not quite fussy yet, I make sure that pasta never misses from my pantry. It always makes an excellent last minute meal, and saves the day when I have no idea what else to put on the table.
For a food blogger, you would think that running out of ideas shouldn't be the case. Well, believe me or not, that's one of the first thoughts I have in the (very early) morning: what else can I cook for them today?
It wouldn't be such a struggle had my toddler been less of a fussy pants. But, as it happens, she rarely digs in and eats happily whatever is on her plate. If you have a toddler who fusses over food, please tell me I am not alone!
But, wait!!! What can you see in the photo below? The little hand strikes again!!!
Guess who woke up from her nap and was trying to steal the food while mummy was right in the middle of the photoshooting? Yep, my cheeky little monkey Amy. To my total surprise, she ate like never before, a big massive portion, straight from the pan, with her little hands, no cutlery, no nonsense.
I guess it was the forbidden fruit, just because mummy said no to touch the food while photos were being taken. Maybe I should change my strategy with her and say don't eat instead of please have your food, who knows, she might actually eat better.
Anyway, I was more than pleased that she approved of my food. Her little sister had some too, but then she is the easier one, always happy to eat whatever mummy feeds her. One thing I make sure is that the baby does not get salty or sugary stuff before one. After that, that's a (slightly) different story.
I might give in with the toddler, but even with her, I try to limit as much as I can the amount of sugar and salt that goes into her little tummy. Until she can make decisions for herself regarding eating habits, I am totally responsible of what she eats.
So, what's with the butternut squash and sausage pasta casserole that made the toddler eat so well? It's a delicious combination of sweet butternut squash, cooked until mushy to form a sauce, cheesy goodness, yummy sausages, lots of parsley, and pasta, all cooked in the same pot.
I must have moaned before how much I hate cleaning the kitchen. One of these days I will take a photo with the mess I leave behind while I cook, it's a complete disaster. I know that I am not making myself any favour, since there will be even more to clean afterwards.
So, having to clean only one pan after cooking, and not tens, well, that's heaven! You can use any sausage you like, pork, chicken, turkey, or even the vegetarian or vegan options would work well here. As for the butternut squash, you can either use fresh or frozen.
I had a bag of frozen butternut squash pieces, so all I had to do is boil them for about 5 minutes in hot water, then cut them up in cubes, and add them to the pan. Since that pasta takes about 20 minutes or so to cook, the butternut squash becomes mushy, making it the most delicious sauce. Do give it a go!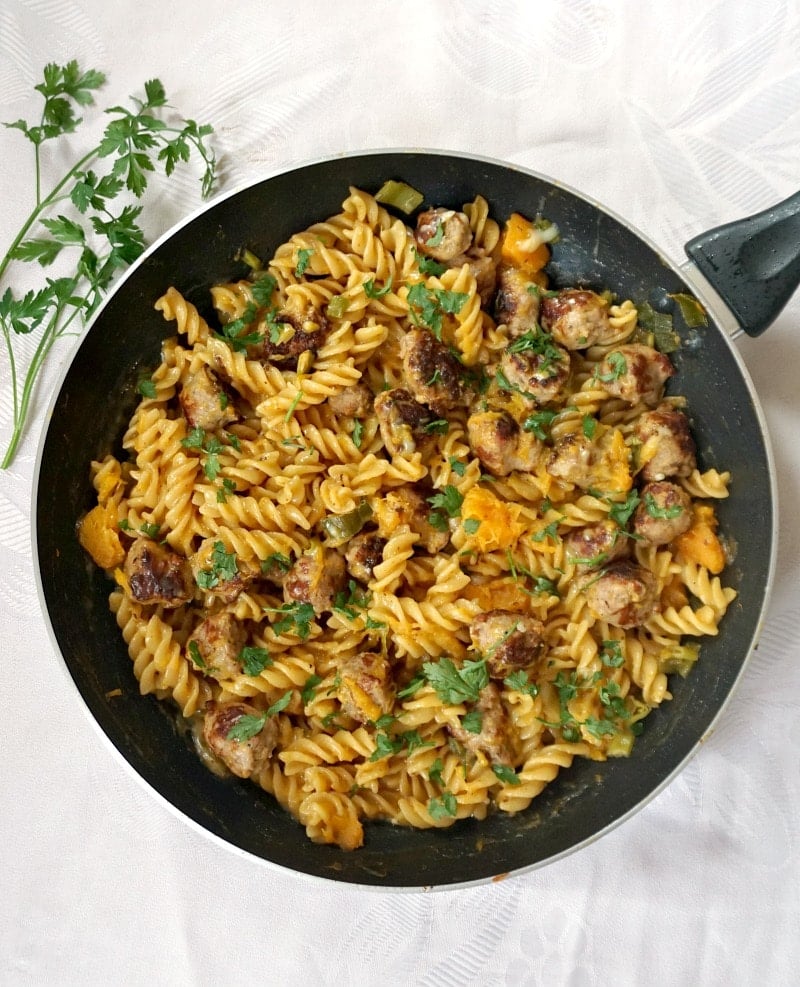 More pasta dishes to enjoy with the family:
Salmon alfredo pasta with dill
Chicken alfredo penne pasta with sun-dried tomatoes and spinach
Clean-eating lean turkey spaghetti bolognese
Garlic prawn spaghetti with spinach and ginger
If you've liked my ONE-PAN BUTTERNUT SQUASH SAUSAGE PASTA or any other recipe on the blog then don't forget to rate the recipe and let me know how you got on in the comments below, I love hearing from you! You can also FOLLOW ME on FACEBOOK, and PINTEREST to see more delicious food and what I'm getting up to.
One-Pan Butternut Squash Sausage Pasta
One-Pan Butternut Squash Sausage Pasta, a cheap and easy dinner recipe to please the whole family. It might be simple, but it's so flavourful and hearty.
Keyword:
butternut squash casserole
Ingredients
2

cups

fusilli pasta

400

g

sausages

1

cup

cubed butternut squash

1

spring onion

3

cups

low-salt vegetable stock (broth)

2

tbsp

freshly-chopped parsley

a pinch of black pepper

1

tsp

olive oil

1/2

cup

grated Cheddar cheese
Instructions
Slice the sausages, add the olive oil to a pan and fry the sausages for about 5 minutes until cooked through.

Cut the spring onions and add them to the pan together with the butternut squash.

Give it a good stir, then add the pasta and the vegetable stock, and cook with the lid on for about 20 minutes until the pasta is cooked and the liquid is nearly evaporated. Stir a few times while it cooks,

Add the cheese, season with black pepper, give it a good stir, then add the chopped parsley and remove from the heat.
Recipe Notes
You can use any kind of sausages, pork, chicken, turkey, vegetarian or vegan.

I opted for a low-salt vegetable stock as the sausages added enough flavour and salt to the dish, so there was no need for added salt. Feel free to add more if you like.

If you'd like to see the measurements in CUPS and OUNCES, please click on the US CUSTOMARY link.

The amount of ingredients can be adjusted according to the number of servings you need, please click on the number of servings to change it.
Nutrition Facts
One-Pan Butternut Squash Sausage Pasta
Amount Per Serving
Calories 508
Calories from Fat 288
% Daily Value*
Fat 32g49%
Cholesterol 86mg29%
Sodium 1433mg60%
Potassium 462mg13%
Carbohydrates 29g10%
Protein 22g44%
Vitamin A 4500IU90%
Vitamin C 11.1mg13%
Calcium 137mg14%
Iron 2mg11%
* Percent Daily Values are based on a 2000 calorie diet.