Turkey Spaghetti Bolognese, a healthy, protein-packed meal that gives comfort food a new meaning. A healthy dinner for the whole family to enjoy.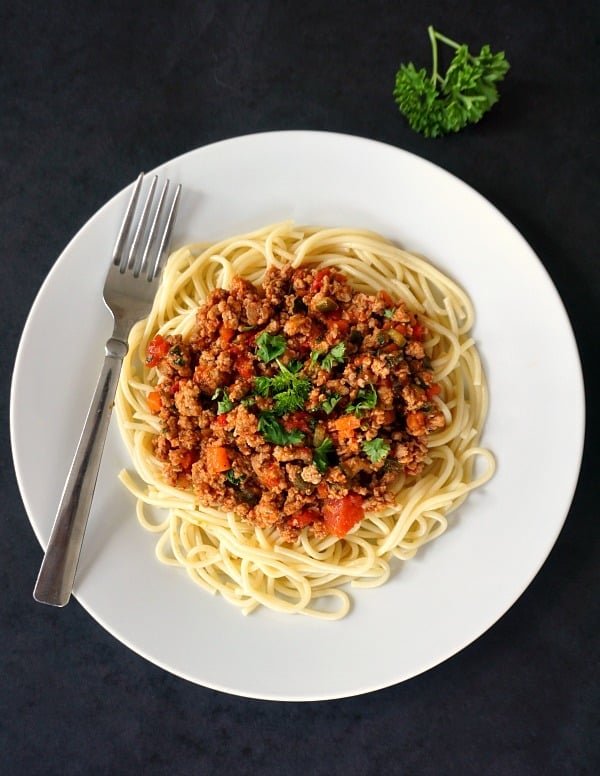 Say no to junk food and ready meals and enjoy this delicious turkey bolognese recipe that even the fussiest of eaters would love. It is safe to say that one portion will not do, you better get your big pan out and roll up the sleeves, a nice dinner is just minutes away.
Turkey mince is so easy to cook, and goes very well with  any kind of pasta, rice, couscous, quinoa and so on. I've recently made Turkey, spinach and ricotta lasagna using minced turkey and it was so tasty, l could not have enough of it.
And the number of dishes that can be cooked is countless. Don't you just love it when you can come up with a delicious meal that everybody likes? I'm telling you, many hearts can be won with this turkey bolognese sauce.
What l like about homemade cooking is that you are the masterchef, you decide what goes in and everything can be adjusted to your own taste. You can make your own healthy food without having to spend a fortune on ready meals that promise you to change your life forever.
Most of them have hidden ingredients that are anything but healthy, being high in salt, sugar or saturated fat. Not good!!!
To make this delicious spaghetti bolognese recipe you need some good-quality lean turkey mince, some veggies of your choice, if you don't really like the ones l used, and some nice tomato purée and chopped tomatoes. Be generous with the spring onions and garlic, they bring so much flavour.
My family loved the dinner l cooked, and l couldn't be happier. Such a great feeling when you see your food being praised, and plates being emptied. After all, good food tastes even better when you share it with your loved ones. Do you agree with me?
Especially that working families only get to be together at dinner time mostly, so having a nice meal while chatting about the day makes the highlight of anyone's day. I can't think of a better way to finish the day than with my family, enjoying food and relaxing after a long day.
And food had this power to make us better, and heals like no one else. Healthy food? Oh, yes please, a nice portion for me. Homemade family recipes are so dear to me, and I'm so happy to be able to share them with you!
If you've tried this TURKEY BOLOGNESE  RECIPE or any other recipe on the blog then don't forget to rate the recipe and let me know how you got on in the comments below, I love hearing from you! You can also FOLLOW ME on FACEBOOK, and PINTEREST to see more delicious food and what I'm getting up to.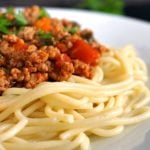 Turkey Bolognese
Clean-eating Turkey Bolognese with spaghetti, a healthy, protein-packed meal that gives comfort food a new meaning. Say no to junk food and ready meals and enjoy this delicious recipe that even the fussiest of eaters would love.
Ingredients
250

g

spaghetti

(1/2 lb)

500

g

lean turkey mince

(1 lb)

2

carrots

1/2

courgette

(zucchini)

1/2

red bell pepper

250

ml

chicken stock

1

tin

chopped tomatoes

(400 g)

2

tbsp

tomato puree

1/2

tsp

salt

1/4

tsp

ground black pepper

1

tsp

sunflower oil

2

spring onions

2

cloves of garlic

parsley to garnish
Instructions
Cook the spaghetti according to the packet instructions. Peel the carrots and cloves of garlic and chop them together with the courgette, spring onions and red bell pepper.


Heat up the oil in a large pan, add the chopped vegetables and sautee for 2 minutes, then add the minced turkey and stir well with a wooden spoon, breaking any lumps that may form.


Continue to stir until the mince is brown all over, that should take about 10-15 minutes..


Add the chicken stock and leave to cook on a medium to high heat until all the liquid has been absorbed, it may take up to 15 minutes..


Add the tinned tomatoes and tomato puree and leave to cook for 10 minutes, stirring occasionally.


Season with salt and pepper, then remove from the heat and garnish with freshly-chopped parsley.

Nutrition Facts
Turkey Bolognese
Amount Per Serving
Calories 480
Calories from Fat 117
% Daily Value*
Total Fat 13g 20%
Cholesterol 94mg 31%
Sodium 497mg 21%
Potassium 715mg 20%
Total Carbohydrates 55g 18%
Protein 34g 68%
* Percent Daily Values are based on a 2000 calorie diet.
Save
Save