Spaghetti Bolognese, the best comfort food no matter the season. A fabulous homemade bolognese sauce full of big flavours, and the nation's favourite pasta make the best combo for a healthy and nutritious dinner.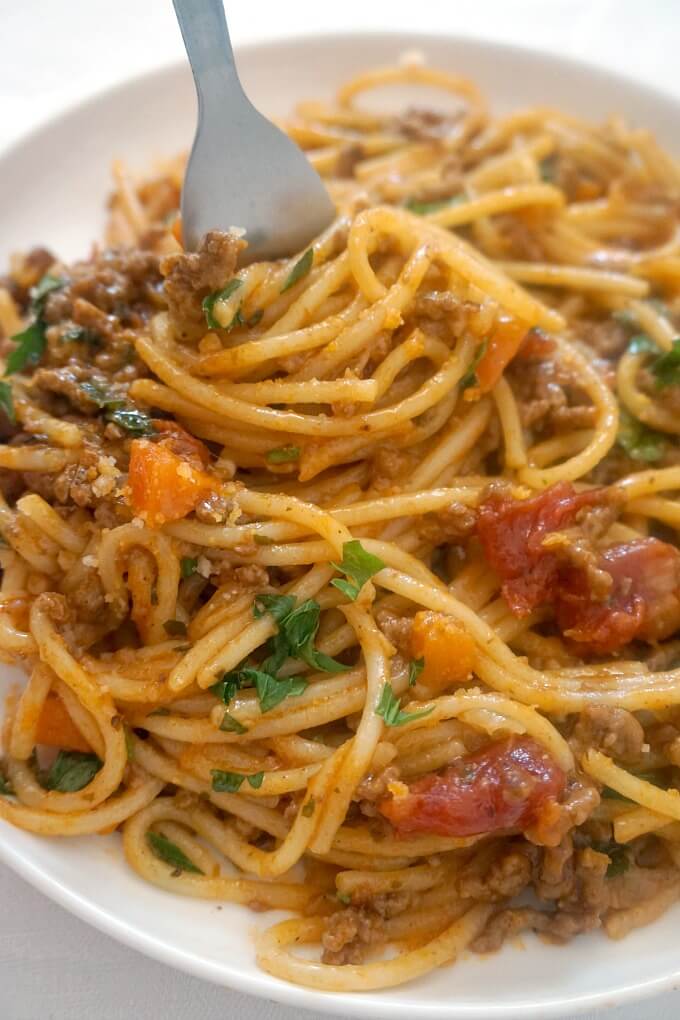 If there is one dish I would gladly eat at any time of the day or night, this has to be spaghetti bolognese. It just screams comfort food to me, and that's what it does best – soothes and comforts you like no other food. Forget about the nonsense people say about too much carbs, blah blah; this is the mother of all dishes.
The Italian spaghetti alla bolognese, or spag bol has to be one of the best recipes one can ever make at home. If you go for the ready-made version that the stores have to offer, then be prepared to be disappointed. Most fresh or frozen spaghetti bolognese will have no real taste.
So, why not make it at home with a few simple ingredients? It's really cheap too, and with less than £6 you get to feed the whole family by making a large pot of some proper heavenly food. Or, if you don't have some many people to feed, and are left with lots of bolognese sauce, you can pop it in a freezer-friendly container and safely freeze it.
In this way, you can always go back to it when perhaps time is short and need to put something quickly on the table. I don't personally like the texture of a frozen cooked pasta, so I strongly recommend freezing only the bolognese sauce, and cooking fresh pasta when needed.
You will still have the food ready way quicker, pasta of any kind takes anything between 10-15 minutes to cook, depending on the texture you like it to have. Then all you have to do is mix it with the sauce, and dinner's ready.
The traditional spaghetti bolognese uses beef, although variations are also common, like beef and pork, turkey, lamb and so on. I make the turkey bolognese quite often, mainly because the kids seem to prefer turkey over other gorund meat, but that's not to say that the classic bolognese sauce is not the best I have ever had.
Now, you might say that in summer time, spaghetti bolognese is not a dish you'd like on the table, and you'd rather go for something lighter. But to be honest, there is nothing heavy about this dish, you can make it with lean ground beef, and then the rest is easy.
The dish has only 390 calories per serving, that is way down comparing to so many other recipes, so why not enjoy your hearty meal without feeling guilty? Plus, it's a high-protein bolognese sauce, which is an extra bonus.
Some people like adding red wine and milk to the sauce, I personally don't cook with wine, purely because we are one of those weird people who don't really drink alcohol, for no religious or any other reason.
So, since there is no alcohol in the house, I can't possibly be bothered to buy some wine for cooking only. Plus, there will be lots left, and throwing it makes no sense at all.
Now, I absolutely love the wine-free version of the bolognese sauce, but if you do add wine to your dishes, please do go for it, nothing wrong with that. We all have different tastes, and there is no right or wrong here. This is simply my take on the classic dish, and from my point of view, it's perfect the way it is.
If you've liked my EASY SPAGHETTI BOLOGNESE or any other recipe on the blog then don't forget to rate the recipe and let me know how you got on in the comments below, I love hearing from you! You can also FOLLOW ME on FACEBOOK, INSTAGRAM and PINTEREST to see more delicious food and what I'm getting up to.
Easy Spaghetti Bolognese
Spaghetti Bolognese, the best comfort food no matter the season. A fabulous homemade bolognese sauce full of big flavours, and the nation's favourite pasta make the best combo for a healthy and nutritious dinner.
Keyword:
pasta dinner ideas
Ingredients
500

g

ground beef / minced beef

1

tin

chopped tomatoes

(400 g, 13oz)

1

carrot

1

large onion

2

celery sticks

1

tbsp

vegetable oil

2

tbsp

grated parmesan

1/2

tsp

salt

1/8

tsp

black pepper

1

tsp

Italian herbs

1

tbsp

chopped parsley

1/4

packet

spaghetti

(125 g, 4 oz)

1

cup

beef stock

3

cloves of garlic
Instructions
Heat up the oil in a large pan, the chop the onion and add it to it, leaving to cook for about 3-4 minutes until transluscent.

Add the ground beef, and stir continuosly, until the beef is browned all over.

Chop the carrot, garlic and celery sticks, and add them to the pan together with the beef stock.

Leave to cook with the lid on until the liquid is reduced, then add the chopped tomatoes and leave to cook until the sauce is reduced again.

Season with salt, pepper, add the parmesan, Italian herbs, and parsley, and turn off the heat for now.

Separately, cook the spaghetti according to the packet instructions, then drain the water, and add the spagetti to the pan.

Turn the heat on again, and mix everything well, stiring for about 1-2 minutes so that the sauce can coat the spaghetti well. When ready, remove from the heat and serve hot.
Recipe Notes
If you'd like to see the ingredients listed in cups and ounces, please check the US Customary Link.

Also, the amount of ingredients changes depending on the servings, so click on the number listed to change it to the number you prefer.
Nutrition Facts
Easy Spaghetti Bolognese
Amount Per Serving
Calories 390
Calories from Fat 261
% Daily Value*
Total Fat 29g 45%
Cholesterol 90mg 30%
Sodium 560mg 23%
Potassium 598mg 17%
Total Carbohydrates 6g 2%
Protein 24g 48%
* Percent Daily Values are based on a 2000 calorie diet.