Alfredo Pasta with Salmon, an amazing under 30 minute recipe, perfect for a lazy day when you fancy something  yummy, but can't be bothered to cook anything too complicated. It requires minimal preparation and only a few ingredients, and can make happy even a picky eater. It really ticks all the boxes.
Back to spaghetti, oh yes! Whenever l seem to run out of ideas what to cook, a packet of spaghetti always comes to the rescue. And never lets me down. I could honestly cook spaghetti every single day without getting bored of them. Sounds familiar? You can admit it, no one would ever judge you, spaghetti are too delicious.
And cheap, as a matter of fact. And those who moan about carbs should know that they are essential to a healthy body and a happy mind. l would rather eat a big bowl of spaghetti and be happy, than have only leaves and be miserable.
A balanced meal is far more efficient in the long run than those diets who promise you eternal beauty and a slim body. And that's not just what I think, but the general opinion. Don't ever believe in diets, they never help.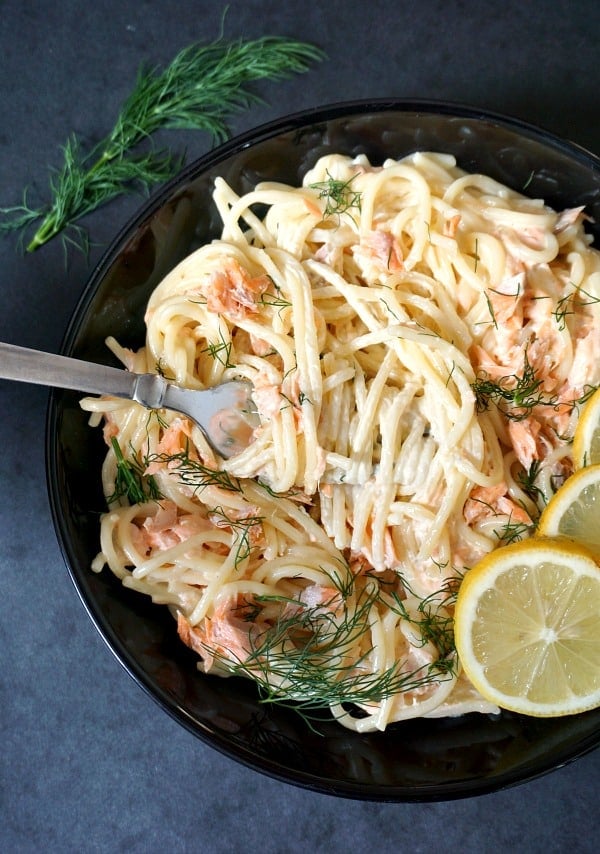 This recipe might use cream, which could be seen as naughty, but it also has salmon, which is an excellent source of omega-3 fatty acids, and a whole range of vitamins and minerals. So, there you go! You can use canned salmon indead of fresh one too.
And for some extra goodness, try adding a haldful of spinach too, it will be absolutely amazing.
Speaking of salmon, have you tried Pasta salad with salmon? It's absolutey delicious. And great for a nice hot summer day. I do love salmon, it's my favourite fish, and love how quickly it can be cooked. The best way of cooking it is baking in the oven, l wouldn't fry it, it loses its yumminess.
And what goes better with salmon than lemons and dill? Nothing else, really, the flavours are divine. They balance well the richness of the cream, bringing a fresh touch to the dish, which could otherwise feel a tad heavy. But it's so delicious.
I have tried the alfredo sauce before, but with chicken, I have a lovely recipe here: Chicken alfredo pasta with sun-dried tomatoes and spinach, and I licked my fingers clean after having a rather generous portion, so I knew there will be a second time. I am glad I chose salmon though, it is the perfect fish to go with the alfredo sauce. What a delish!
If you've tried my ALFREDO PASTA WITH SALMON or any other recipe on the blog then don't forget to rate the recipe and let me know how you got on in the comments below, I love hearing from you! You can also FOLLOW ME on FACEBOOK, and PINTEREST to see more delicious food and what I'm getting up to.
Alfredo Pasta with Salmon
Alfredo Pasta with Salmon and dill, an amazing under 30-minute recipe that is sp delicious. Creamy alfredo sauce, healthy salmon and a touch of freshness from lemon and dill; what a treat!

Ingredients
1/4

packet of spaghetti

150

ml

double cream

1

salmon fillet

2

cloves of garlic, minced

1

tsp

lemon juice

1/2

tsp

salt

1/4

tsp

black pepper

1

tbs

chopped dill

1

tbsp

grated parmesan
Instructions
Preheat the oven to 200 degrees C/ 390 degrees Fahrenheit.


Wrap the salmon fillet in kitchen foil and bake for 20 minutes.


Meantime, cook the spaghetti according to the packet instructions.


Retain one quarter of cup of the cooking water, and drain the rest.


In pan, add the double cream and garlic and bring to a boil.


Toss the spaghetti to coat, add the cooked water, parmesan, and season with salt and pepper.


Remove the salmon from the oven and use a fork to flake it, then add it to the spaghetti together with the lemon juice and mix everything well.


Transfer to a plate and garnish with chopped dill.

Recipe Notes
If you'd like to see the measurements in CUPS and OUNCES, please click on the US CUSTOMARY link.

The amount of ingredients can be adjusted according to the number of servings you need, please click on the number of servings to change it.
Nutrition Facts
Alfredo Pasta with Salmon
Amount Per Serving
Calories 396
Calories from Fat 297
% Daily Value*
Total Fat 33g 51%
Cholesterol 151mg 50%
Sodium 686mg 29%
Potassium 472mg 13%
Total Carbohydrates 3g 1%
Protein 19g 38%
* Percent Daily Values are based on a 2000 calorie diet.
Save
Save
Save
Save
Save