Healthy Grilled Chicken Avocado Wrap with spinach makes a quick easy chicken recipe that is healthy, nutritious and delicious; especially when time is short and preparing a big meal is not an option. A great low-carb, high-protein recipe for weigh loss.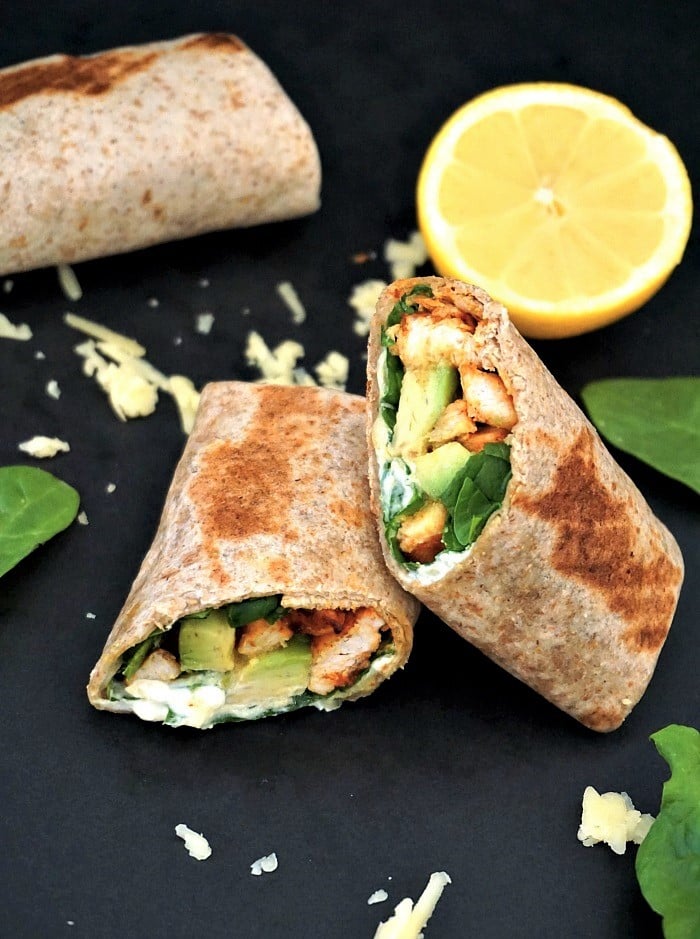 Also a great choice when you are on the go; save yourself a few good pounds you would otherwise spend on a not-that-great bought sandwich, this wrap is sheer goodness.
New Year, new resolutions. And the most famous one: losing weight. I know, December was a hell of a month, too much shopping, eating and drinking. So a healthier January may sound like a good plan.
Although in reality statistics show that the eating healthily doesn't really last that long around this time of the year. Oh well, at least we try.
But you know what, quick healthy recipes can be truly delicious and super easy to make. Take this wrap, it has got the healthiest stuff you can ask for: avocados, known for the countless health benefits, spinach, a super leaf loaded with vitamins and minerals, and chicken, an easy and light meat that can safely be consumed if you are on a diet.
As long as you grill or bake it, I guess. Frying doesn't really count here. But does it not sound pretty amazing? So much goodness in one wrap. Not to mention that is so filling, you won't feel peckish anymore afterwards. Don't you just love chicken avocado recipes?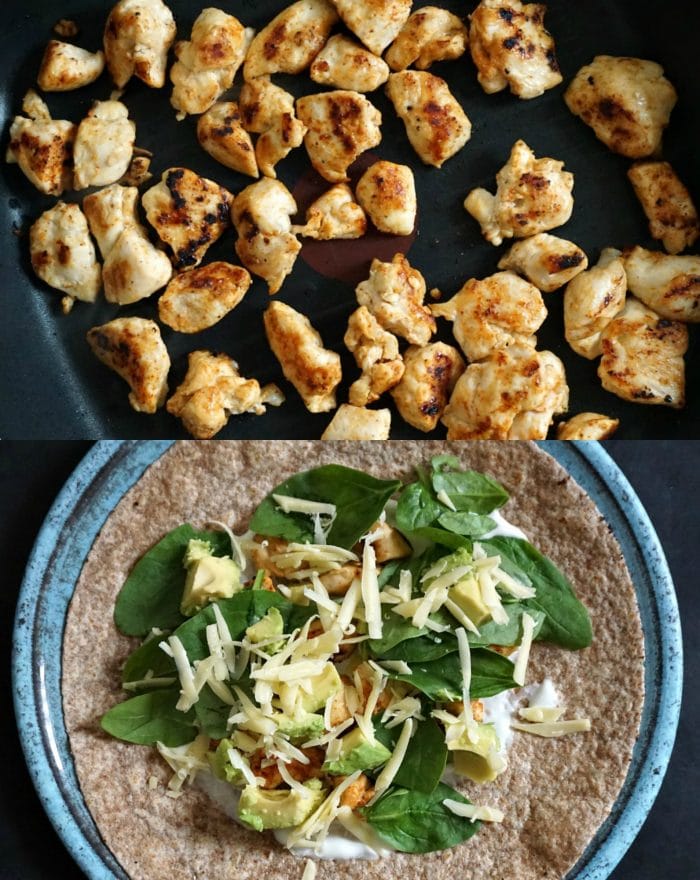 Chicken can be replaced with any leftovers, like turkey. I have tried it in this Healthy leftover turkey wraps with cranberry sauce and it was really delicious. Same goes for leftover beef, lamb or pulled pork.
Going back to the chicken avocado wrap, ONE TIP HERE! Once you peel and cut the avocados, they tend to brown really quickly, so to keep them fresh for longer, squeeze some lemon juice over the cut slices, that will prevent them from browning.
Trust me on this, l tried it myself and it works. Now, since the wrap is so tasty, l expect it to be eaten in two shakes of a lamb's tail, but just in case, l guess it's good to know.
And do you know what? There might be many healthy chicken avocado wrap recipes out there, but this is one of its kind. You must try it, and you'll see it for yourself! Right, let's get wrapping now!
If you'd rather go low carb, you can replace the tortilla wrap with lettuce, so then you end up with a chicken avocado lettuce wrap. Pretty cool, isn't it?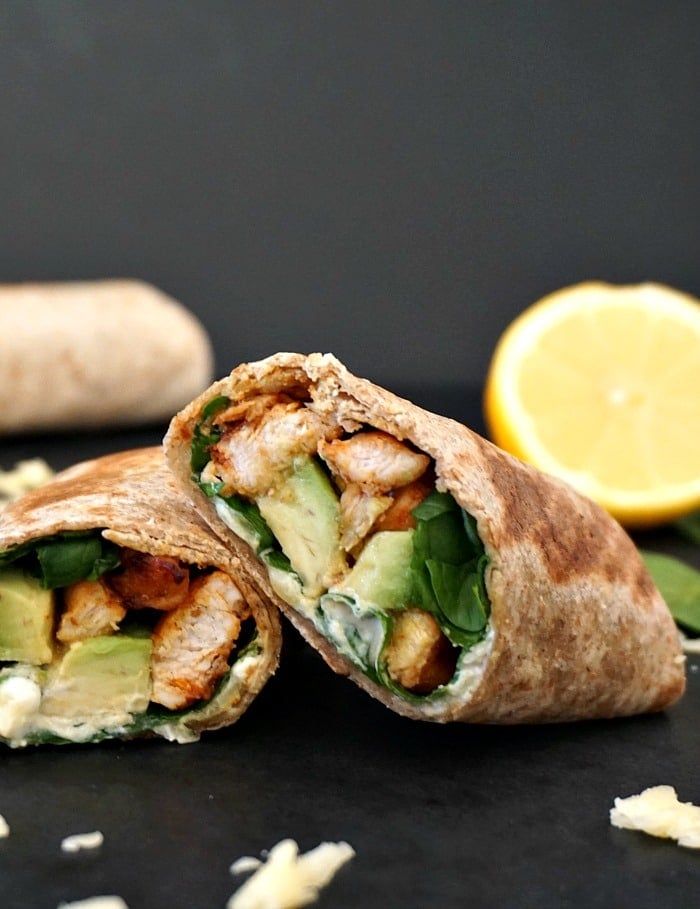 MORE HEALTHY CHICKEN RECIPES:
Extra crispy baked chicken wings with garlic
Homemade chicken pot pie recipe with leeks
If you've liked my GRILLED CHICKEN AVOCADO WRAP or any other recipe on the blog, then don't forget to rate the recipe and let me know how you got on in the comments below, I love hearing from you! You can also FOLLOW ME on FACEBOOK, and PINTEREST to see more delicious food and what I'm getting up to.
Grilled Chicken Avocado Wrap (Low Carb, High Protein)
Healthy Grilled Chicken, Avocado Wrap with spinach and wholemeal tortilla wraps, a healthy and nutritious meal that tastes great and is super easy to make. Low carb, high protein, low in calories.
Keyword:
grilled chicken recipes
Ingredients
1

chicken breast

1

avocado

1

cup

fresh baby spinach

3

tbsp

sour cream

3

tbsp

grated Cheddar cheese

1

tsp

paprika

1

tsp

granulated garlic

1/2

tsp

salt

1/4

tsp

ground black pepper

1

tsp

vegetable oil

3

tortilla wraps
Instructions
To cook the chicken, cut the chicken breasts into strips, add them to a bag together with the salt, pepper, paprika, granulated garlic and oil.

Give the bag a good shake so that the chicken can be well coated.

Heat up a grill pan, add the chicken and cook on both sides until done, about 3 minutes on each side.

Peel and slice the avocado, then squeeze the lemon juice over.

Transfer the chicken to a plate, warm up the tortilla wraps for a few seconds on each side, so the folding can be done easier.

Spread the sour cream on one side of the wrap, sprinkle the grated cheese over, then add the chicken, spinach and avocado.

Wrap tightly and serve immediately.
Nutrition Facts
Grilled Chicken Avocado Wrap (Low Carb, High Protein)
Amount Per Serving
Calories 342
Calories from Fat 189
% Daily Value*
Total Fat 21g 32%
Cholesterol 45mg 15%
Sodium 752mg 31%
Potassium 626mg 18%
Total Carbohydrates 23g 8%
Protein 16g 32%
* Percent Daily Values are based on a 2000 calorie diet.
Save
Save
Save
Save
Save
Save
Save
Save
Save