Rice Krispies Peanut Butter Balls, a healthy back to school snack to fill you up with energy. Yummy rice krispies, finger-licking peanut butter, delicious ripen banana, nutritious oats, and a bit of good-quality cocoa powder. And nothing else, no loads of powdered sugar, no junk. You won't believe how tasty these balls are!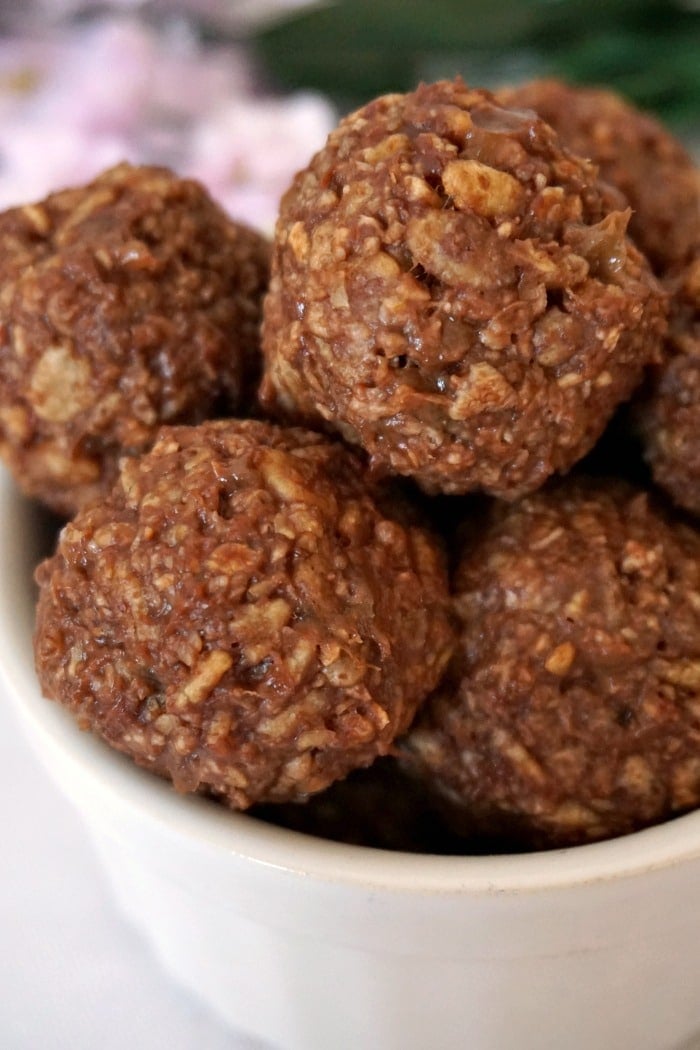 l don't know about you, but l can't possibly go through the day without a snack. I get so hungry in between meals, and just fruit or vegetables to munch on, won't fill me up.
And when l get hungry, there's always the danger of reaching out for proper junk. As you do, isn't it?
We all know the truth behind all these so-called healthy cereal bars that supermarkets try to fool as with as being the best thing you can possibly have. Yeah, right!
Check the package and you'll be shocked how much sugar, syrup and other additives they have. They are anything but healthy. The sad thing is that we tend to believe without doubting, thus feeding ourselves and our kids with calory bombs. We can do so much better!
While l won't deny that the rice krispies have their fair share of sugar, they are probably less sugary than other cereals out there. And this is why there really isn't any need of adding any more refined sugar.
Plus, we have the banana that is naturally sweet and does a great job at bringing the ingredients together to shape them into balls.
Same does the peanut butter, the rich, nutritious and delicious spread we can't have enough of. Careful though what kind of brand you buy, some of them have nasty ingredients added. I always go for the Whole Earth ones, they are the best.
How do you make rice krispies peanut butter balls?
This fantastic no-bake snack couldn't be easier to make. All you have to do is mash a banana with a fork, add the peanut butter, rice krispies, cocoa powder and oats, shape into balls and refrigerate.
And that's it! Nothing else to be done, except enjoy a great snack that has no refined sugar added. There are 47 calories per ball, and they are really filling.
The amounts listed below make about 10 peanut butter rice cripsy treats, depending on what size the have. If you prefer bars, rather than balls, just place the mixture onto a non-stick tray and chill in the fridge for about an hour to firm up a bit.
Oats can be omitted if you only want to use rice krispies, just add half a cup more. You really don't need a measurement cup here, just a plain tea cup/mug would do.
Other than that, just enjoy your snack. Looking for more healthy snacks? What about some no-sugar chocolate oat bars?
Sneaky toddler caught red-handed
And guess who was trying to steal the balls when mummy was getting her camera ready? My cheeky monkey Amy with her chubby little hands.
I always try to take photos while she has her afternoon nap, since l know how mischievous she is, but this time l was busy with her little baby sister, and did not finish on time.
She was so cute though, she wanted badly to see what mummy was up to. Were those balls for playing, or what? She did get a few as well, and she loved them. If Amy likes something, it must be really good then!
If you've tried these RICE KRISPIES PEANUT BUTTER BALLS or any other recipe on the blog then don't forget to rate the recipe and let me know how you got on in the comments below, I love hearing from you! You can also FOLLOW ME on FACEBOOK, and PINTEREST to see more delicious food and what I'm getting up to.
Rice Krispies Peanut Butter Balls (with video)
Rice Krispies Peanut Butter Balls with no refined sugar added, a healthy afteschool snack to fill you up with energy. The are some great treats for little and big tummies.

Ingredients
1

cup

rice krispies

1

banana

1

tbsp

peanut butter

5

tbsp

oats

2

tsp

cocoa powder
Instructions
Peel the banana, then use a fork to mash it.


Add the peanut butter and mix well until you get a smooth paste.


Add the rice krispies, oats and cocoa powder, mix well, then shape 10 balls.


Refrigerate for one hour before serving.

Nutrition Facts
Rice Krispies Peanut Butter Balls (with video)
Amount Per Serving
Calories 42
Calories from Fat 9
% Daily Value*
Fat 1g2%
Sodium 22mg1%
Potassium 63mg2%
Carbohydrates 7g2%
Protein 1g2%
Vitamin A 195IU4%
Vitamin C 2.8mg3%
Calcium 2mg0%
Iron 1.1mg6%
* Percent Daily Values are based on a 2000 calorie diet.
Save
Save
Save
Save