Japanese Chicken Katsu Curry, a delicious homemade chicken recipe to rival Wagamama's katsu curry. Super simple, and super delicious.
After the heavy traditional Christmas dishes, when you can't possibly have any more turkey, mince pies and cookies, having a nice dish with an oriental touch sounds great to me.
If you are a fan of the Japanese cuisine, be it authentic or with a western influence, you will definitely like this restaurant-style chicken katsu curry. I am all for eating out, after all, it's nice to be out of the kitcken from time to time, but if you want to recreate your favourite restaurant favourite dishes, this katsu curry is the best recipe to start with.
It's a lot simpler that you would think, it's packed with great flavours, and it tastes exactly like the real deal. Too good to be true? It's not.
How do you make chicken katsu curry sauce?
The best katsu curry, right here for you. Flavourful, pretty mild, this katsu curry sauce is a bit different from the Indian curry sauces, that use a lot more spices, and are usually pretty hot. You can have it chunky, or smooth, whatever texture you prefer. I blended mine to a much smoother texture, but it's up to you, really.
The potatoes and carrots bring sweetness, where the garam masala spices bring an earthy heat to it. The sauce is the killer in this recipe, it's absolutely delicious, I could really eat it with a ladle spoon all by itself, it's that good. It's worth making some extra sauce, you can freeze whatever you don't use at once, so the next time you make the chicken katsu, the sauce is ready already:
heat up the oil, add the chopped onion and fry gently until transluscent
add the peeled and chopped potatoes and carrots, chicken stock and spices.
cook until the veggies are tender
mix the cornflour with water, add to the sauce and cook for a further 2 minutes so that the sauce can thicken slightly.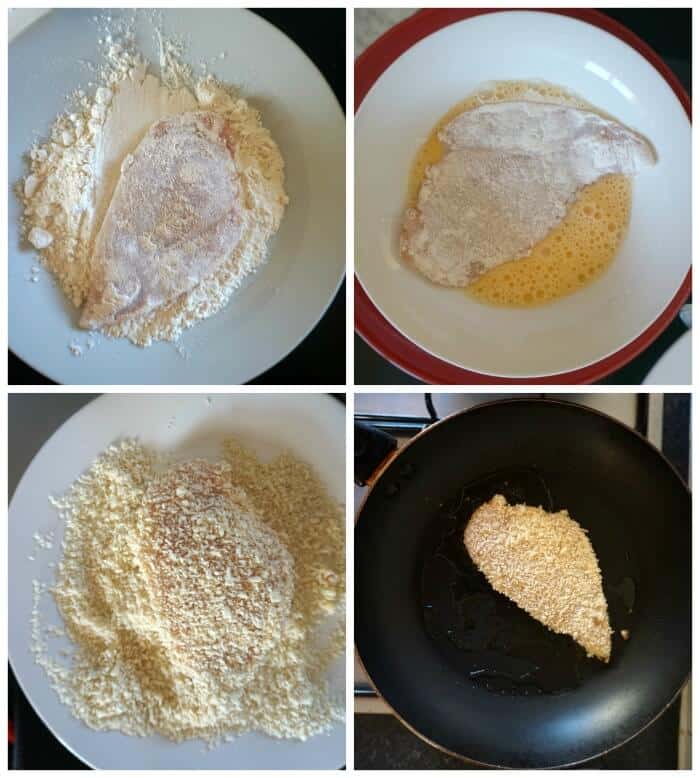 How do you make chicken katsu?
The Japanese breaded chicken is similar to the German chicken schnitzel.  If you happen to have leftovers, the best way to recycle the schnitzel is by adding the katsu curry sauce to it, and there you have, a completely new dish. If not, making the crispy breaded chicken from scartch is super easy. All you need is chicken breast, egg, flour and panko breadcrumbs, plus the seasoning of your choice.
The chicken is then served with a delicious katsu curry sauce and rice, and there you have, one fantastic dish. I must say, I do love recycling leftovers. It's amazing how you can make something nearly completely different, without wasting food. And it's even more amazing that you get to save money on dishes that would leave your pockets crying in a posh restaurant.
I do love the Japanese restaurants, but good God, then the bill hits you, you nearly regret having all that yummy food. So, why not have your favourite Easy Shrimp Tempura Roll (Homemade Sushi) and 15-Minute Japanese Udon Noodle Soup with Miso from the comfort of your own home too?
If you've tried my JAPANESE CHICKEN KATSU CURRY or any other recipe on the blog then don't forget to rate the recipe and let me know how you got on in the comments below, I love hearing from you! You can also FOLLOW ME on FACEBOOK, and PINTEREST to see more delicious food and what I'm getting up to. 
Japanese Chicken Katsu Curry
Japanese Chicken Katsu Curry, a delicious homemade chicken recipe to rival Wagamama's katsu curry. Super simple, and super delicious.
Ingredients
For the breaded chicken
2

chicken breasts

2

cups

panko breadcrumbs

1

cup

flour

1

egg

salt and pepper to taste

1/4

cup

oil to fry
For the katsu sauce
1

onion

1

potato

1

carrot

2

cups

chicken stock

(broth)

1

tbsp

garam masala

1

tbsp

cornflour

1/4

tsp

salt

1

tbsp

oil
Instructions
To make the breaded chicken, place the chicken breasts on the work surface, cut them in 2 lengthwise, and bash them with a meat tenderiser. We need them as flat as possible, the thinner the slices, the better. It also reduces the cooking time, as they are perfectly cooked really quickly.

Next, we need 2 large plates. On one plate we have plain flour, on the other breadcrumbs.

Beat the egg lightly using a fork, then season with salt and pepper

Coat the chicken slices in flour, then dip in the egg mixture and in the end toss them well in breadcrumbs.

Heat up the frying pan and add the oil.

Fry the chicken fillets on both sides for about 2 minutes on each side until golden, then remove from the pan and place on a kitchen towel to remove the excess oil.

To make the katsu sauce, heat up the oil in a pan, peel and chop the onion, and fry until soft.

Peel and chop the potato and carrot, add them to the pan, together with the garam masala, salt, and chicken stock.

Leave to cook for about 10 minutes, until the veggies are soft. Mix the cornflour with 2 tablespoons of water, and add it to the sauce. Cook for a further 2 minutes until the sauce thickens slightly.

You can either serve the sauce chunky, or blend it to a smooth consistency.

Serve the chicken with the katsu sauce and sticky rice, for a true Japanese experience.
Nutrition Facts
Japanese Chicken Katsu Curry
Amount Per Serving
Calories 629
Calories from Fat 216
% Daily Value*
Fat 24g37%
Cholesterol 116mg39%
Sodium 700mg29%
Potassium 960mg27%
Carbohydrates 62g21%
Protein 37g74%
Vitamin A 2640IU53%
Vitamin C 10.6mg13%
Calcium 102mg10%
Iron 5.6mg31%
* Percent Daily Values are based on a 2000 calorie diet.