French cherry clafoutis recipe with chocolate chips, my take on the classic summer dessert. Superbly scrumptious and light, with an almond custard-like taste and texture, this is one of those quick easy desserts that never fail to impress.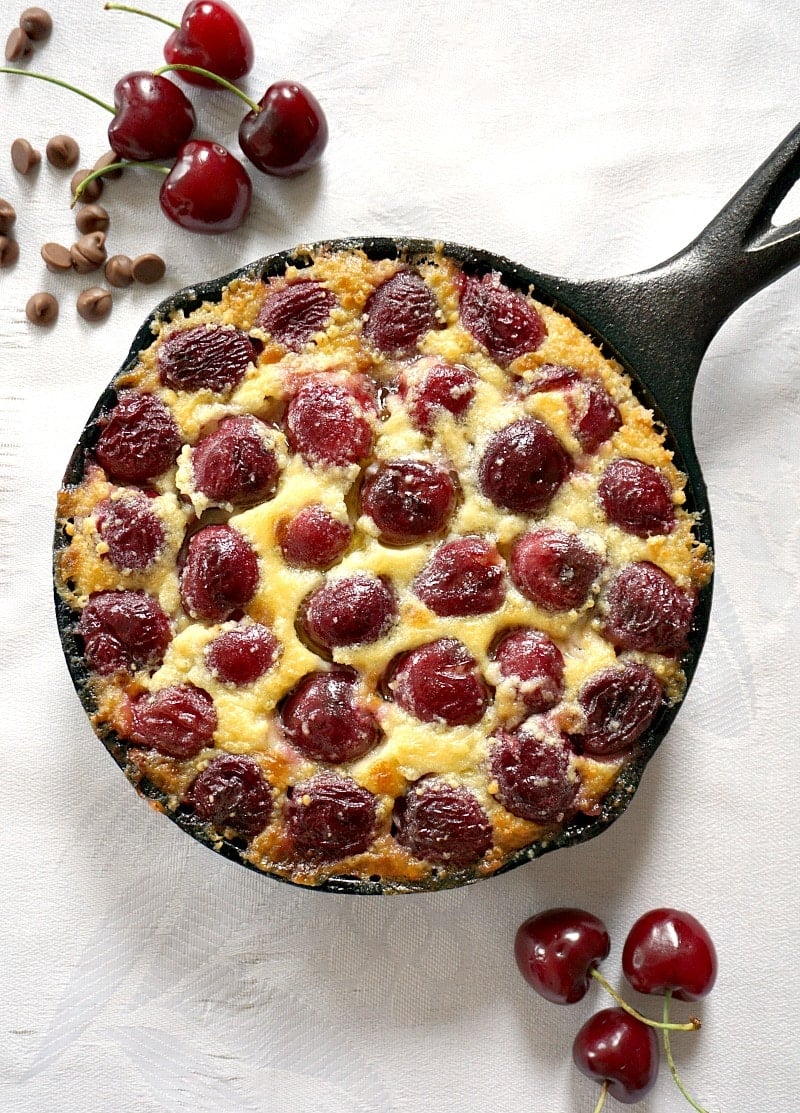 French fruit desserts are pure perfection, aren't they? Some might be complicated, although so indulgent, but this easy clafoutis recipe is all you need for the ultimate dessert experience. And since the cherry season does not last too long, we must take full advantage of these juicy fruit. June is by far the best season when it comes to fresh ones.
Traditionally, clafoutis is made with black cherries, and usually pits are not removed. They are said to contain the active chemical in almond extract, which is released during baking, thus giving the clafoutis a distinctive almond flavour. Now, while this sounds rather yummy, l would recommend you remove the pits if you have small kids, l would not trust they can easily remove them.
Instead, you can add almond extract to the batter, and also some ground almond, for extra flavour. The taste can be enhanced also by using vanilla extract, they both work beautifully here. If you google the term clafoutis, you might find the very slightly different spelling too, clafouti, but it really is the same delicious and finger-liking dessert.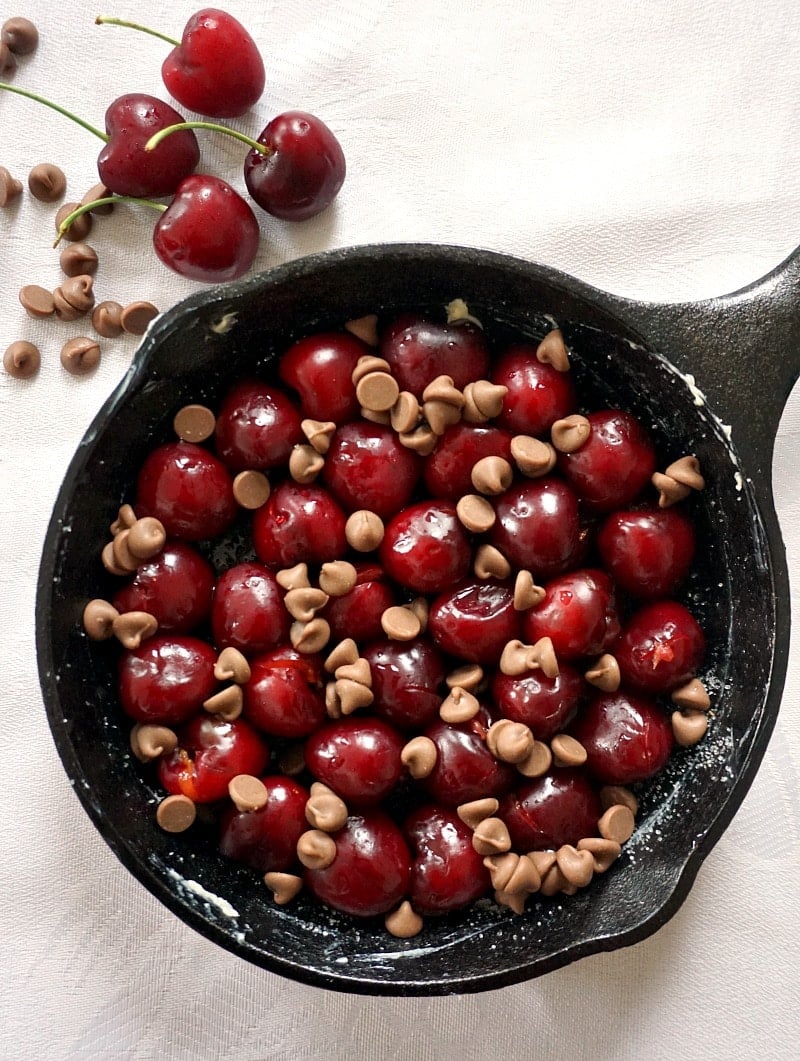 If you wonder what have chocolate chips to do with cherry clafoutis, well, they are not usually used here. But this does not mean we cannot make the dessert our own and add them.
After all, chocolate chips can only make it super douper yummy. They will not hold their shape during baking, like they usually do in cookies, they melt nicely and bring extra sweetness. Chocolate and cherries make a happy pair, and a very posh one.
If you don't happen to have cherries, they can successfully be replaced by other fruit like blueberries, plums, blackberries, cranberries, etc It has occured to me that l have not made a dessert for a while now, all my latest posts are either main meals, snacks or salads. It had to be rectified, really.
To be more precise, the last dessert recipe l posted was the yummy scrummy Chocolate cake with nutella which was posted mid May. Not that l haven't had any more sweets sice then, unfortunately…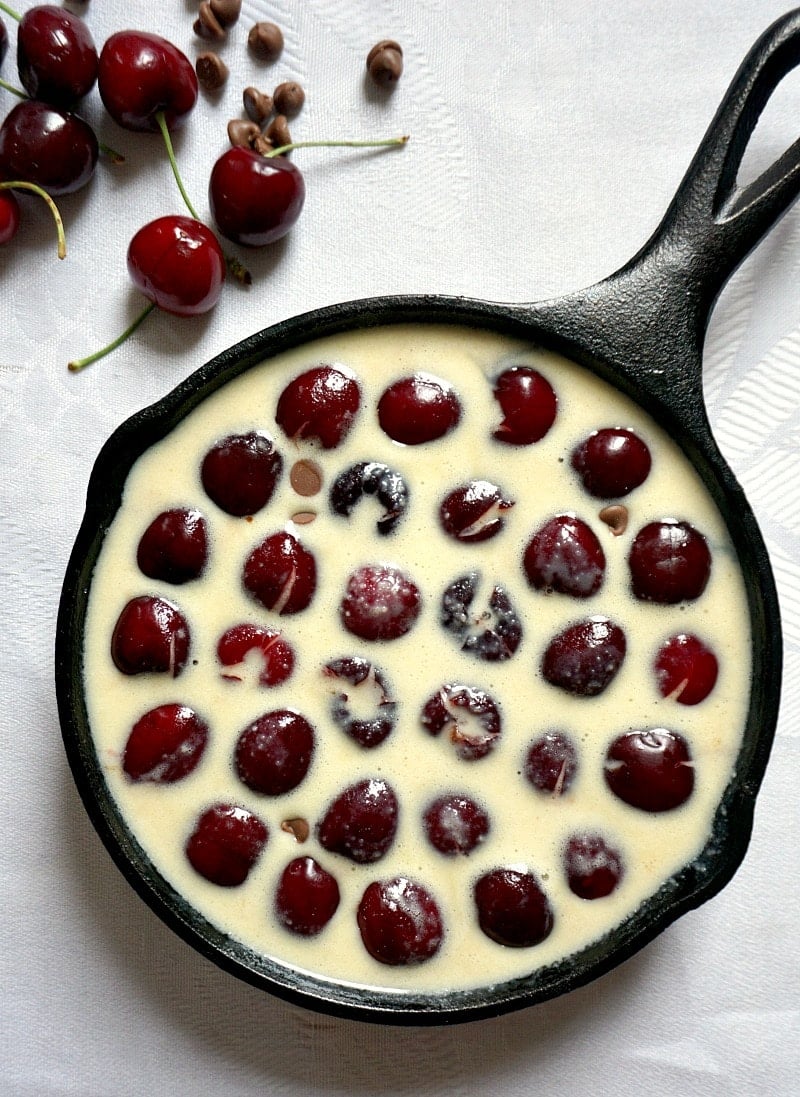 I must warn you here, when you make the batter, this is pretty runny, unlike most cakes, where the batter is way more consistent. It's even thinner than the crêpes batter, but that's not a problem really, it's meant to be this way.
I have long researched a cherry clafoutis recipe, l wasn't verry happy with any, either ridiculous amounts of sugar, or butter.
If you find nicely ripen cherries when they are in season, they are naturally sweet and juicy, so tons of sugar is really unnecessary. Especially since chocolate chips are added too.
I found some amazing cherries in town the other day, and bought a 2 kg box, which was pretty silly, since only myself and my little one like fruit, my husband is not that keen on them.Now you know why a cherry dessert had to be baked. And what a dessert, yum 🙂
If you've liked my FRENCH CHERRY CLAFOUTIS or any other recipe on the blog then don't forget to rate the recipe and let me know how you got on in the comments below, I love hearing from you! You can also FOLLOW ME on FACEBOOK, and PINTEREST to see more delicious food and what I'm getting up to.
French Cherry Clafoutis Recipe with Chocolate Chips
French Cherry Clafoutis recipe with chocolate chips, my take on the famous summer dessert. With a delicate almond custard-like taste and texture, this easy cherry clafoutis is one of those quick easy desserts that never fail to impress.

Ingredients
50

g

plain flour

3

tbsp

granulated sugar

1

tbsp

melted butter + 1 tsp to brush

1

large egg

1

tbsp

ground almonds

150

ml

milk

1/2

tsp

almond extract

1/2

tsp

vanilla extract

a pinch of salt

1

cup

pitted cherries (or enough to cover the bottom of the pan)

one handful of milk chocolate chips

powder sugar to sprinkle
Instructions
Preheat the oven to 190 degrees Celsius (375 degrees Fahrenheit).


Brush the bottom of a skillet (mine is a smaller 6 1/2 ") with butter, then sprinkle a tablespoon of granulated sugar over.


In a jug whisk together the milk and egg, salt and one tablespoon of melted butter, then add the almond and vanilla extract.


In a large bowl, sift in the flour, add the sugar and ground almonds and mix well to combine.


Make a well in the middle of the dry ingredients and gradually whisk in the liquid until you get a lump-free batter.


Arrange the cherries on the bottom of the skillet and sprinkle the chocolate chips over. Pour over the batter and bake for 20 to 25 minutes until set and a skewer inserted in the middle comes out clean.


Serve either warm or cold from the fridge with some powder sugar sprinkled over.

Recipe Notes
Click on the US Customary link to see the measurements displayed in cups and ounces.

The servings can be adjusted by clicking the number next to Servings.
Nutrition Facts
French Cherry Clafoutis Recipe with Chocolate Chips
Amount Per Serving
Calories 119
Calories from Fat 36
% Daily Value*
Total Fat 4g 6%
Cholesterol 34mg 11%
Sodium 38mg 2%
Potassium 103mg 3%
Total Carbohydrates 17g 6%
Protein 3g 6%
* Percent Daily Values are based on a 2000 calorie diet.
Save
Save
Save
Save
Save