A delicious Wonton Soup Recipe with shrimp/prawn and pork in a soothing chicken broth, this is comfort food at its best; Asian style.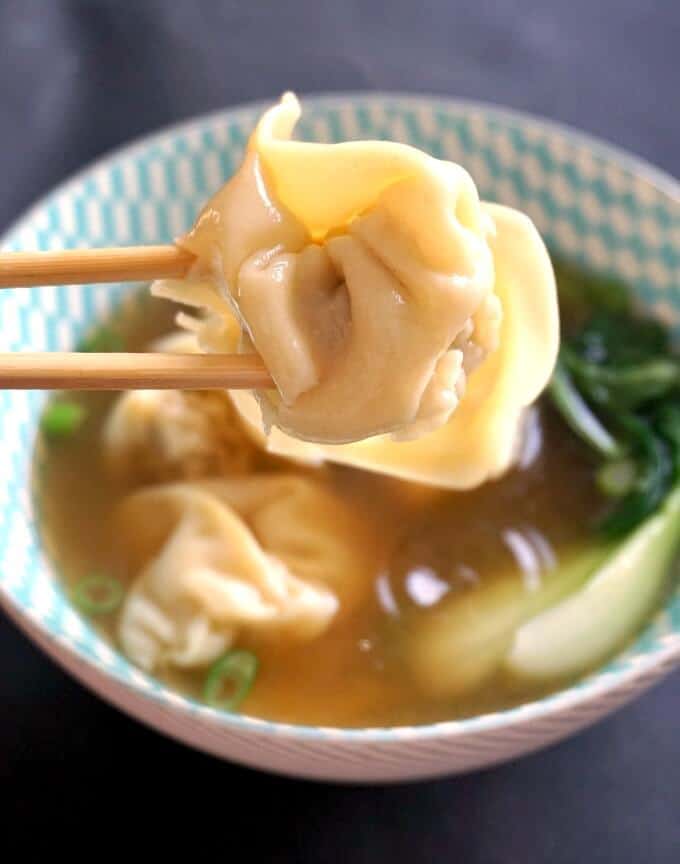 Has the weather gone mad or what? Great Britain has been hit hard by freezing temperatures and heavy snow. This is by far the worst winter since I moved here some 9 years ago.
I was used to this kind of weather from back home, as winters in Romania are pretty crazy cold, but for the UK to experience it, that's kind of new.
I know, it's Winter, what can one expect, but still. I was so looking forward to Spring though, I guess that's not going to come too soon now. I do like cold and snow and all that, but only around Christmas, after that, it's plain unbearable. How do people survive in Siberia and other frozen places?
So, back to comfort food, hey! And what's better than a nice bowl of super hot, super tasty and super simple Wonton Soup? No need to buy the ready-made wontons, you get to make yours in a matter of minutes, trust me on that.
And all that with good-quality, fresh ingredients you trust. Let me show you how!
Right, so all you need is some wonton wrappers, which you can find at most Asian stores. Not sure about regular supermarkets, probably the big ones do have in the Asian aisle.
Usually these wrappers are either round or square. Any would do, and there are so many ways of folding a wonton, but this one is probably the easiest.
Careful with the filling, you really need a small amount, otherwise you won't be able to seal it properly. It does help to moist the edges of the wrappers with water before folding to seal it perfectly.
Some people use egg wash too, but plain water works just fine, so no need for that. Keep it nice and simple, that's the beauty with this soup.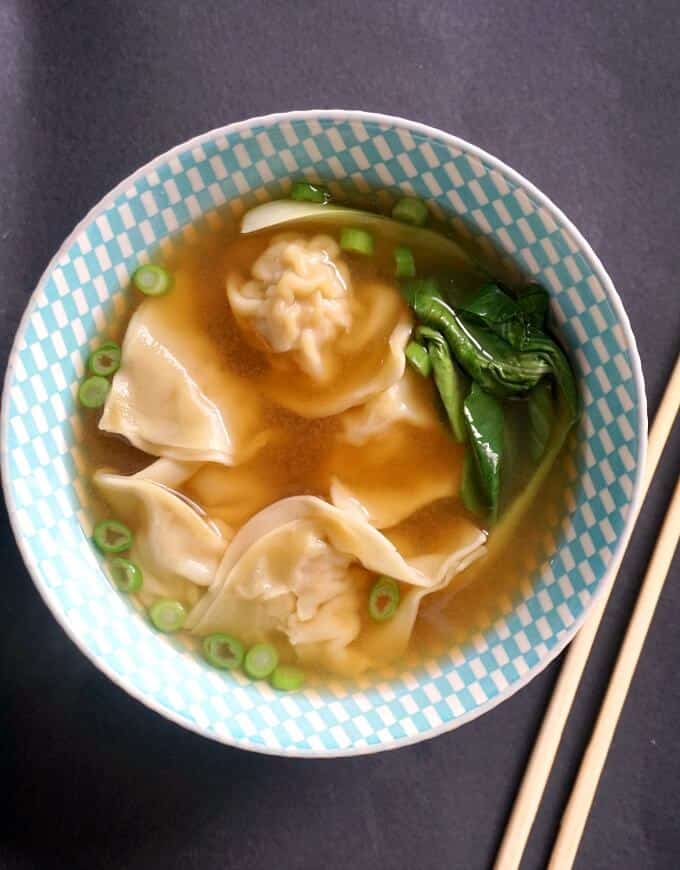 Now, about the filling. The most common (and delicious) combination is ground pork and shrimp (prawn). Oh, my! I don't use ground pork often, I usually cook with ground turkey, beef or chicken, but for these wontons pork is the very best.
You can make the filling using shrimp only, if you want a super healthy version, but again, this combo is just perfect, so if you don't otherwise mind pork, do use it.
Some people make the shrimp into a paste buy blitzing it in a food processor, but I quite like chopping it finely instead, it's got a bit of more texture.
If you use oyster sauce for the filling, I would not use salt at all, I find that the soy sauce and oyster sauce are pretty high in salt anyway, so no need for extra salt.
As for the broth, you can either go for chicken broth with ginger, garlic and throw in some spring onions and pak choi, or even use miso soup, for a Japanese twist. Whatever you choose, you are in for a treat!
If you've liked the WONTON SOUP RECIPE or any other recipe on the blog then don't forget to rate the recipe and let me know how you got on in the comments below, I love hearing from you! You can also FOLLOW ME on FACEBOOK, and PINTEREST to see more delicious food and what I'm getting up to.
15-Minute Wonton Soup Recipe
A delicious Wonton Soup Recipe with shrimp/prawn and pork in a soothing chicken broth, this is comfort food at its best; Asian style.
Ingredients
For the filling
100

g

ground pork

100

g

shrimp, finely chopped

1

spring onion, finely chopped

1

tsp

ginger, finely chopped

2

cloves a garlic, finely chopped

1/2

tsp

oyster sauce

1/2

tsp

soy sauce

1/2

tsp

rice vinegar

1

tsp

sesame oil

25

wonton wrappers
For the soup
5

cups

chicken broth (stock)

a handful of pak choi, blanched

2

spring onions, chopped

2

cloves of garlic, chopped

1

tsp

ginger, chopped
Instructions
To make the filling, mix all the ingredients.

Place about half a teaspoon of the mixture onto a wonton wrapper, then brush the edges with water.

Fold the wrapper, bringing the corners together to seal. Repeat until you use up the mixture.

Add boiling water to a pan, then add about 5-10 wontons at a time, depending how big your pan is.

Leave to boil for about 5 minutes or until the wontons float and they are cooked through.

To make the soup, add the chicken broth to a pan together with the garlic, ginger and spring onion, then bring to a boil.

Place the blanched pak choi in a bowl, add one-two laddlefuls of the chicken broth, then some wontons.
Recipe Notes
If you'd like to see the ingredients listed in cups and ounces, please check the US Customary Link.

Also, the amount of ingredients changes depending on the servings, so click on the number listed to change it to the number you prefer.
Nutrition Facts
15-Minute Wonton Soup Recipe
Amount Per Serving
Calories 208
Calories from Fat 54
% Daily Value*
Total Fat 6g 9%
Cholesterol 68mg 23%
Sodium 1292mg 54%
Potassium 305mg 9%
Total Carbohydrates 24g 8%
Protein 12g 24%
* Percent Daily Values are based on a 2000 calorie diet.