Pan-Fried Dumplings, the best Asian-style dumplings with shrimp and pork. They are a fantastic appetizer for any party, and can be ready in about 15-20 minutes.
It only takes a trip to China Town to get me completely crazy about Chinese food for quite a long time after. I have always liked this cuisine, but recently I have cooked various dishes, and I can't seem to have enough of this yummy food.
A few days ago I posted this fantastic 15-Minute Wonton Soup Recipe which was a big hit in my family, and now I have yet another mouth-watering Asian-style dumplings. Party, family gathering, or just a posh appetizer whenever you feel peckish, you can never go wrong with them. These dumplings are so good!!!
And you know what, no need to go crazy buying thouands of ingredients for make separate dishes, I have used the exact same ingredients I used for my wontons, but this time wrapped differently, and cooked differently, and you get a completely differest dish, and equaly amazing.
Prepare to wow your guests with these bites, the very best you can ever taste. Imagine how much money you save as well, since just a few of these beauties will cost you dearly in a restaurant. And you will be left craving more and more.
So, why not make some yourself, and you can eat to your heart content, without worrying about a massive bill at the end of the meal. And you don't need to slave away for hours, the pan-fried dumplings  are ready before you know it!
So, there you have, so nice round wrappers, they can be the same you use for wontons, if doesn't matter, round or square, then you have the filling, shape them nicely, or however you can, they don't need to scream perfection, and da-tah, the best appetizer you can ever get.
To get that nice brown bottom, first you have to fry them in a bit of oil for about 5 minutes or so, then add some water to the pan, cover with a lid, and them steam will cook them to perfection. Careful not to use too much oil at first, otherwise they will feel greasy.
Steaming will only take about 5 minutes too, maybe less, but believe me, they meat will be cooked properly. I was a bit worried about undercooked pork, but to my surprise, they were just perfect.
I kid you now, you will feel like a Master Chef once you have these yummy dumplings in front of you. You will be so proud of yourself, you will almost want to pat yourself on the back and say, hey, I am a very good cook.
So, you see, homemade food is all about making a recipe your own. Don't worry about it not being authentic, or swapping non-essential ingredients, as long as it tastes great, then the food is the right then, and you should be pround of it.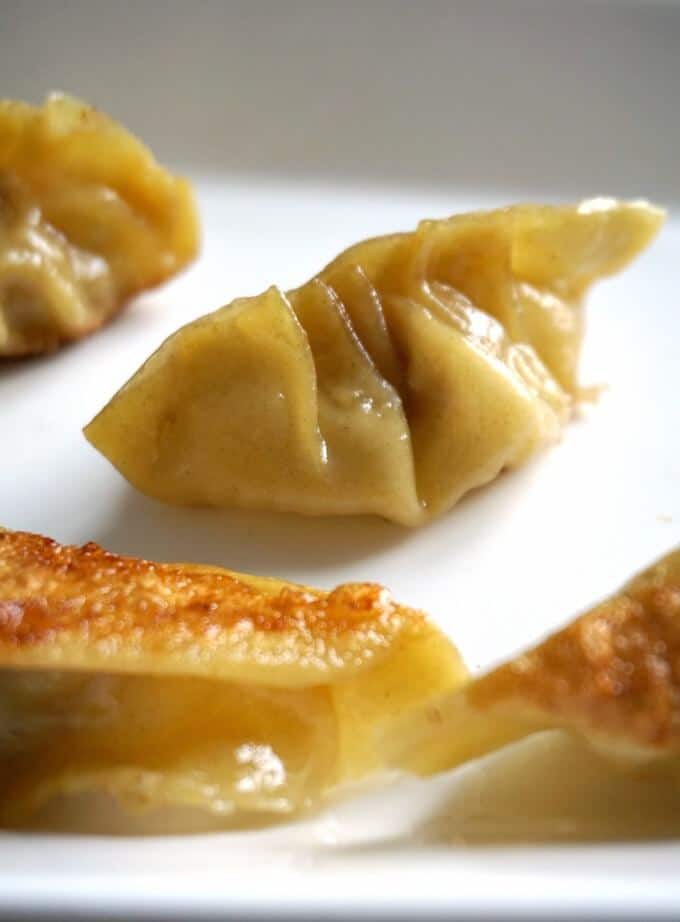 And, you won't believe me that it's my very first attempt at making these dumplings. The Japanese version of gyoza I believe it's almost similar in technique, just the ingredients might be slightly different. But again, they all taste beautifully.
But these delicious dumplings need a good dipping sauce. Nothing fancy, the simplest ingredients that are pretty basic when it comes to Asian cooking: soy sauce(s)- you can either go for plain soy sauce, or a combination of light soy sauce or dark soy sauce, sesame oil, and Chinese white wine vinegar.
And that is all, the very best dipping sauce one can possibly get. Easy peasy, tasty and just perfect with pretty much anything Asian that needs dipping.
No more expensive and not-so-fancy take-aways, you can have your own party at home with cheaper, better quality food. Enjoy!
If you've liked the PAN-FRIED DUMPLINGS or any other recipe on the blog then don't forget to rate the recipe and let me know how you got on in the comments below, I love hearing from you! You can also FOLLOW ME on FACEBOOK, INSTAGRAM and PINTEREST to see more delicious food and what I'm getting up to.
Pan-Fried Dumplings with Shrimp and Pork
Pan-Fried Dumplings, the best Asian-style dumplings with shrimp and pork. They are a fantastic appetizer for any party, and can be ready in about 15-20 minutes.
Ingredients
For the dumplings
40

wonton wrappers

100

g

ground pork

100

g

shrimp

1

spring onion, finely chopped

1

tsp

ginger, finely chopped

2

cloves of garlic, finely chopped

1/2

tsp

oyster sauce

1/2

tsp

soy sauce

1/2

tsp

rice vinegar

1

tsp

sesame oil
For the dipping sauce
1

tbsp

dark soy sauce

1

tbsp

light soy sauce

1

tbsp

sesame oil

1

tbsp

rice vinegar
Other ingredients
1/2

tbsp

vegetable oil to fry

1/2

cup

water to steam
Instructions
To make the dumplings, mix all the ingredients together.

Get a wrapper, brush its edges with water, then add about a teaspoon of the filling, making sure you don't overfill.

Fold the wrapper in half, then make a pleat in the top part of the wrapper, pinching it against the flat edge of the wrapper at the back.

Make a few more pleats on the right side of the wrapper, then pleat on the other side now.

Repeat with the rest of the wrappers, until the filling is used up.

Heat up the vegetable oil in a large frying pan, add the dumplings, making sure you don't overcrowd the pan.

Fry for 3 to 5 minutes or until the bottom of the dumplings is golden brown and crispy, then add the water, place the lid on, and leave the dmplings to steam for about 5 minutes until the water is evaporated and the dumplings are cooked through.

To make the dipping sauce, mix all the ingredients together, then stir.
Recipe Notes
If you'd like to see the ingredients listed in cups and ounces, please check the US Customary Link.

Also, the amount of ingredients changes depending on the servings, so click on the number listed to change it to the number you prefer.
Nutrition Facts
Pan-Fried Dumplings with Shrimp and Pork
Amount Per Serving
Calories 50
Calories from Fat 9
% Daily Value*
Total Fat 1g 2%
Cholesterol 11mg 4%
Sodium 160mg 7%
Potassium 22mg 1%
Total Carbohydrates 5g 2%
Protein 2g 4%
* Percent Daily Values are based on a 2000 calorie diet.