This Traditional Irish Soda Bread is a fantastic crusty bread that needs no yeast, no kneading, and you get golden heaven on your table in only 35 minutes. A great recipe for St Patrick's Day.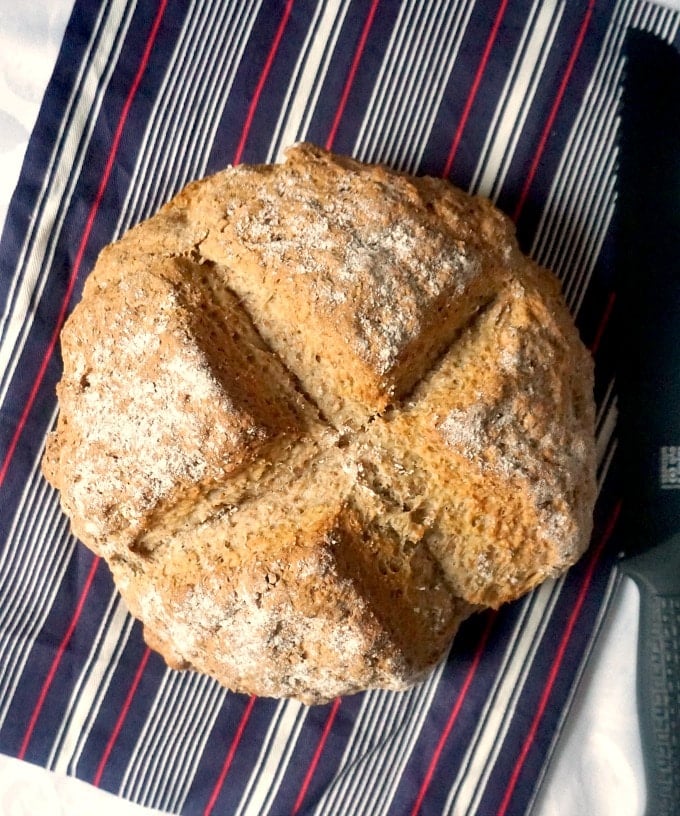 If you love the idea of freshly-baked bread but you dread the whole proving process and have little time to spare, this is a recipe you will absolutely love. Adapted from the recipe of the one and only Paul Hollywood, this popular Irish bread is my new favourite.
Although I really doubt there will be any leftover for the next day, I do find that this bread is amazing on the day you bake, especially when it is still warm. Just picture this: a nice slice of bread with some butter on it, and you sipping from a cup of tea. Amazing, isn't it?
Another great thing about it is that plain flour can be used instead of strong flour. The recipe calls for half amount of plain white flour and half of plain wholemeal flour. Fairly simple, isn't it?
Do ensure that the oven is hot when the bread goes in, so not to miss the pre-heating stage. The bread should be ready in about 30 minutes, but depending on your oven, you might need to keep it in for a tad longer. Just keep an eye on it!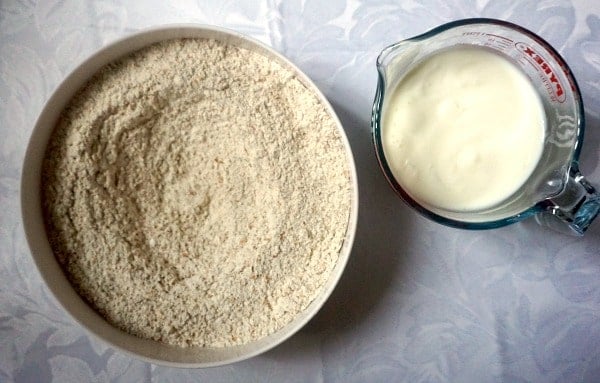 I certainly do love baking bread. Nothing compares to the fresh aroma of homemade bread that fills your kitchen, especially on a cold winter day. I would happily eat it all by itself or with a comforting soup to warm me up.
And the bread it's certainly tons healthier than the store-bough version that is highly processed. I mean, have you seen that sliced bread that you touch and it becomes dough right away?
It can only mean one thing, the bread is nothing but full of preservatives that fluff it up to look fantastic. But it's not. We have already ditched the sliced store-bought bread, and only buy different kinds, and that occasionally.
The kids are not so keen on bread anyway, and myself and my huaband are in agreement that the store-bought bread is really not for us. There is no surprise that I lost about 2kg only a few days after I stopped buying bread. And that says a lot about its quality.
Right, so how to make this no-yeast bread? Very simple!
There is no need to break your back kneading the dough, once you mix the flours, salt and soda with buttermilk, you have to bring everything together quickly, then cut through it with a sharp knife, but not all the way through it, and in the oven.
That's it, nothing else. Just sit back and wait for the bread to be ready. I bet you didn't think it would be so simple! And, with St Patrick's Day coming up, this recipe is absolutely fantastic.
I love the idea of trying different recipes whenever there is a celebration, any excuse is good enough for me to get baking.
So, who's in for a nice slice of freshly-baked bread?
If you've liked the TRADITIONAL IRISH SODA BREAD or any other recipe on the blog then don't forget to rate the recipe and let me know how you got on in the comments below, I love hearing from you! You can also FOLLOW ME on FACEBOOK, and PINTEREST to see more delicious food and what I'm getting up to.
Traditional Irish Soda Bread (No-Yeast)
No-yeast traditional Irish soda bread, golden and delicious, ready in just 35 minutes.
Ingredients
250

g

plain white flour

250

g

plain wholemeal flour

1

ts

salt

1

tsp

bicarbonate of soda

400

ml

buttermilk
Instructions
Preheat the oven to 200 degrees C. (390 Fahrenheit)

In a large bowl, add the white and wholemeal flour, bicarbonate of soda, salt and mix gently with the tips of your fingers.

Make a well in the middle and add about 1 and a half cups of buttermilk, if you feel it needs some more, add the other half too.

Mix quickly to form a soft, pretty sticky dough, then turn it onto a lightly-floured surface and knead briefly, just enough for the dough to hold together and be shaped into a ball.

Flour a large baking tray, place the bread on it, then use a sharp knife to cut a cross on the top. Spread some flour over it, then bake for about 45 to 50 minutes or until golden brown and the bottom of the bread sounds hollow when tapped.

Allow it to cool on a wire rack.
Recipe Notes
If you'd like to see the ingredients listed in cups and ounces, please check the US Customary Link.

Also, the amount of ingredients changes depending on the servings, so click on the number listed to change it to the number you prefer.
Nutrition Facts
Traditional Irish Soda Bread (No-Yeast)
Amount Per Serving
Calories 2030
Calories from Fat 171
% Daily Value*
Total Fat 19g 29%
Cholesterol 44mg 15%
Sodium 4014mg 167%
Potassium 1742mg 50%
Total Carbohydrates 398g 133%
Protein 65g 130%
* Percent Daily Values are based on a 2000 calorie diet.