The Ultimate Nutella Cheesecake, an indulgent no-bake cake that is perfect for Valentine's Day. It has a silky texture, it's rich, yet light at the same time, and its wonderful orange aroma gives it a nice zesty touch. An impressive dessert for your other half.
This luxurious nutella cheesecake has been adapted from Chef Marcello Tully's recipe "Chocolate and Hazelnut Cheesecake"that can be found in his book, The Key Ingredient. 
It's an impressive collection of Michelin-style recipes, so appetising and truly scrumptious. If you are looking for some seriously posh recipes, this is a book for you.
I must warn you, this is not any nutella cheesecake, but THE nutella cheesecake, the only nutella cheesecake recipe you will ever need.
With Valentine's Day coming up in just over a month, it is high time we started thinking about some indugent desserts to celebrate love. And what a better way to celebrate than with chocolate and nutella in one scrumptious cheesecake.
No bake, no headache. Don't you just love it? However, you do need to be patient enough to wait for the cheesecake to set in the fridge, but the waiting is well worth it.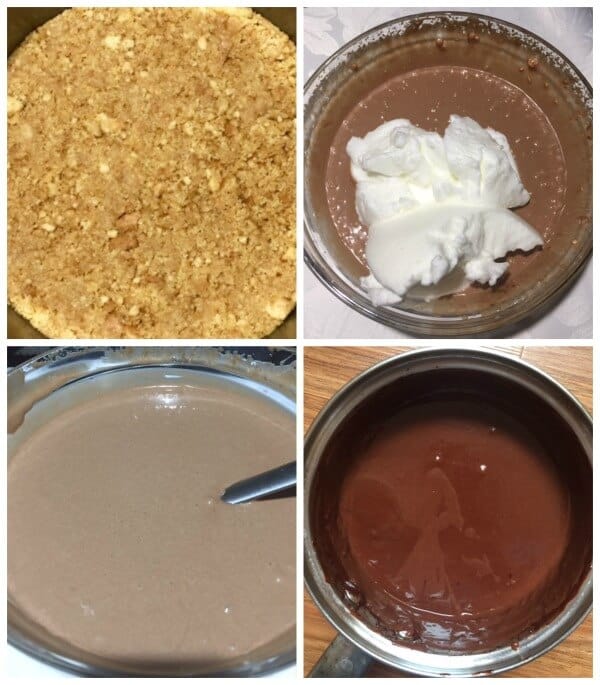 What makes this cheesecake stand out it's the mousse-like texture, which can be achieved by using gelatine. I have made before No-Bake Triple Chocolate Mascarpone Cheesecake, but that one did not have gelatine, so its texture is a lot richer and dense. Totally scrumptious still.
Nutella has to be one of the most beloved spread all over the world. It might not be the healthiest, but if you are going to have dessert, then you might as well indulge. After all, a nice treat for a special occasion can't do any harm, right? At least that's what I've been telling myself for some time now. Those New Year's Resolutions have already been forgotten. Oh, well! Let's try again next year!
And since we are at it, the nutella lover in you will so love my out-of-this-world Chocolate Cake with Nutella Filling | Romanian Amandine treat. Chocolaty, flavourful, just perfect. Have I mentioned that I love nutella? Oh, I do. And so does my husband 🙂 A match made in heaven, I am telling you!
Right, cheesecake! A few tips here. Well, let's just say that one golden rule with cooking/baking in general is NEVER EVER RUSH IT! Easier said than done, especially when you have two little bundles of joy who seem to run on Duracell batteries. But anyway, if at all possible do take your time to get things done properly.
A baking tin with detachable walls or removable bottom is a must!!! Removing the cheesecake from a normal baking tin will be a nightmare, trust me with that!
Also, make sure the dairy products you use are full-fat. Forget about the low-fat/0 fat nonsense, in most cases they have a higher water content which ruins the texture of your baking. And sometimes the taste too.
If you have a food processor, you can blitz the digestive biscuits, otherwise the good old rolling pin works as well. Don't hold back on the amount of butter you use to mix with the biscuits, otherwise the base will be too crumbly.
One final point here, I have not used any sugar for the chocolate glaze, but feel free to use if you like. I quite like the slightly bitter glaze that contrasts nicely with the sweet nutella filling. What a dessert this is!
If you've liked the NUTELLA CHEESECAKE or any other recipe on the blog then don't forget to rate the recipe and let me know how you got on in the comments below, I love hearing from you! You can also FOLLOW ME on FACEBOOK, and PINTEREST to see more delicious food and what I'm getting up to.
The Ultimate Nutella Cheesecake
The Ultimate Nutella Cheesecake, an indulgent no-bake cake that is perfect for Valentine's Day. It has a silky texture, it's rich, yet light at the same time, and its wonderful orange aroma gives it a nice zesty touch. An impressive dessert for your other half.
Ingredients
For the base
150

g

digestive biscuits/Graham crackers

75

g

no salt butter
For the nutella filling
1

sachet gelatine granules

300

ml

double/heavy cream

zest from 2 oranges

2

tbsp

granulated sugar

150

ml

sour cream

250

g

mascarpone

400

g

nutella

2

eggs
For the glaze
1

sachet of gelatine granules

300

ml

double cream

3

tbsp

cocoa powder

100

g

dark chocolate
Instructions
To make the base, place the biscuits into a bag, and use a rolling pin to bash them until they resemble breadcrumbs. Place in a bowl.

Melt the butter, then add it to the bowl together with the crushed biscuits, and mix well.

Place the mixture into a round baking tin that has either detachable walls or removable bottom, and press down firmly making sure it is spread into an even layer.

Chill in the fridge for at least 30 minutes.

To make the filling, place the gelatine granules into a small bowl, add 5 tablespoons of warm water, and mix well. Set aside for 15 minutes.

Place the double cream into a pan, and bring to the boil. Remove from the heat, add the orange zest and mix well.

Add the gelatine to the pan, mixing well in order to disolve it completely.

You can now add the sour cream, mascarpone and nutella.

Separate the egg yolks from the egg whites.

The egg yolks will be beaten with the sugar and added to the other ingredients, and the egg whites be will beaten until they hold stiff peaks.

Once you get a meringue-like consistency, gently fold the egg whites into the nutella mixure.

Pour it over the biscuits base and transfer it back to the fridge to chill, ideally overnight or for at least 6 hours.

To make the glaze, mix the gelatine granules with 5 tablespoons of warm water, and set aside to hydrate for 10-15 minutes.

Pour the double cream into a pan, bring it to a boil, then add the cocoa powder and chocolate broken into pieces, and stir well until you get a smooth consistency.

Remove from the heat, add the gelatine and whisk well to disolve it.

Pour the glaze over the chilled cheesecake, then leave to set for a further one hour.

Decorate with slices of strawberries or any other fruit. Serve cold from the fridge.
Recipe Notes
If you'd like to see the ingredients listed in cups and ounces, please check the US Customary Link.

Also, the amount of ingredients changes depending on the servings, so click on the number listed to change it to the number you prefer.
Nutrition Facts
The Ultimate Nutella Cheesecake
Amount Per Serving
Calories 1280
Calories from Fat 918
% Daily Value*
Total Fat 102g 157%
Cholesterol 273mg 91%
Sodium 387mg 16%
Potassium 606mg 17%
Total Carbohydrates 78g 26%
Protein 14g 28%
* Percent Daily Values are based on a 2000 calorie diet.