Sheet Chocolate Cake with Nutella Filling, chocolate ganache glaze and whipped cream, the ultimate chocolatey dessert. Rich, indulgent, heavenly delicious. That's what a proper dessert looks and tastes like. It's so easy to make, but a winner every single time.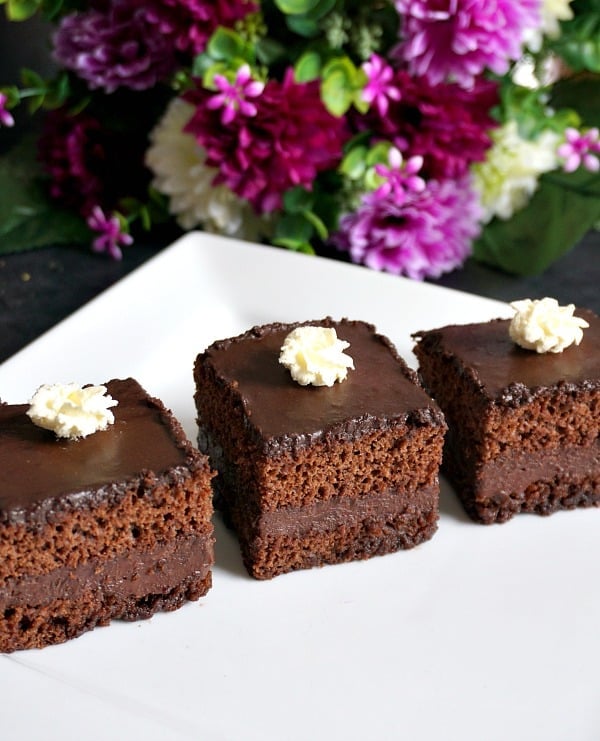 This is the famous Romanian "Amandina", which has the plural form "Amandine", and it's so loved over there, many of use identifying it with the dessert of our childhood. It is the kind of dessert that takes you back in time whenever you have a bite, and so delicious, you can't stop eating it. Truly scrumptious!
While the original recipe for amandine might not contain nutella, l think it adds to the deliciousness, so the more, the better. As you might have noticed lately, I love chocolate too. Too much!!!
Just a few days ago I had these amazing strawberries with chocolate sauce, l have the perfect recipe: How to make the best chocolate dipping sauce in 5 minutes. Worth giving it a try, l think it's better than any store-bought chocolate sauce, and it's ready in 5 minutes or under.
So, yeah, this is the real deal, forget any other chocolate cakes that just look good, but do not deliver when it comes to taste. Plus, you know it is made with natural ingredients only, and so nastiness whatsoever.
Making this yummy sheet cake is a super simple job, but you'll need to be patient enough and leave them chill in the fridge for quite a bit before having a taste of heaven, ideally overnight.
The recipe is the easiest possible, so don't be overwhelmed by the rather long list of ingredients. It takes about 5 minutes to prepare the sponge, then it goes in the oven for 20 minutes.  Plus, while the sponge is in the oven, you can get the glaze, syrup and filing ready, and have them cooling down. Simple, isn't it?
How to make chocolate buttercream with nutella
To make the nutella filling, or chocolate buttercream with nutella, you have to mix the soften butter with the nutella, sugar, cocoa powder and vanilla extract and mix until smooth.
I would suggest making the whipped cream once the cake is chilled and ready to be served. You could choose to have the cake in a regular round tin cake if you like, but our amandine are a sheet cake, so I preferred to go with it.
I remember when l was little that cutting a cake in half seemed like an impossible task to me, and always thought mum must have had some super powers to be able to achieve such perfection. While l no longer think halving a cake is such a task, l still think however that mum has some super powers.
She's really amazing!!! It's all because of her passion for cooking and baking that l so much enjoy being in the kitchen now. And eating cakes, as a matter of fact.
You really must give these pretty little cakes a try, you will know what l'm talking about when l say that they are the very best cakes ever baked.
If you've tried my SHEET CHOCOLATE CAKE WITH NUTELLA FILLING or any other recipe on the blog then don't forget to rate the recipe and let me know how you got on in the comments below, I love hearing from you! You can also FOLLOW ME on FACEBOOK, and PINTEREST to see more delicious food and what I'm getting up to.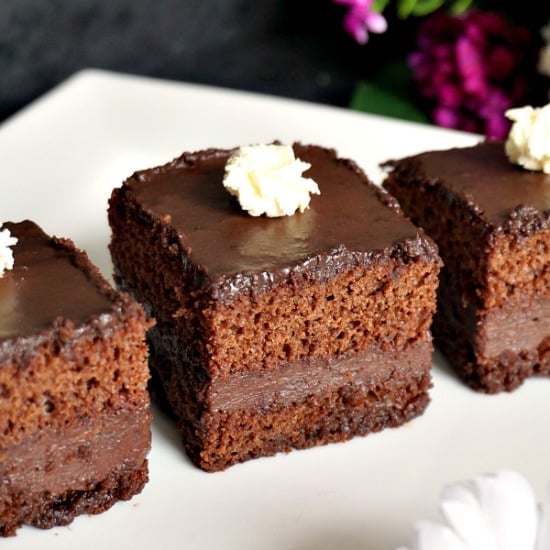 Sheet Chocolate Cake with Nutella Filling
Sheet Chocolate Cake with Nutella Filling, chocolate ganache topping and whipped cream, or the Romanian Amandine, an indulgent dessert that tastes like heaven.

Ingredients
For the sponge
3

eggs

75

g

self-raising flour

100

g

granulated sugar

2

tbsp

cocoa powder

1

tsp

baking powder

a pinch of salt

1

tsp

vanilla extract
For the filling
60

g

unsalted butter

1

tbsp

cocoa powder

2

tbsp

icing sugar

1

tsp

vanilla extract

200

g

nutella
For the syrup
200

ml

water

100

g

granulated sugar

1

tbsp

instant coffee
For the glaze
200

g

dark chocolate

5

tbsp

full-fat milk
Instructions
Preheat the oven to 180 degrees C /375 F.


To make the sponge, crack the eggs and add them to a bowl.

Add the sugar and beat them until fluffy and the colour becomes a pale yellow.

In a separate bowl, mix together the flour, salt, cocoa powder and baking powder and add the dry ingredients to the egg mixture one tablespoon at a time, mixing well with the spatula.

Once the dry ingredients are fully incorporated, add the vanilla extract, mix again lightly.

Butter and flour a square baking tray of 20x20 cm/9x9 and pour the mixture in.

Bake in the preheated oven for about 20 minutes or until risen and firm to touch.

Set aside to cool completely.

To make the filling, make sure that you remove the butter from the fridge at least one hour before, so that it can be really soft.

Place the butter in a large bowl and add the sugar, cocoa powder, nutella and vanilla extract.

Use an electric mixer to beat everything well until smooth and creamy.

To make the syrup, place the water and sugar into a saucepan and bring it to a boil, stirring until the sugar has dissolved completely.

Add the coffee and the vanilla extract, remove from the boil and allow it to cool completely.

To make the glaze, break the chocolate into small pieces, add them to a bowl and pour over the milk.

Set the bowl over a pan of boiling water and allow the chocolate to melt.

Next, cut the sponge into 2 parts and place one part onto the baking tray.

Use a brush to brush the cake with the syrup, we want it quite moist, but not too soggy.

Next, spread the chocolate filling over the entire cake, place the second part of the sponge on top of the cream and brush it again with the syrup.


Top the cake with the chocolate glaze, the refrigerate for at least 4 hours, ideally overnight.


Use a sharp knife to cut the cake into 9 squares, then decorate with whipped cream. Serve chilled.

Recipe Notes
To see the measurements in cups and ounces, please click on the US CUSTOMARY link.

The amount of ingredients listed can be adjusted depending on the number of servings you need, just click on the number next to SERVINGS.
Nutrition Facts
Sheet Chocolate Cake with Nutella Filling
Amount Per Serving
Calories 381
Calories from Fat 180
% Daily Value*
Fat 20g31%
Cholesterol 83mg28%
Sodium 33mg1%
Potassium 326mg9%
Carbohydrates 44g15%
Protein 5g10%
Vitamin A 380IU8%
Calcium 79mg8%
Iron 3.3mg18%
* Percent Daily Values are based on a 2000 calorie diet.
Save
Save
Save