Romanian Sarmale or stuffed cabbage rolls with meat and rice-  the country's national dish. It is a most delicious dish made usually with cabbage or wine pickled leaves rolled in a filling of rice and minced meat, most commonly with pork, beef, turkey or chicken. Christmas and other important holidays would not be the same without these amazing rolls.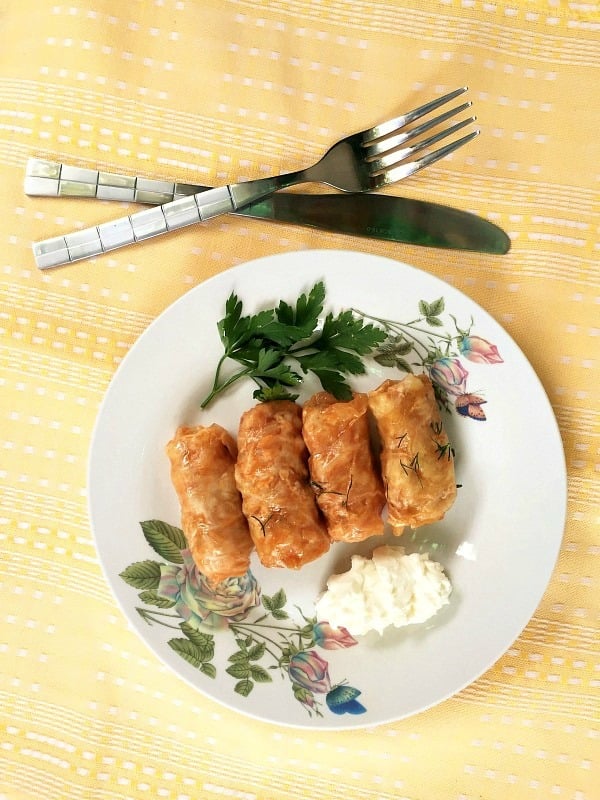 As a nation, we are so proud of our Romanian sarmale, always welcoming foreign guests with some finger-licking sarmale (and a glass of plum brandy). Usually served with mamaliga (polenta) sour cream and green chilli peppers.
While many countries have the tradition of roast turkey when it comes about important holidays, we indulge ourselves in these divine stuffed cabbage rolls.
They  can a bit heavy, depending on the meat used, so some moderation is the key if you want a happy tummy after a rich meal. Pickled cabbage or sauerkraut may be replaced with pickled wine leaves, if you cannot find them in store.
I was so happy to find out that a Romanian food store was opened recently in the area where l live in the UK, so I can stock up on essentials.
Nothing can compare to the real taste of a traditional food! Rolling can look complicated if no previous experience, but it is such a fun. I remember as l child when l was helping mum, my rolls always looked so bad compared to mum's perfect and same-sized rolls. I still cannot call myself an expert, but l have definitely improved my skills. Hooray!
I absolutely love our traditional food, there are so many fantastic dishes, but to name a few, Pilaf and Braised cabbage with ham and sausages are my favourite. We don't really use so many strong spices, but rather let the ingredients bring up their very flavour.
Meat is certainly a favourite, you won't find many people to say they don't like meat. Although fresh vegetables are also treasured. Let's have some heavenly Romanian Sarmale, I promise you this dish is delicious!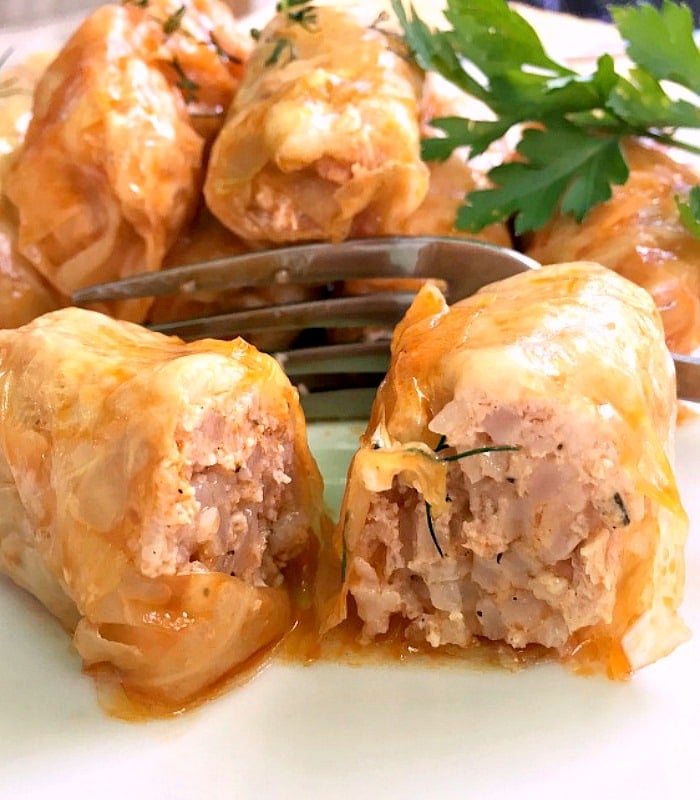 If you've liked my ROMANIAN SARMALE or any other recipe on the blog then don't forget to rate the recipe and let me know how you got on in the comments below, I love hearing from you! You can also FOLLOW ME on FACEBOOK, and PINTEREST to see more delicious food and what I'm getting up to.
Romanian Sarmale
Romanian Sarmale or cabbage rolls with chicken and rice, the country's national dish.

Ingredients
250

g

ground chicken

1

cup

rice

1/2

tbsp

vegetarian oil

1

tsp

sweet paprika

1/2

tsp

salt

1

small onion

pickled cabbage leaves

sauerkraut

1/2

red pepper

2

tbsp

tomato purée

2

cups

water
Instructions
Cut the onion really finely and mix it with the minced chicken.

Rinse the rice under running cold water, then mix it with the chicken and onion.

Add the vegetable oil and season with salt and sweet paprika. If you cook with pork or beef that have a bit of fat in it, oil can be ommited, otherwise it must be added so that the rolls can be nice and tender.

This mixture was enough for 15 rolls, but depending on how big your rolls are, you may need more or less pickled cabbage leaves.

Take a tablespoon of the mixture and place it on the pickled cabbage leaf. Fold it tightly into a roll. Repeat with the remaining mince.

Shred a few pickled cabbage leaves and place them on the bottom of a large pan.

Place the rolls around the pan leaving a well in the middle. Do make sure they are no gaps between the rolls, otherwise they might unfold during cooking.

Add the chopped red pepper and tomato purée and pour in the water, making sure all the rolls are completely covered. Add more water if necessarily.

Cover with a lid and cook on a small to medium heat until the rolls are cooked through.

Remove from the heat and transfer to a serving plate.

To reheat, simply pop the rolls in the oven until hot.
Recipe Notes
Click on the US Customary link to see the measurements displayed in cups and ounces.

The servings can be adjusted by clicking the number next to Servings.
Nutrition Facts
Romanian Sarmale
Amount Per Serving
Calories 73
Calories from Fat 9
% Daily Value*
Total Fat 1g 2%
Cholesterol 13mg 4%
Sodium 85mg 4%
Potassium 124mg 4%
Total Carbohydrates 10g 3%
Protein 3g 6%
* Percent Daily Values are based on a 2000 calorie diet.
Save
Save