Braised Cabbage with ham and sausages, a traditional Romanian dish and definitely one of the tastiest too. My kind of comfort food, no matter the season.
Cabbage, one underrated vegetable
It might not sound too interesting, but once you had some, there is no going back, you'll find yourself cooking this braised cabbage recipe again and again. Best served with chilli pepper and polenta.
Romanians love cabbage, either fresh, as a nice salad with vinegar and oil, braised, with or without meat, or pickled – sauerkraut, which is usually used to make our national dish Romanian cabbage rolls with rice and meat, usually pork, but chicken or beef are also common.
My Cabbage rolls with chicken and rice  is a recipe l am very fond of, and make very often. Nothing like a comforting dish to remind me of home.
Cabbage loves dill and bay leaves, you could cook it without, but you won't get the full flavour and won't appreciate the real taste.
This dish turns out to be really cheap, from one medium cabbage you can easily feed 2 or 3 people. Shredding cabbage might not be a pleasant task, or, at least l find it boring, but the result is just delicious.
Once the whole cabbage is shredded, you might think it's too much and won't go in the pan, that is why it has go in the pan in batches, because once it softens a bit, you realise it's not that much after all.
And that's because cabbage releases quite a lot of water when cooking. Pretty much like cooking mushrooms actually.
Another tip is to rub it with some salt before adding it to the pan, it will cooked faster and it will definitely taste better. Be generous with the tomato paste, it brings the whole dish to the very next level.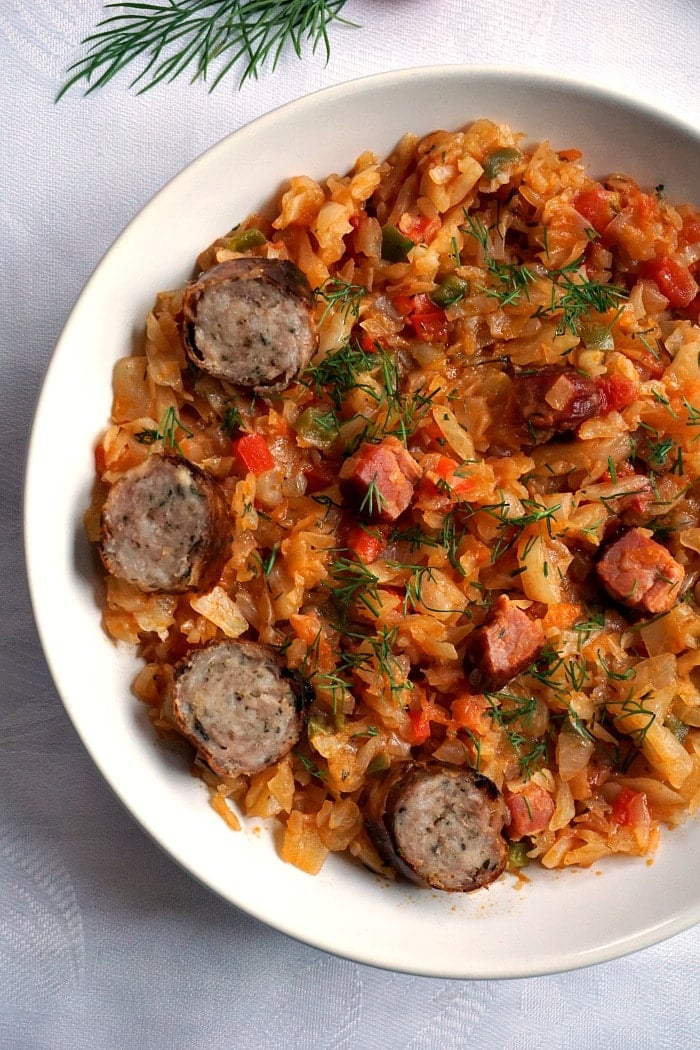 Smoked ham is ideal for this braised cabbage dish, it gives that unique smokey flavour, and some good pork sausages with a tiny bit of fat for some extra flavour, although you can use any other kind of sausages, even vegetarian ones.
Or just omit meat altogether for a vegetarian/vegan version, it will still be lovely.
I really love this dish, it takes me straight back home where l had the best childhood and the best food.
You can't be a child again, but you can certainly taste the same awesome food. And that without spending a fortune. Isn't that amazing?
If you've liked my BRAISED CABBAGE RECIPE or any other recipe on the blog then don't forget to rate the recipe and let me know how you got on in the comments below, I love hearing from you! You can also FOLLOW ME on FACEBOOK, and PINTEREST to see more delicious food and what I'm getting up to.
Braised Cabbage with Ham and Sausages
Braised cabbage recipe with ham and sausages, a traditional Romanian dish that is tasty and full of flavour. Best served with chilli and polenta.

Ingredients
1

medium white cabbage

100

g

smoked ham

250

g

pork sausages

1

tbsp

vegetable oil

1

red bell pepper

2

tbsp

tomato paste

1

tsp

salt

1/4

tsp

black pepper

3

bay leaves

1

tbsp

freshly-chopped dill
Instructions
Shred the cabbage, sprinkle salt over it and rub it with your hands. Set aside for 10 minutes.

Meantime, heat up the oil in a large pan, fry the sausages until throughly cooked, then remove from the pan.

Chop the onion and pepper and add them to the same pan, frying for 5 minutes until soft.

Add the cabbage to the pan in batches, as soon as the first batch softens and allows for more cabbage to be added to the pan, in goes the second batch together with the bay leaves.

Keep stiring with a wooden spoon, when the cabbage has released its liquid, cover it with water and leave to cook on a medium heat until very tender.

Season with more salt if needed, add the black pepper, tomato paste, sliced sausages, smoked ham and dill and cook for a further 5 minutes.

Serve hot with polenta and chilli pepper.
Recipe Notes
Click on the US Customary link to see the measurements displayed in cups and ounces.

The servings can be adjusted by clicking the number next to Servings.
Nutrition Facts
Braised Cabbage with Ham and Sausages
Amount Per Serving
Calories 422
Calories from Fat 252
% Daily Value*
Fat 28g43%
Cholesterol 76mg25%
Sodium 1850mg77%
Potassium 1002mg29%
Carbohydrates 22g7%
Protein 22g44%
Vitamin A 1765IU35%
Vitamin C 164.3mg199%
Calcium 132mg13%
Iron 3.3mg18%
* Percent Daily Values are based on a 2000 calorie diet.
Save
Save