Quick chicken liver pâté, a delicious cold appetizer to feed a crowd. It has a smooth, creamy texture and it goes very well with any kind of bread, crackers, breadsticks and more. It's an excellent appetizer for parties and gatherings, and it's sure to impress the guests. No one will ever believe it is a homemade pâté.
Chicken liver might not be something that a lot of people enjoy. But apart from the endless list of vitamins and minerals that it contains, it is actually really tasty if cooked properly. I don't really like boiled liver in chicken soups, and prefer grilling or roasting.
Grilling would probably be the first choice though. I remember when I was little (and very fussy), that chicken liver was one of the very few foods I was actually happy to eat.
Mum used to grill it and serve it with polenta and sour cream. Now, that is a proper feast, trust me! And because everything was so fresh and made in the house, you knew that the taste was the proper one.
It's a bit different from the store-bought chicken liver pâté, but that's because it has no additives, and all the nastiness. I don't even want to know what actually goes into those ones.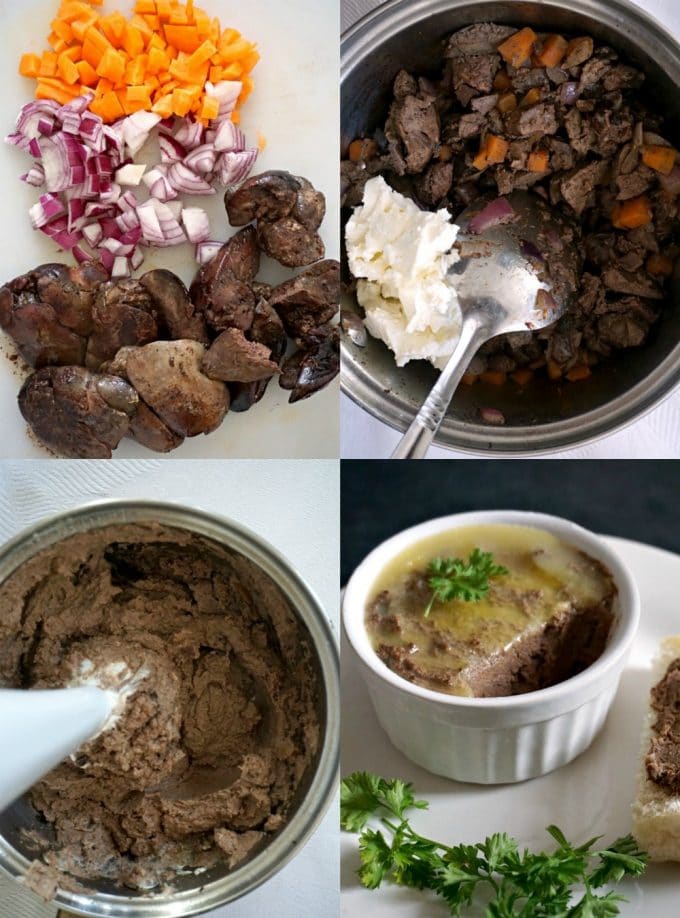 My recipe of quick chicken liver pâté is without alcohol. Most of the store-bought versions would most certainly have alcohol added. I don't really drink alcohol, so, since you'd never find any bottle of any kind of alcohol in our house, I don't really buy any specially for cooking.
I guess everyone's taste is different, and while alcohol might add that extra something to certain dishes, leaving it out is not the end of the world for sure.
Now, storing the pâté is very important. I would't leave it in the fridge for more than two days, and I would advise to consume it within a day. Sealing it with butter helps keep it fresh, so that's one step not to be skipped.
I usually transfer the pâté to ramekins and cover them with clingfilm and then refrigerate. Even if you buy ready-made ones, I think it's still better to transfer them to a different dish and not leave them into the can/package it comes with after you open it.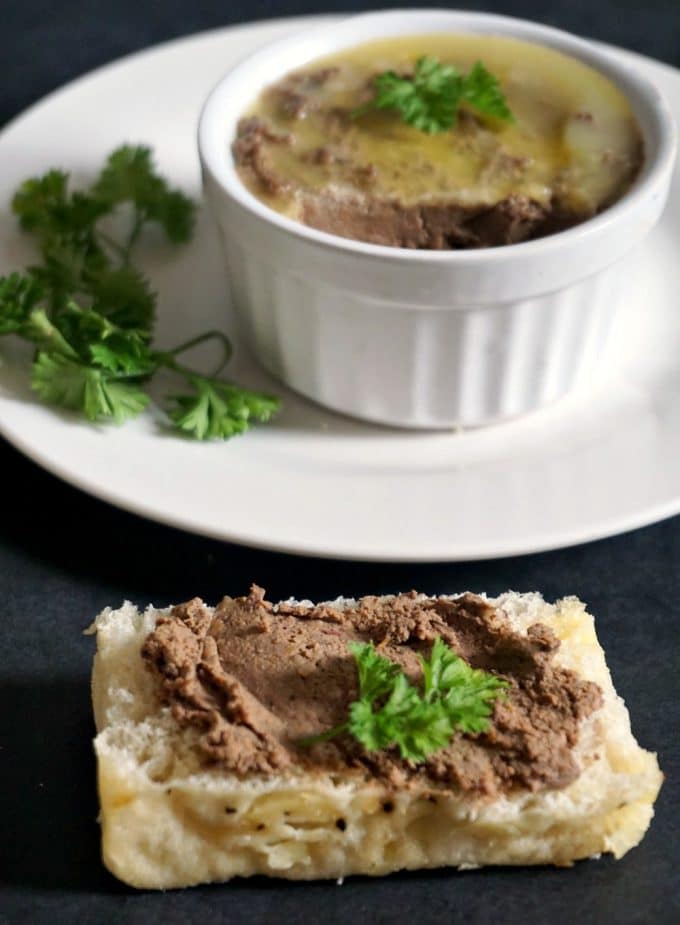 With the holiday season not too far away now, this chicken liver pâté is perfect for your Christmas and New Year Eve party together with a nice smoked salmon pâté. Best to make it the night before and refrigerate, so you can then enjoy it cold the day after.
The butter will then have plenty of time settle, and the pâté will taste just right. I have never tried to freeze it, not quite sure if that would be ideal though, it's one of those dishes I would rather have while it's fresh.
I did not use any strong herbs, but thyme, bay leaves or nutmeg would be a good choice. You might want to add a clove or garlic too, but I decided to keep it simple, but tasty. So, will you give it a go? As with any other pâtés, best to avoid in pregnancy though, especially if not stored properly.
As gutted as I was, I did not have any with both pregnancies. Not that I did not miss during those long 9 months, but I guess better safe than sorry. Otherwise, just enjoy, it's delicious!
If you've liked my QUICK CHICKEN LIVER PATEE or any other recipe on the blog then don't forget to rate the recipe and let me know how you got on in the comments below, I love hearing from you! You can also FOLLOW ME on FACEBOOK, and PINTEREST to see more delicious food and what I'm getting up to.
Quick Chicken Liver Pâté
Quick chicken liver pâté, a fantastic cold appetizer to feed a crowd. It has a smooth, creamy texture and goes really well with any kind of bread, crackers, breadsticks and more. Best served cold from the fridge.
Ingredients
350

g

fresh chicken liver

1

red onion

1

carrot

3

tbsp

full-fat cream cheese

4

tbsp

butter

1

tsp

olive oil

1/4

tsp

ground pepper

1

tsp

freshly-chopped parsley
Instructions
Rinse the chicken livers with cold water, then gently pat fry with kitchen paper.

Heat up a grilling pan and grill the livers on both sides for about 6-7 minutes or until cooked through. Chop roughly and set aside.

Chop the onion and carrots, and add them to a pan together with the olive oil and one tablespoon of butter.

Sautee for about 3 minutes until soft, then add the chopped chicken livers and stir continuously for 2 minutes.

Add the cream cheese, ground pepper and half a teaspoon of parsley and stir to combine.

Use a hand blender to blend until smooth.

Transfer the chicken liver pâté to two ramekins, melt the remaining butter, then pour it over the pâté.

Leave to cool, then cover with clingfilm and refrigerate. Serve cold, garnished with parsley.
Recipe Notes
Click on the US Customary link to see the measurements displayed in cups and ounces.

The servings can be adjusted by clicking the number next to Servings.
Nutrition Facts
Quick Chicken Liver Pâté
Amount Per Serving
Calories 541
Calories from Fat 369
% Daily Value*
Total Fat 41g 63%
Cholesterol 688mg 229%
Sodium 420mg 18%
Potassium 610mg 17%
Total Carbohydrates 10g 3%
Protein 32g 64%
* Percent Daily Values are based on a 2000 calorie diet.
Save