Super moist carrot cake recipe with walnuts and a scrumptious vanilla cream cheese icing, a family-favourite dessert not only for Easter, but also all year round. It is beautifully moist, with a dense texture and a magnificent blend of spices that works very well with the sweetness of the cream cheese icing. Adored by kids and grown-ups alike, carrot cake is a classic in the UK and many more other countries.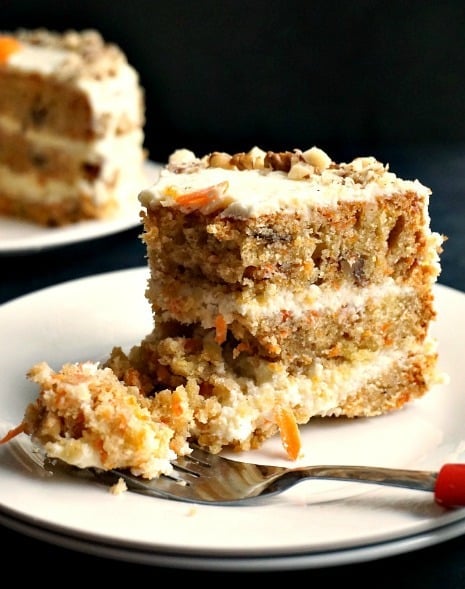 You wouldn't think that a cake containing veggies could taste that good, would you? Unlike other vegetables, carrots do not have a strong taste, and can hardly tell actually that the cake has carrots in it.
They soften nicely when baked and the spices have a pretty sharp taste that gives this cake its distinctive flavour.
But how did the carrot cake become so popular? It seems that carrots were used in puddings even in Medieval times, as they are naturally sweet and moist, and the food rationing in the WW2 may have contributed to the revival of old recipes.
Since vegetables were not rationed at all, and could be consumed in large quantities, it does make sense that sweet recipes calling for carrots would become favourite.
Now, just because carrots are healthy, l wouldn't go that far as to call carrot cake a very healthy dessert. Not with all that icing. Some recipes call for a ridiculous amount of granulated sugar, which l don't seem to think necessary, since the icing is sweet anyway.
For my easy carrot cake recipe, l cut down a lot on sugar and l'm happy with the amount of sweetness, so let's call it a lighter carrot cake.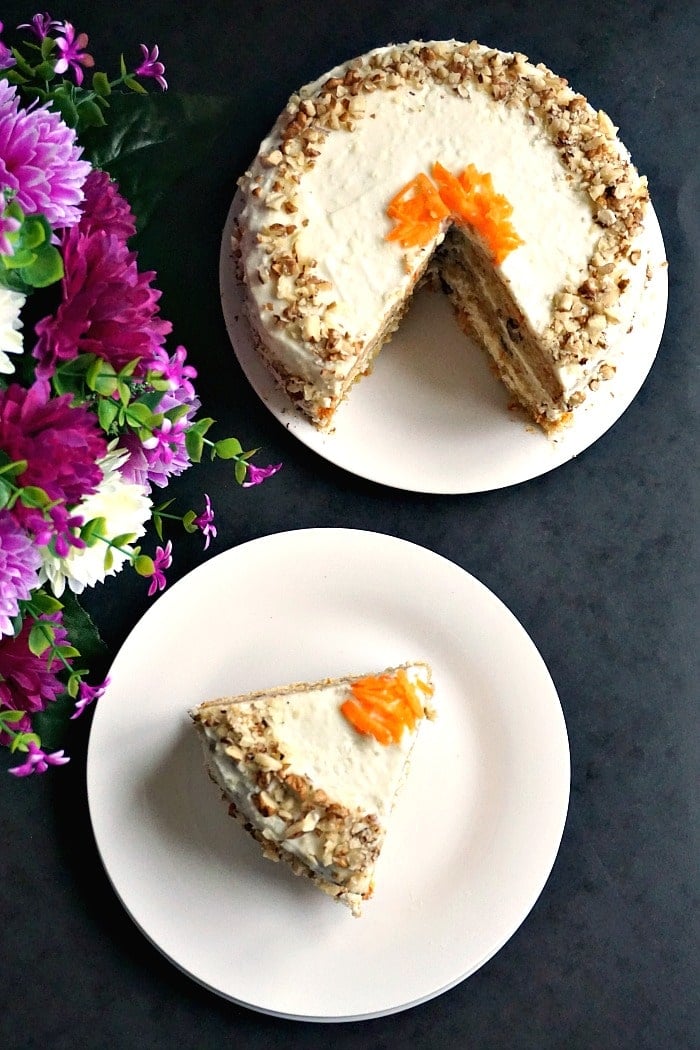 You don't have to add walnuts to it, but the nice crunch works perfectly well here. Pecans can also be used instead of walnuts, and l can see many recipes calling either for dried fruit like raisins or fresh/canned fruit like pineapples. I personally think it's a matter of choice and it comes down to your own taste.
Make this recipe yours and add anything you like, as long as the texture is right and basic ingredients are not removed.As far as decorating the cake is concerned, you can either opt for cream cheese icing between each layer and on top of the cake, or, like l did, cover it all in icing.
Again, topping it with walnuts is optional. No matter how you choose to use the icing, you'll get an absolutely delicious cake.
Depending on the size of your tin, you may want to cut the sponge in half or even have 3 layers. My tin is a smaller 16x9cm, and l had to cut it in 3, but if you have a standard 20cm round tin, cutting it in half may be the better way.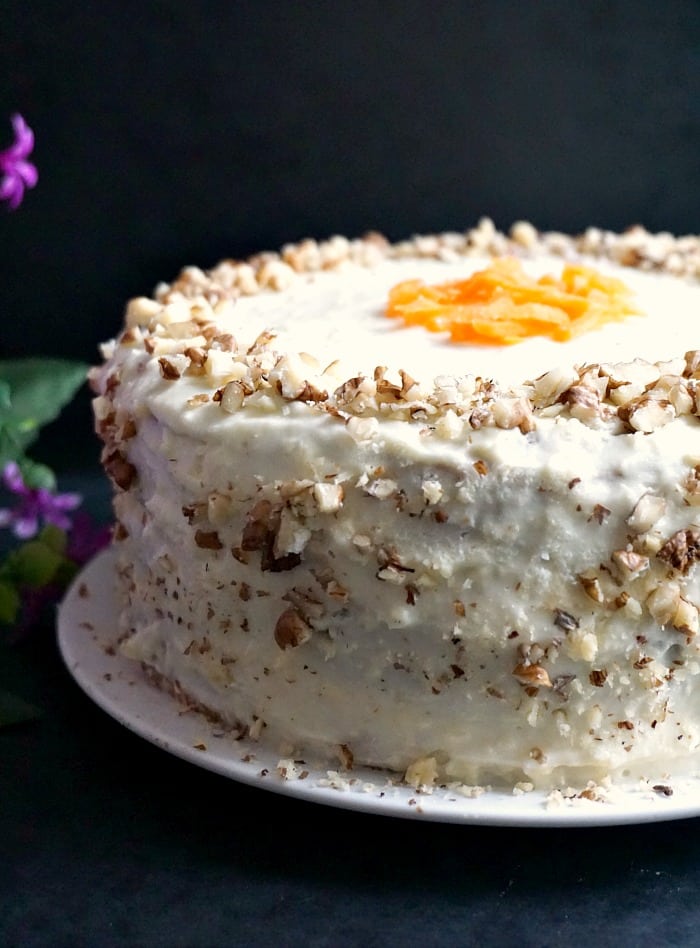 MORE EASTER TREATS:
If you've tried this MOIST CARROT CAKE RECIPE or any other recipe on the blog then don't forget to rate the recipe and let me know how you got on in the comments below, I love hearing from you! You can also FOLLOW ME on FACEBOOK, and PINTEREST to see more delicious food and what I'm getting up to.
Moist Carrot Cake Recipe
Super moist carrot cake recipe with walnuts and cream cheese icing, a beautifully flavourful cake that is popular not only for Easter, but all year round.
Ingredients
300

g

plain flour

250

ml

sunflower oil

4

eggs

160

g

granulated sugar

2

tsp

baking powder

1

tsp

ground cinnamon

1

tsp

ground ginger

1/4

tsp

grated nutmeg

1

tsp

vanilla extract

200

g

grated carrots

50

g

chopped walnuts
For the cream cheese icing
180

g

full-fat cream cheese

50

g

butter, soften

100

g

icing sugar

1/2

tsp

vanilla extract
Instructions
To make the sponge, add the eggs, granulated sugar and oil to a bowl and whisk well until you get a smooth, thick consistency.

Add the grated carrot, flour, spices, vanilla extract and half of the amount of chopped walnuts and mix everything well with a spatula.

Preheat the oven to 180 degrees C.

Oil and flour a round cake tin, and add the batter to it.

Bake for 35-40 minutes until the cake is firm to touch and well risen with a golden brown colour.

Remove from the tin and allow it to cool.

Meantime, make the icing by mixing the sugar, cream cheese, butter and vanilla extract together. Do not overbeat, as the icing could become runny.

Once the sponge has cooled down, use a kitchen knife to cut it either in half or in 3, spread icing on each layer, top and sides and decorate with chopped walnuts.
Recipe Notes
Click on the US Customary link to see the measurements displayed in cups and ounces.

The servings can be adjusted by clicking the number next to Servings.
Nutrition Facts
Moist Carrot Cake Recipe
Amount Per Serving
Calories 998
Calories from Fat 603
% Daily Value*
Total Fat 67g 103%
Cholesterol 160mg 53%
Sodium 223mg 9%
Potassium 447mg 13%
Total Carbohydrates 88g 29%
Protein 12g 24%
* Percent Daily Values are based on a 2000 calorie diet.
Save
Save
Save
Save
Save