Mini Yorkshire Pudding Canapés with roast beef and horseradish sauce, the very best appetizer of the British cuisine. Adapted from Jamie Oliver's recipe of Yorkshire puddings, these appetizers are the perfect finger food for any party, like Christmas, New Year, birthdays or a posh Sunday Roast.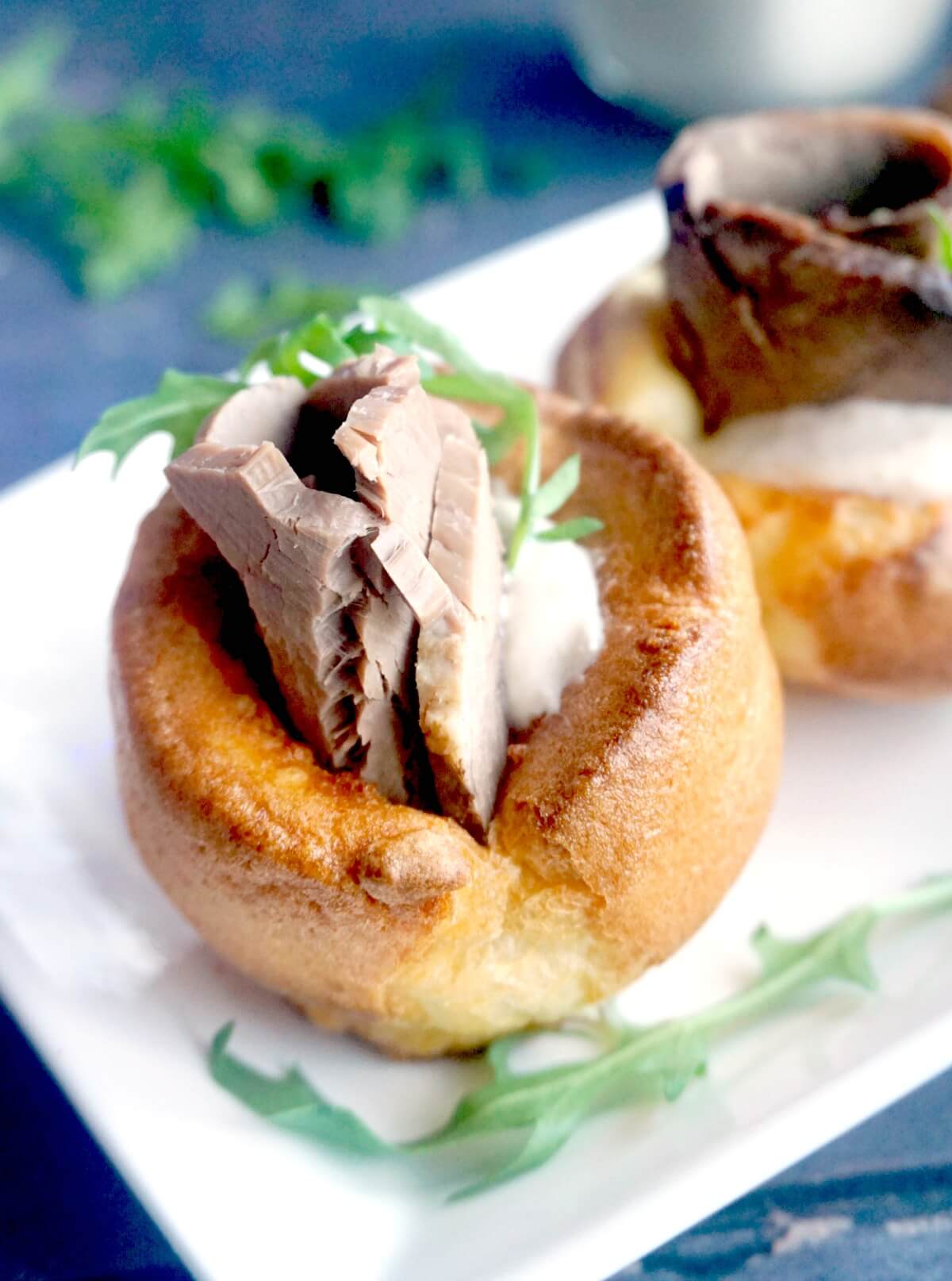 Jump to:
What are Yorkshire puddings?
You may be mislead by the term pudding. Although it usually refers to a dessert, these pretty little things are the savoury kind of goodies. Yorkshire puddings are part of the very British Sunday Roast, and they have been so for some hundreds of years.
Initially, they were called "dripping pudding", as the batter was placed beneath the meat that was roasting on a spit above a fire. In this way, the juices and fat dripping from the meat were not going to waste, but instead they could give flavour and colour to the puddings. History never ceases to be fascinating!
The Yorkshire Puddings are still extremely popular nowadays, never missing from a true British roast meal. There are pretty similar texture wise with the Toad-in-the-Hole or my Toad in the Hole with a Twist. And the mini Yorkshire canapes are just as delicious and posh.
These British starters are just another way of serving these beautifully tasty puddings. Making them at home is actually a lot easier than you would have thought.
Or, how about some Mini Toad in the Hole Canapés? Both great as finger food over the festive season, and I can guarantee you that the puddings are a lot tastier than the ready-made ones.
Ingredients needed to make Yorkshire pudding canapes
plain flour - well sifted to avoid lumps
eggs - at room temperature
full-fat milk - best for this recipe, as the semi-skimmed or skimmed milk is not creamy enough
salt and pepper
vegetable oil - we need an oil with a high smoking point
horseradish sauce
roast beef - leftovers from my Easy Roast Beef Recipe are the best
Easy swaps
Horseradish sauce and beef are just too good together, I wouldn't use any other sauce for the filling, really. You could, of course, use any other meat, like chicken, turkey or ham, it is entirely up to you.
They are also a great way to use up any leftover meat from the Christmas dinner, or any other special occasion. If you don't have horseradish sauce, leftover cranberry sauce or even gravy could be a good substitution.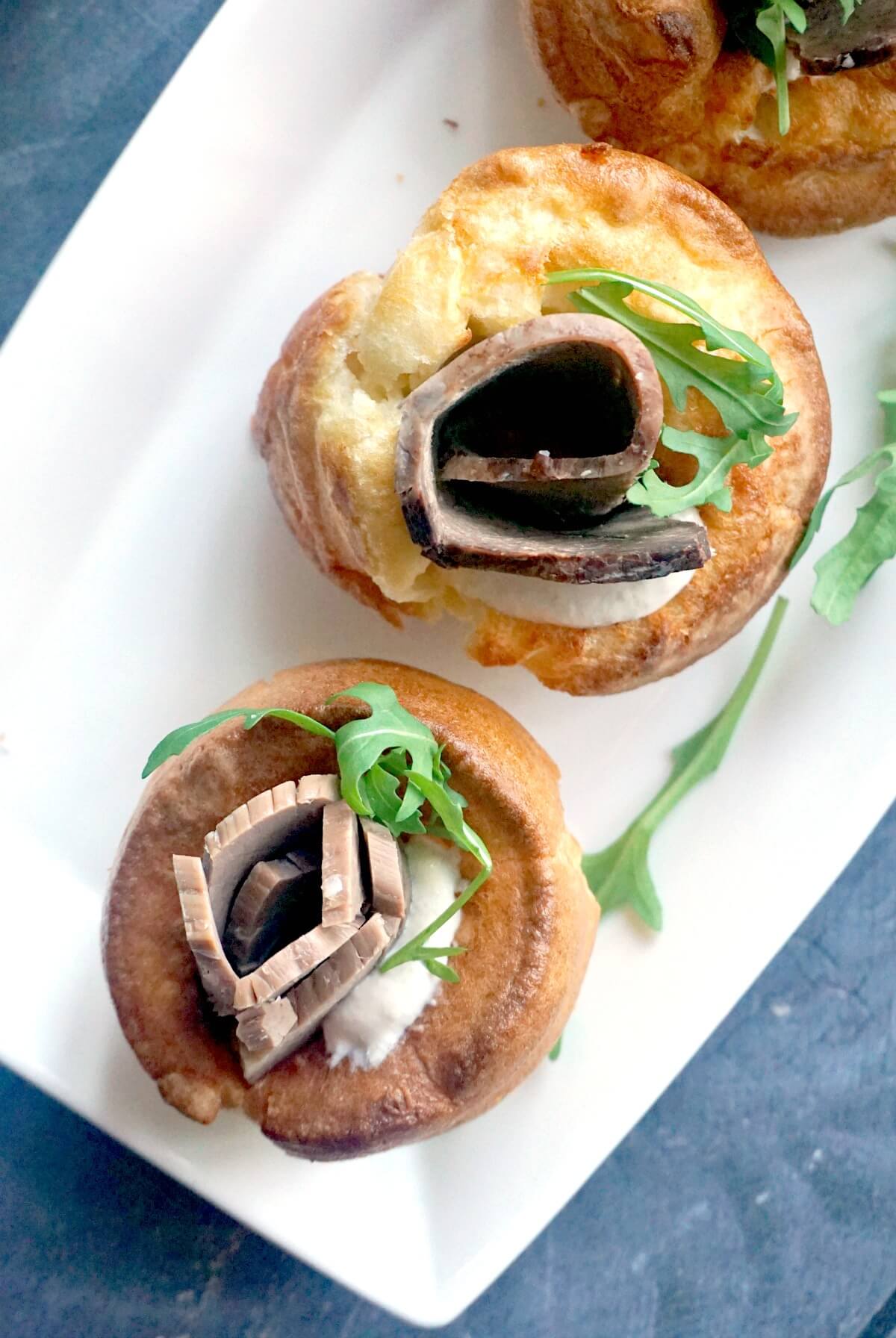 Step-by-step photos and instructions
To make the batter, sift the flour in a bowl, crack the eggs in, and use a whisk to beat them up until the flour is fully incorporated.
Pour the milk in gradually, whisking continuously to get a smooth batter, then season with salt and pepper.
Add one teaspoon of oil to each muffin hole, and place the tin in the oven for 3-4 minutes until the oil is smoking hot
distribute the batter evenly between all the muffin holes, and bake for 20 minutes at 200 degrees Celsius (390 Fahrenheit)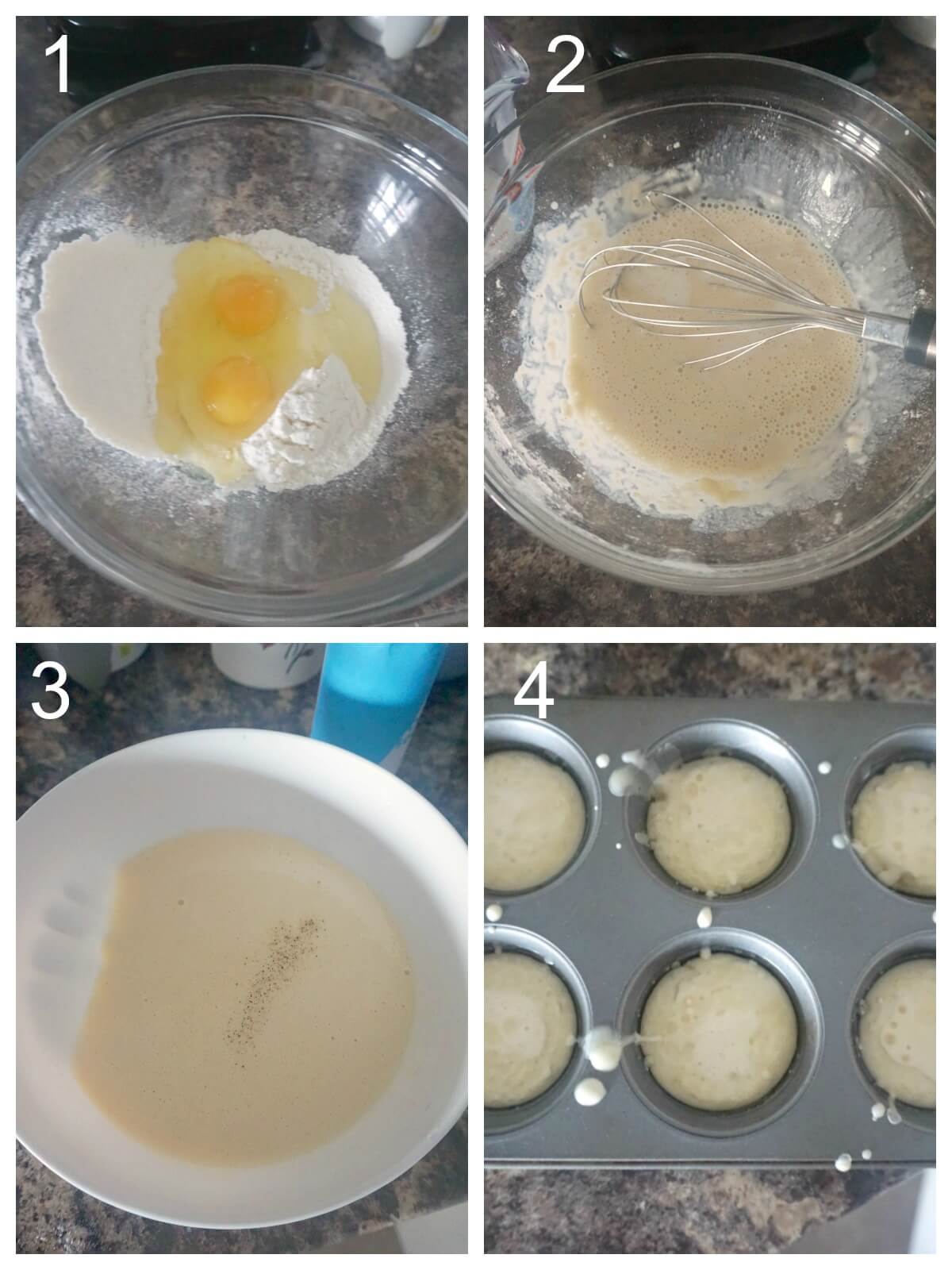 Expert tips
There are a few tricks worth keeping in mind, if you want nicely puffed-up puddings. And I have watched the very best chef, Jamie Oliver, make the very best Yorkshire puddings. And this recipe is based on one of his recipes, so you know it really is top notch.
FIRST, the oil/fat has to be smoking hot when you add the batter.
SECOND, it is crucial to leave them bake undisturbed, as opening the oven too early could flatten them up.
And, one more thing, the batter has to be really, really smooth. No shortcuts, please!
I am sure they would disappear quickly, but just in case, I feel it is my duty to mention that these Yorkshire puddings are best served immediately.
I find that, left hanging around for too long makes them pretty soggy and sad looking, as they won't be nice and crispy anymore. So, now let's get the party started, time to show off these little beauties!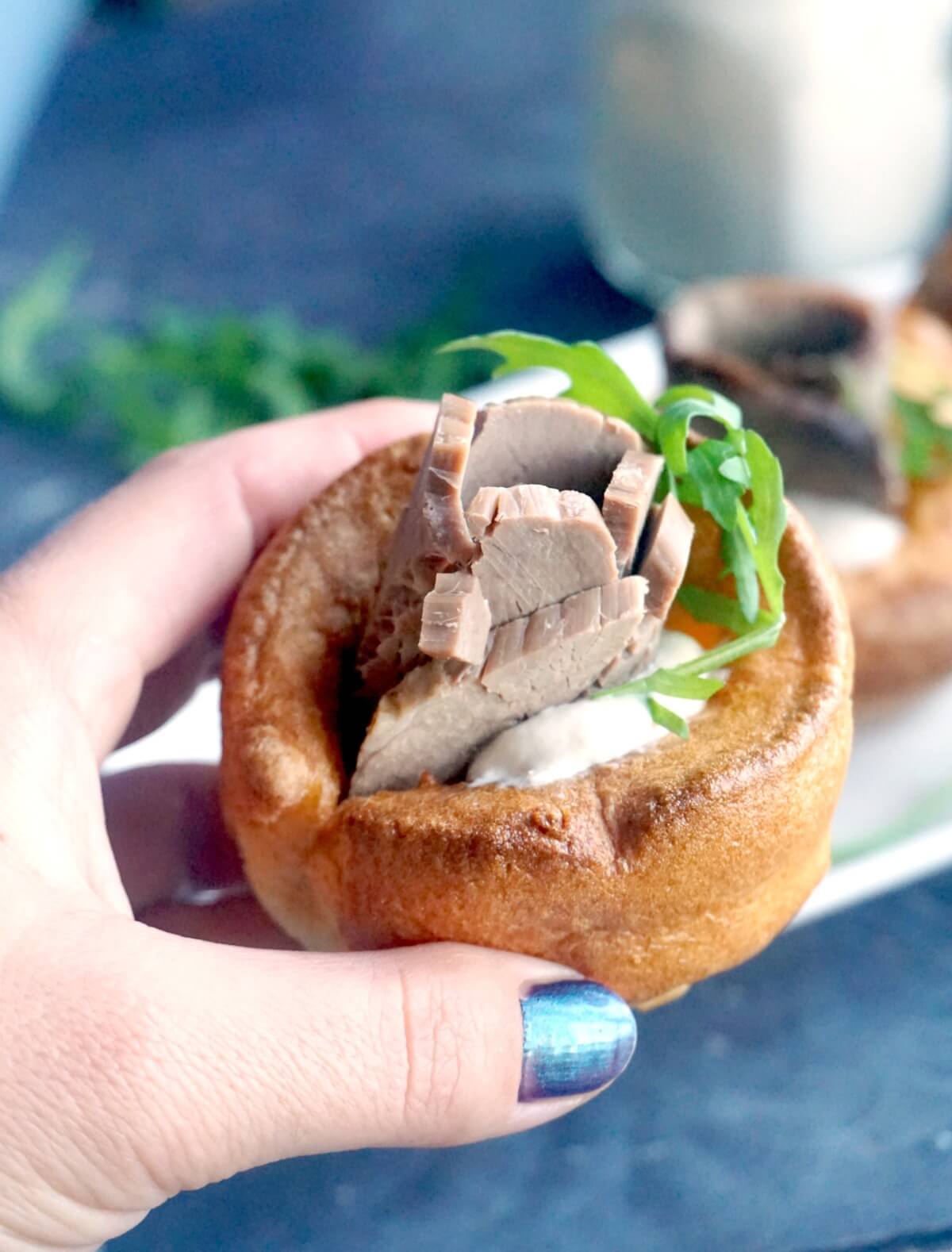 If you've liked these MINI YORKSHIRE PUDDING CANAPES or any other recipe on the blog, then don't forget to rate the recipe and let me know how you got on in the comments below, I love hearing from you! You can also FOLLOW ME on FACEBOOK, and PINTEREST to see more delicious food and what I'm getting up to.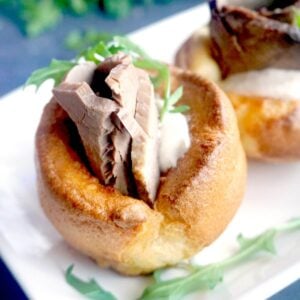 Mini Yorkshire Pudding Canapés
Mini Yorkshire Pudding Canapés with roast beef and horseradish sauce, the very best appetizer of the British cuisine. The perfect finger food for any party, like Christmas, New Year, birthdays or a posh Sunday Roast. The homemade Yorkshire puddings are fail-proof, and the addition of festive-looking beef and sauce take the puddings to the next level. A fantastic party food that looks and taste impressive.
Print
Pin
Rate
Ingredients
70

g

plain flour

2

medium eggs

100

ml

full-fat milk

salt and pepper to taste

6

teaspoon

vegetable oil

about 6 teaspoon horseradish sauce

6

slices

roast beef
Instructions
To make the batter, sift the flour into a large bowl, make a well in the middle and add the eggs.

Use a whisk to mix them very well, then gradually pour in the milk, and beat well until the batter is smooth.

Season with salt and pepper to taste.

You can pass the batter through a sieve, if you think it is not quite lump free, as it should be.

Preheat the oven to 220 degrees C. (430 Fahrenheit)


I do not have a Yorkshire puddings tin, which usually has larger holes, but the muffin one does a pretty good job. Of course, the puddings will be smaller.

Add one teaspoon of oil into 6 hole muffin tray and place the tin in the oven for 5 minutes, so that the oil can heat up.

Carefully remove the tin from the oven, and quickly pour the batter evenly between the 6 holes.

Place the tin back in the oven and leave undisturbed for 20 minutes until the puddings have raised and browned.

Remove them from the tin, and top with rolls of roast beef and a good dollop of horseradish sauce.
Notes
If you'd like to see the measurements in CUPS and OUNCES, please click on the US CUSTOMARY link.

The amount of ingredients can be adjusted according to the number of servings you need, please click on the number of servings to change it.
Nutrition
Calories:
141
kcal
|
Carbohydrates:
9
g
|
Protein:
9
g
|
Fat:
7
g
|
Saturated Fat:
4
g
|
Cholesterol:
72
mg
|
Sodium:
449
mg
|
Potassium:
133
mg
|
Vitamin A:
105
IU
|
Vitamin C:
12.6
mg
|
Calcium:
107
mg
|
Iron:
1.4
mg
Save