Healthy Sautéed Green Beans with Garlic, a delicious side dish that can be prepared quickly before your meal is ready. I guarantee you that these green beans are going to be a hit this Thanksgiving.
This dish is simplicity at its best. Take some rather plain and otherwise boring (according to me!) green beans, sautée them in a bit of olive oil or butter and lots of garlic, throw some freshly-chopped parsely and dill, and there you go!
A last-minute side dish to amaze all your guests coming to your Thanksgiving dinner. Or any other day of the year.
It's super easy to make, just boil the green beans first to soften them a bit, now, for how long, it depends entirely up to you. I normally like the green beans on the softer side, so I tend to boil the hell out of them, which translates boil for about 15 to 20 minutes. I know, all those vitamins and nutrients are probably long gone, but never mind.
But if you'd rather have them a bit crunchy, just boil them for 5-10 minutes, then drain the water and throw them in a pan with the garlicky stuff.
The more garlic, the better. It's good for your health, good for everything. Trust me, I am coming from the land of Dracula, I know what I am talking about. Throw in as much garlic as you can handle!
Well, I might be ruining your idea that Dracula did exist, well, nope, it's just a myth. I mean, Vlad the Impaler did exist, but no, he was not a vampire.
But anyway, the Romanians love stories about vampires, monsters, evil spirits and so on, so the idea of using garlic to protect yourself from all evil has been around for centuries. Interesting, to say the least.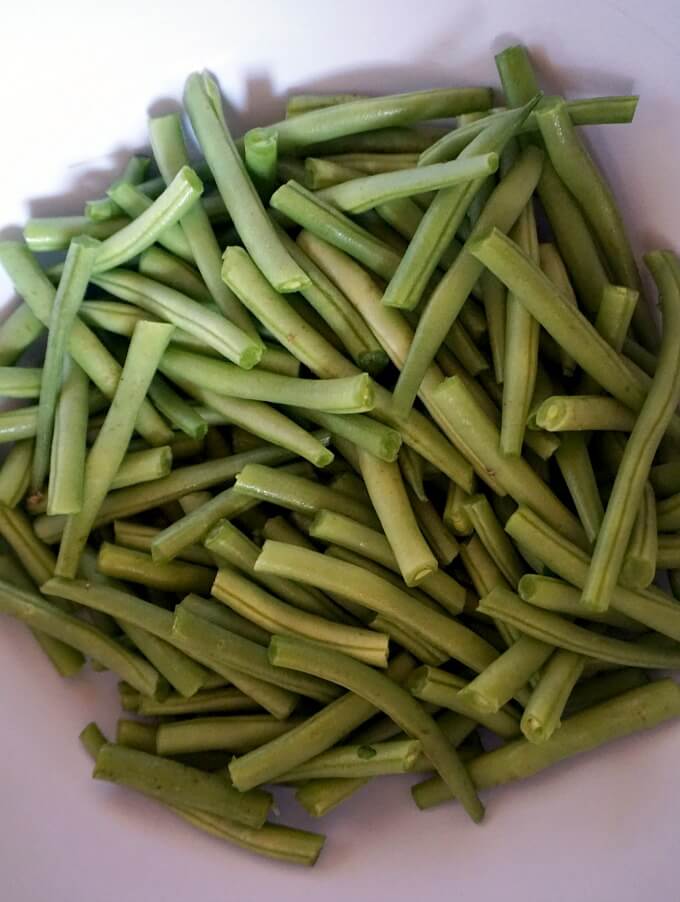 Now, the photo above shows the green or string beans nice and trimmed, and halved. You don't need to halve them, but I would advise on the trimming bit. It looks a lot nicer in the pan.
I bought the green beans and only home did I realise that they were not trimmed. The supermarket I usually buy from sells the trimmed ones too.
I know what you'd think, what a lazy bum she is, she can't even be bothered to trim a few handfuls of green beans. Well, from some unknown to humankind reasons, I find the trimming bit time-consuming, even though it doesn't take that long.
But when you have little ones around, who can go from perfectly cute and happy to screaming the place down in a matter of seconds, you get to appreciate shortcuts while preparing food.
So, now you know why I wished I grabbed the trimmed green beans rather than having to do it myself. Cooking with kids around is a race against time, you just want to get everything done as quickly as possible.
You don't want them screaming, but you don't want them too quiet either. Silence can be more dangerous, I let you know, that usually means they are up to no good, mainly detroying the flat, painting walls, pulling tv down, etc etc
But then you dig in these little beauties, and you think all that rushing was well worth it. The kitchen might stink a tiny bit, but hey ho. You have a nice dish in front of you.
It goes amazingly well with that nice roast turkey, or chicken, if you don't want to go for something too big. I have this recipe for roast chicken that you'd find useful perhaps if you are after some good tricks about achieving perfection with your roast.
MORE SIDE DISHES FOR YOUR THANKSGIVING MEAL
Oven roasted garlic rosemary potatoes
Creamy scalloped potatoes au gratin
Enjoy!
If you've tried my SAUTEED GREEN BEANS WITH GARLIC or any other recipe on the blog then don't forget to rate the recipe and let me know how you got on in the comments below, I love hearing from you! You can also FOLLOW ME on FACEBOOK, and PINTEREST to see more delicious food and what I'm getting up to.
Healthy Sautéed Green Beans with Garlic
Healthy Sautéed Green Beans with Garlic, a delicious side dish that can be prepared quickly before your meal is ready. I guarantee you that these green beans are going to be a hit this Thanksgiving.
Keyword:
thanksgiving side dishes
Ingredients
220

g

green beans

1

tbsp

butter

(or olive oil)

5

cloves of garlic

1/8

tsp

salt

black pepper to taste

1

tbsp

chopped parsley

1

tbsp

chopped dill
Instructions
Trim the fresh green beans and cut them in half if needed.

In a pan of water, add a pinch of salt and the green beans and boil for about 15 minutes until they are tender.

Drain the water and set aside.

Peel and chop the garlic finely, or mash with a garlic presser.

Melt the butter in a pan over a medium heat, add the garlic and fry for about 10-15 seconds, then add the green beans and stir well.

Add the parsley and dill, season with salt and pepper, then turn off the heat and cover the pan with a lid and let rest for 5 minutes.
Recipe Notes
To see the measurements in cups and ounces, please click on the US CUSTOMARY link.

The amount of ingredients listed can be adjusted depending on the number of servings you need, just click on the number next to SERVINGS.

The fresh green beans can be replaced with frozen green beans, just thaw them before sauteeing.
Nutrition Facts
Healthy Sautéed Green Beans with Garlic
Amount Per Serving
Calories 96
Calories from Fat 54
% Daily Value*
Total Fat 6g 9%
Cholesterol 15mg 5%
Sodium 205mg 9%
Potassium 262mg 7%
Total Carbohydrates 10g 3%
Protein 2g 4%
* Percent Daily Values are based on a 2000 calorie diet.