Jack-O'-Lantern Pumpkin Hand Pies, some delicious Halloween treats that you must try this Fall. Super easy and fun to make, these pies will be a big hit with everyone, from little to big tummies.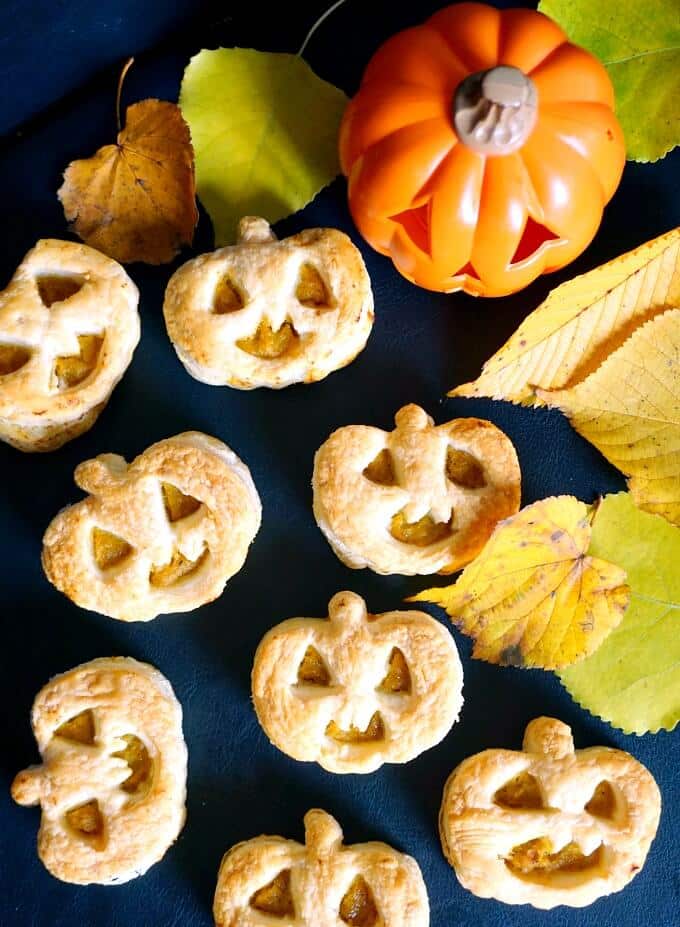 It's pumpkin season again! Some shops already sell pumpkins, along with Christmas stuff, believe it or not. I mean, what's wrong with these people? It's only September, let us enjoy your pumpkins in peace!
I get that some people are more organised than me, and like to get their Christmas shopping nice and early, but I think Christmas in not in the air until it gets cold and frosty. So I'm just enjoying the first pumpkins for now.
And since there in no canned pumpkin in the UK, we just have to settle for the real deal. The cooking pumpkins are usually a lot better quality, and roasting them is the best way to get the very taste that everybody loves.
My girls are big enough now to get excited about carving pumpkins, which we will start doing from October, but for now we love experimenting in the kitchen, so you'll see more pumpkin recipes from now on, along with the ones I already have on the blog.
My Pumpkin Roll with Cream Cheese Filling, Fluffy Pumpkin Pie Cinnamon Rolls, Romanian Sweet Potato & Pumpkin Bars and Pumpkin Whoopie Pies with Maple Cream Filling are all desserts, so I will get around cooking some savoury recipes soon too.
I mean, look at this beauty above! I get excited about pumpkins like a baby who sees a dummy. When I was little, grandma used to roast pumpkins every late Autumn, and we would just enjoy them like that, without even bothering to use them in any dishes.
Mum was the best at carving pumpkins, and my cousin and I were always having a competion who was going to carve the scariest pumpkin. We didn't really celebrate Halloween back then, but we did love the caving bit.
And these spooky Jack-O'-Lantern pumpkin hand pies are just what we need for Halloween. They are yummy, and can be made either with canned pumpkin if you have, or roast pumpkin.
The prep is minimal, and just a few ingredients are needed. If you like to make the puff pastry at home, by all means, you can, but I always rely on the store-bought puff pastry to save time and make quick and easy recipes.
You can leave the mascarpone out if you don't like the combination pumpkin-mascarpone, but I find it nice and creamy, and I personally think the taste is pretty awesome.
If you don't have pumpkin spice, you can make it yourself with ground cinnamon, nutmeg, ginger and cloves. In the UK, the best substitute for the pumpkin spice is the mixed spice, although, if you have the the ingredients I mentioned, you can just add some of those.
I used pumpkin cookie cutters for these pumpkin hand pies, but if you don't have cutters, you can just use a sharp knife to give them the shape you like.
We basically need half pumpkin shapes only, and half carved pumpkin shapes, so that they can be sandwiched together along with the pumpkin mixture.
The baking time varies depending on your oven, but they should not need more than 20-25 minutes. I did not need to brush the pies with egg wash before baking them, but you can, if you like.
Kids will absolutely love to give a helping hand with these, and it's a great way of getting them excited about Halloween. I haven't decided yet what costumes they will have this year, but I guess there is still time for that.
So, what are your favourite Halloween treats? Have you tried the Trick-Or-Treat Red Candy Apples yet?
If you've liked my Jack-O'-Lantern Pumpkin Hand Pies or any other recipe on the blog then don't forget to rate the recipe and let me know how you got on in the comments below, I love hearing from you! You can also FOLLOW ME on FACEBOOK, and PINTEREST to see more delicious food and what I'm getting up to.
Jack-O'-Lantern Pumpkin Hand Pies
Jack-O'-Lantern Pumpkin Hand Pies, some delicious Halloween treats that you must try this Fall. Super easy and fun to make, these pies will be a big hit with everyone, from little to big tummies.
Keyword:
halloween treats
Ingredients
1

cup

pumpkin puree

1

block of puff pastry

(500 g, 1 lb)

2

tsp

mascarpone

2

tbsp

brown sugar

1/2

tsp

ground cinnamon

1/8

tsp

ground ginger

1/8

tsp

ground nutmeg

1/8

tsp

ground cloves
Instructions
Pre-heat the oven at 180 degrees Celsius (360 Fahrenheit).

Mix the pumpkin puree with the mascarpone and the spices.

Roll the puff pastry, and use pumpkin cookie cutters or a sharp knife to cut out pumpkin shapes, half of them being just the shape of a pumpkin, and the other half the shape of a carved pumpkin.

Spread about half a teapoon of the pumpkin mixture on the bottom pumpkin shape, then top it with the carved pumpkin shape, and press gently on the edges to seal.

Repeat with the rest of the puff pastry and pumpkin mixuture.

Bake in the oven for about 20-25 minutes or until golden.
Recipe Notes
The spices can be replaced with one tablespoon of pumpkin spice if you have.
Nutrition Facts
Jack-O'-Lantern Pumpkin Hand Pies
Amount Per Serving
Calories 1574
Calories from Fat 882
% Daily Value*
Total Fat 98g 151%
Cholesterol 9mg 3%
Sodium 635mg 26%
Potassium 654mg 19%
Total Carbohydrates 155g 52%
Protein 21g 42%
* Percent Daily Values are based on a 2000 calorie diet.