Homemade hot chocolate with marshmallows and cream, or heaven in a cup. Overly indulgent, this hot chocolate is great on a cold winter day. Get all comfy on a sofa or bed, and watch your favourite TV programme while sipping from this luxurious drink. And that's what a call a perfect night in.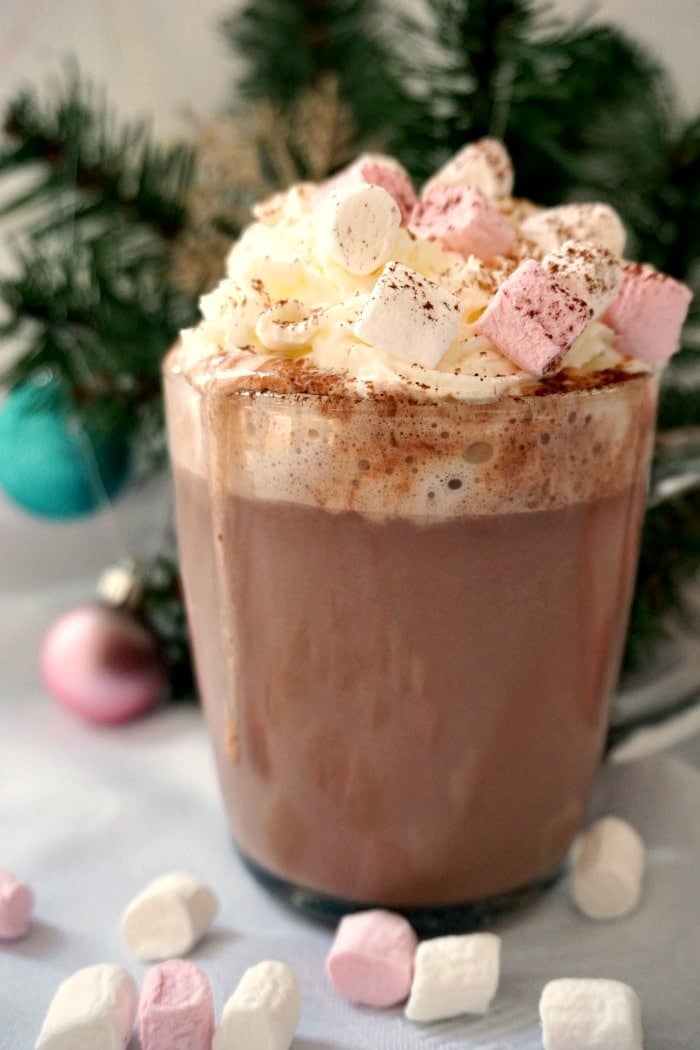 It's already cold enough outside to be thinking of comfort food, hot drinks, Christmas and all the winter excitement. I can't believe we are already talking about Christmas, where has the year gone? It's so true what they say that when you have kids, the days are long, but the years are short. Way too short! Ask me again when the baby is teething and the toddler is throwing a tantrum, and I'll probably say something completely different though ha
But anyway, you get my point about the festive season being right round the corner. It still doesn't feel that christmassy, even though most shops already sell Christmas stuff and have already been decorated. Maybe once we get closer to December, things will get more real, and that's when I start thinking about all the preparation needed for Christmas. Which is still my favourite part of the year.
But for now, this hot chocolate is all I needed. High in calories? Oh yes, and loads. But, who cares? Now and then, a little treat is more than welcomed. Especially when me time is non-existent and you need sugar to get you through the day. Or just to comfort you before bedtime. Trust me, a hot cup of chocolate works wonders, it cheers you up in seconds and can pamper you like nothing else.
You cannot possibly compare a cheap sachet of store-bough ready-mixed hot chocolate, or whatever that is called, and a luxurious homemade hot chocolate. The latter tastes like heaven, it's rich, it's chocolatey, it's just perfect. And that without all that really bad stuff you find in those sachets. It might be as sugary, or maybe a bit less, but at least it tastes like the real deal.
You don't need too many ingredients tough, some milk, some good-quality cocoa powder, some nice dark chocolate, a little bit of sugar (which can be omitted), cream and a handful of marshmallows. And that's it! NOTHING ELSE. Now, cocoa powder and dark chocolate have a high amount of caffeine, so, if that usually affects your sleep, you might want to avoid having it at night.
Some people, me included, can still sleep like a log after drinks/food with a amount of caffeine, but some don't. Well, nowadays I have the girls who keep me up at night, and the two of them are stronger than any caffeine in the world. So, yeah, I can drink as much hot chocolate as I wish. Lucky me, hey! Not that I have too often, I still prefer to keep it as an occasional treat.
As with everything else, if you have it very day, it becomes boring. Even if you have it at home or in a cafe. I do like going to cafes with my husband, it might be the atmosphere, but it's pretty nice. I know you are supposed to have a sip while chatting, but I usually finish my drink in like 5 minutes, I can't really have it in front of me for too long. Especially that I like the hot drinks to be really hot.
Now, nothing wrong it having the hot chocolate without marshmallows and cream. It still tastes nice and it is still indulgent. Less naughty perhaps, which can't be bad. Just add more sugar, since the cocoa powder is a tad bitter. I still would use dark chocolate, I don't think the milk chocolate would bring the same chocolate taste I am after.
If you want, you can add some extra flavour by adding cinnamon and all spice, for a more gingerbread-like flavour, vanilla, and so on. I haven't tried it myself, but it must taste nice. I do like the festive lattes, but so far I have kept the hot chocolate simple. And it's pure perfection the way it is! I absolutely love it! Especially with a nice slice of chocolate roll or chocolate cake with nutella filling.  Who's in for some treat?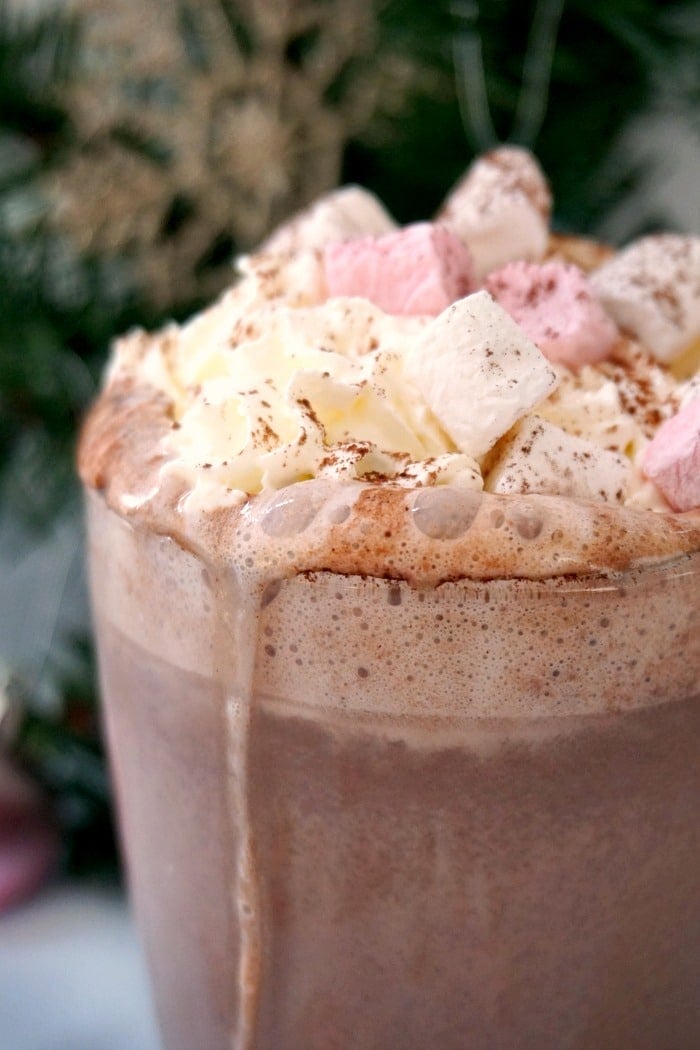 Hot Chocolate with Marshmallows and Cream
Homemade hot chocolate with marshmallows and cream, a luxurious drink that is perfect on a cold day and especially the festive season. Overly indulgent, better than any take-away hot drink.
Ingredients
400

ml

full-fat milk

50

g

dark chocolate

(about 5 tbsp grated chocolate)

1

heaped tsp

cocoa powder

1

tsp

granulated sugar

(optional, add more for the whipped cream)

50

ml

whipped cream

a handful of marshmallows
Instructions
Pour the milk in a pan and add the sugar and cocoa powder.

Bring it to the boil on a low heat, keeping a close eye on it, as the milk may overflow when it boils.

Use a grater or vegetable peeler to grate/shave the dark chocolate, the amount listed should give you about 5 tablespoons of grated chocolate.

Remove the pan from the heat and add the chocolate, whisking until the chocolate melts.

In a bowl, add the whipping cream and mix until it thickens.

Transfer the hot chocolate to a cup and top with the whipped cream and marshmallows.
Recipe Notes
Increase the amount of sugar used if you prefer the drink sweeter.
Dark chocolate can be replaced with milk chocolate.
Nutrition Facts
Hot Chocolate with Marshmallows and Cream
Amount Per Serving
Calories 690
Calories from Fat 405
% Daily Value*
Total Fat 45g 69%
Cholesterol 79mg 26%
Sodium 186mg 8%
Potassium 959mg 27%
Total Carbohydrates 53g 18%
Protein 18g 36%
* Percent Daily Values are based on a 2000 calorie diet.