Fluffy blueberry muffins, super easy, deliciously golden and healthy too. Great as a breakfast on the go, or dessert, these muffins are perfect any time of the day.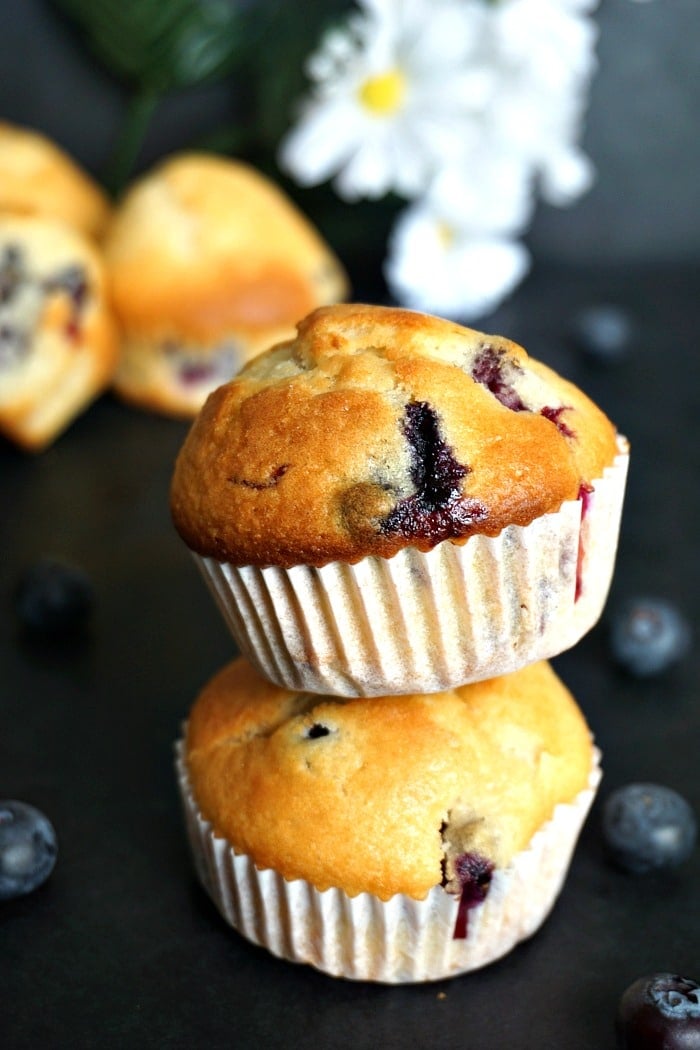 It really does not matter what time of the day it is, and you don't need any excuses, just grab a few of these super fluffy blueberry muffins and enjoy your day. Great for breakfast or snack time, and if you have a cup of tea or coffee with them, it's even better.
Why are they the best? Because the taste is just right, not too sweet, but not too boring either. The quantities listed below make 12 muffins, but trust me, one batch won't be enough, they are that good.
I love muffins of any kind, from naughtier muffins with chocolate chips, to a more savoury kind with parmesan and cranberries. They are great, and kids usually love them.
What l love about muffins is the endless ways of making them, anything  can go in, fresh or dried fruit, nuts, seeds, chocolate chips. Or keep them plain, they will still taste as good. They can be stored in an airtight container and will keep fresh for a few days.
Nicer weather soon, hopefully, and they will be the first to go in my picnic basket, no cream to worry about. Have l mentioned that all you have to do is mix all ingredients together? How simple, isn't it. It only takes 25 minutes to make them, including the baking time. Now, that's what I call a quick recipe.
Kids love them too, they are fun to make together and they are a way healthier snack than just crisps or candies. If you do prefer them sweeter, feel free to add more sugar, but they really need no more. Especially if you choose to have them with a drink.
Blueberries are naturally low in sugar, in fact all berries are very good if you worry that some fruit are too high in naturally occurring sugar. They are at their best in summer, but supermarkets sell them all year round. You can add some nuts or seeds too if you like to up the nutritional value.
How to get a perfectly rounded muffin top
One thing l used to struggle when l was making muffins was the shape. It was never round, and the muffins were not rising the way l wanted. What helps is maxing as little as possible when incorporating the dry and wet ingredients. Don't worry about a perfectly smooth batter, a few lumps are fine, they will bake nicely anyway.
And make sure the ingredients are at room temperature and the oven is well pre-heated, so they can rise quickly. It's always better to pre-heat the oven at a high temperature, I usually set it at 220 degrees Celsius (428 Fahrenheit), then lower it to 220 degrees Celsius (390 Fahrenheit) on the muffins are in the oven. It really helped achieving the results l was after.
Then, add half of the batter into the muffin tins, add 2-3 blueberries, top with more batter to cover the fruit, then add 2-3 more on top. In this way, the muffins rise nicely, and get that nice perfectly rounded shape. Give them a try, you'll love them!
If you've liked my FLUFFY BLUEBERRY MUFFINS or any other recipe on the blog then don't forget to rate the recipe and let me know how you got on in the comments below, I love hearing from you! You can also FOLLOW ME on FACEBOOK, and PINTEREST to see more delicious food and what I'm getting up to.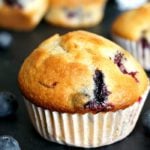 Fluffy Blueberry Muffins
Fluffy Blueberry Muffins, deliciously golden and just perfect with a cup of tea or coffee. A great choice for a breakfast on the go, or a dessert that is less naughty.
Course:
Breakfast, Dessert, Snack
Ingredients
280

g

plain flour

1

tbsp

baking powder

a pinch of salt

2

medium eggs

250

ml

milk

100

g

caster sugar

1

tsp

vanilla extract

100

g

fresh blueberries

6

tbsp

vegetable oil
Instructions
Preheat the oven to 220 degrees C. (428F)

In a large bowl, add the sifted flour, salt, baking powder and sugar.

Separately, beat the eggs until fluffy, add the milk, oil and vanilla extract and mix well.

Make a well in the middle of the dry ingredients, pour in the milk mixture and mix everything well to a smooth consistency.


Line a muffin tin with paper cases, divide the mixture half of the mixture evenly, top each muffin case with 2-3 blueberries, then divide the rest of the batter between each muffin.

You can now sprinkle some more blueberries over the muffins.

Decrese the oven temperature to 200 degrees Celsius and bake for 20 minutes until golden and firm to touch.
Recipe Notes
Click on the US Customary link to see the measurements displayed in cups and ounces.

The servings can be adjusted by clicking the number next to Servings.
Nutrition Facts
Fluffy Blueberry Muffins
Amount Per Serving
Calories 205
Calories from Fat 72
% Daily Value*
Total Fat 8g 12%
Cholesterol 29mg 10%
Sodium 20mg 1%
Potassium 170mg 5%
Total Carbohydrates 28g 9%
Protein 4g 8%
* Percent Daily Values are based on a 2000 calorie diet.
Save
Save