Brussels Sprout Casserole with chicken and walnuts, a delicious dish for the whole family. A great choice for your Thanksgiving or Christmas dinner menu. Keto, low carb, high protein, this dish is a always a big hit with us.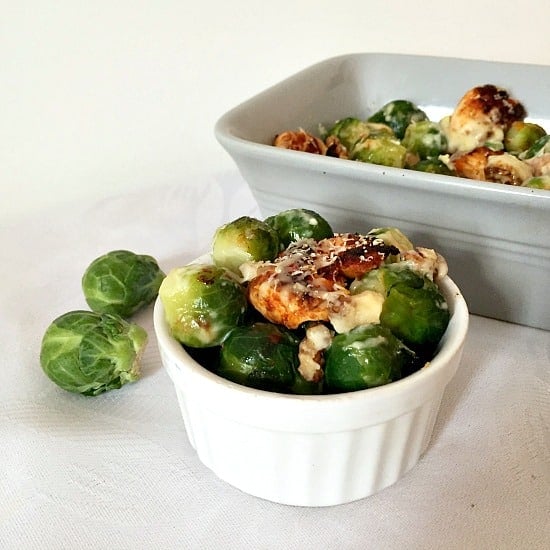 Brussels sprouts are very popular in the UK, many people will say that the Christmas menu would not be complete without them. They are a great accompaniment to any roast and can be enjoyed on their own or in stir fries or baked with other ingredients.
Brussels sprouts are the mini version of cabbages, have a lovely green colour and a bitter-sweet nutty flavour, being at their best in the winter months. Although you can find frozen ones as well, the fresh Brussels sprouts taste a lot better.
Unlike other vegetables, they are quite inexpensive and are easily available in any supermarket. You can eithe buy them fresh or frozen, but either way, they can be cooked really fast.
The fresh ones, however, are super tasty once the cold season starts. I don't really have much of them in summer, as with other seasonal vegetables, I would rather consume them when they are at their best.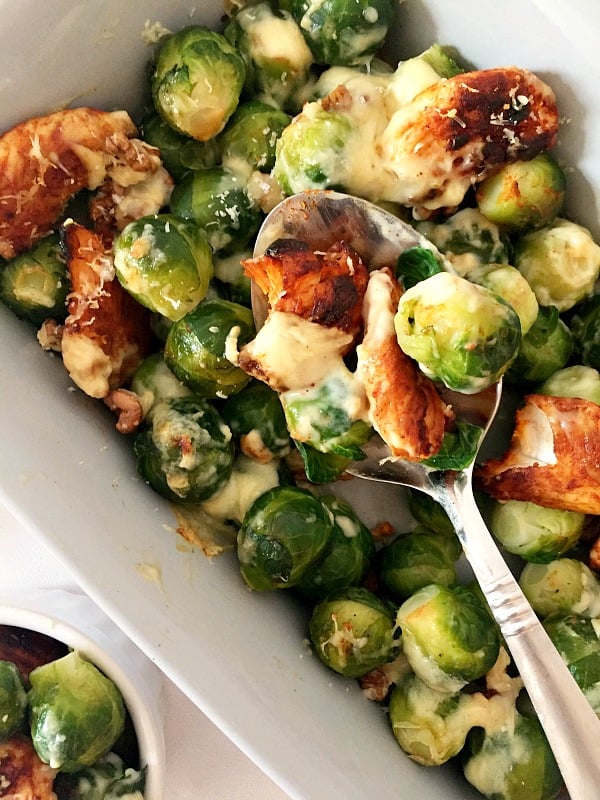 I was not a big fan of Brussels sprouts, as I was a bit put off by their bitter taste, but, as with many other foods, I got to appreciate them in time. The Thanksgiving or Christmas meal can be quite heavy and some healthy vegetables would be just right. They are rich in valuable nutrients and an excellent source of a whole range of vitamins, including vitamin C and K.
I went to the supermarket the other day and I could hardly find any Brussels sprouts, that goes to show how loved they are around this time of the year, most people putting them on top of their shopping list.
I decided to make this delicious bake and the result exceeded my expectations, it was absolutely yummy. Great as a side dish or even a main course on its own, as it's filling enough. Tasty, healthy and so easy to make
If you buy way too many Brussels sprounts, why not try these Baked Spinach Bites with Brussels Sprouts, even kids will love them.
The chicken can be replaced with bacon or ham if you wish, it will still be as delicious.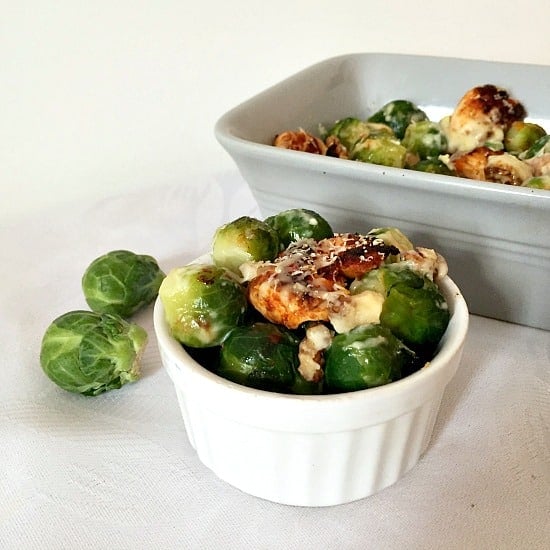 If you've liked this BRUSSELS SPROUT CASSEROLE or any other recipe on the blog, then don't forget to rate the recipe and let me know how you got on in the comments below, I love hearing from you! You can also FOLLOW ME on FACEBOOK, and PINTEREST to see more delicious food and what I'm getting up to.
Brussels Sprout Casserole with Chicken and Walnuts
Brussels Sprout Casserole with Chicken and Walnuts, a delightful dish that can be the start of your Thanksgiving or Christmas dinner. Keto, low carb, high protein, and so delicious.

Keyword:
thanksgiving side dish
Ingredients
300

g

Brussels sprouts

1

chicken breast

1/2

cup

walnuts

25

g

parmesan cheese

25

g

Cheddar cheese

1

cup

semi-skimmed milk

1

tsp

butter

1/2

tsp

dijon mustard

1

tsp

plain flour

1

tbsp

paprika

1

tsp

vegetable oil

1/4

tsp

salt

1/4

tsp

black pepper
Instructions
Preheat the oven to 200 degrees C (390 Fahrenheit)


Cut the chicken into big strips, place it in a bag, the add paprika, salt and pepper and close the bag. Shake it so that the chicken can be coated evenly.

Add 1 tsp of vegetable oil to a grill pan and cook the chicken until brown.

Bring 1 litre of salty water to the boil and boil the Brussels sprouts for 15 minutes or until they are tender.

Drain the water and place them in an ovenproof dish.

Add the cooked chicken and grate some parmesan and cheddar cheese on top.

Chop the walnuts and scatter them over.

In a pan, melt a knob of butter and add the plain flour, mixing well until you get a thick paste.

Add the milk and stir continuously until the sauce thickens.

Add the dijon mustard and pour the mixture over the sprouts, walnuts and chicken.

Grate some more cheese on top.

Season well with black pepper and bake in the oven for 15 minutes until the cheese has melted.
Recipe Notes
If you'd like to see the measurements in CUPS and OUNCES, please click on the US CUSTOMARY link.

The amount of ingredients can be adjusted according to the number of servings you need, please click on the number of servings to change it.
Nutrition Facts
Brussels Sprout Casserole with Chicken and Walnuts
Amount Per Serving
Calories 334
Calories from Fat 135
% Daily Value*
Total Fat 15g 23%
Cholesterol 69mg 23%
Sodium 740mg 31%
Potassium 1031mg 29%
Total Carbohydrates 22g 7%
Protein 29g 58%
* Percent Daily Values are based on a 2000 calorie diet.
Enjoy! 🙂
Save
Save