Baked Chinese Buns with Mushroom Filling, a true Asian delicacy. Perfect to serve with a hot cup of green tea, either for brunch or any other meal. If you are looking for appetizers for parties, you are in the right place.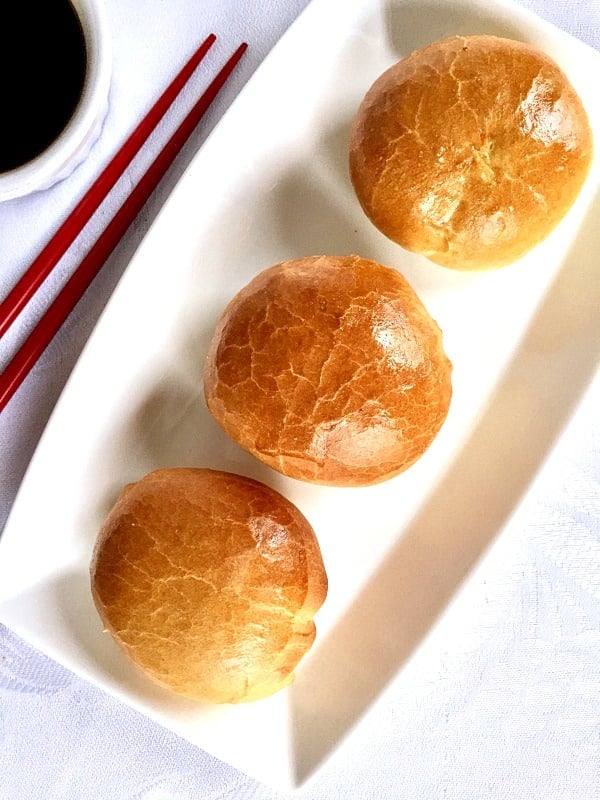 If you are familiar with the Chinese cuisine, you will know how popular dim sum dishes are. These perfect bite-sized goodies vary from buns, to dumplings, rolls or wraps. Although the steamed dim sum are more common, baking or frying are also popular methods of cooking them.
The filling can be anything from pork, seafood, chicken or various vegetarian options. I can't tell how much l love dim sum, give me any shape or filling, and l'd eat until l pop. So, it does not come as a surprise that l wanted to make some myself.
I thought l better start with the easy ones, and these lovely baked buns are absolutely gorgeous. You really have to try these Chinese buns. They are so flavourful, soft, and easier to make than you think.
They might not be like the Chinese Buns from China Town, but still.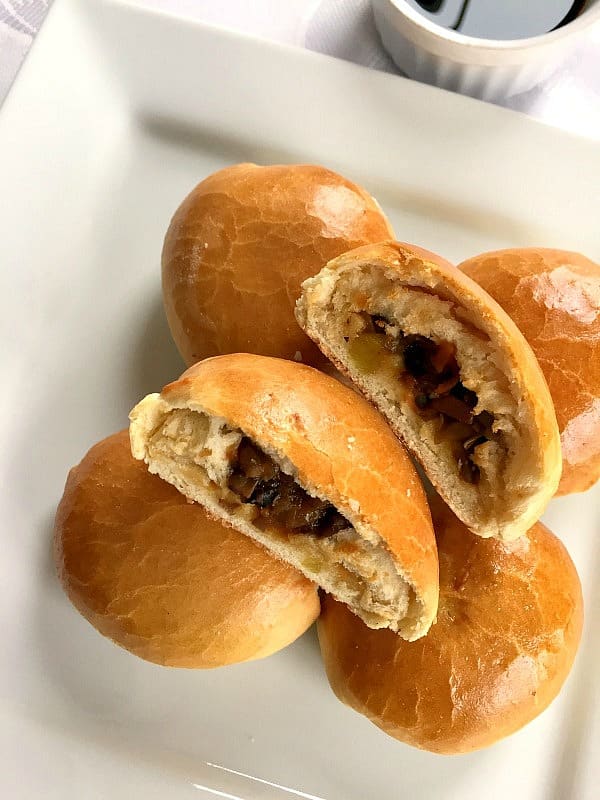 Whenever l go to London to meet up with my friends, we always have a meal in China Town. Our favourite restaurant is, of course, a dim sum one. You could order a main course too, if that's what you want, but we usually order lots of different dim sum, and end up having a real feast. They are very filling, contrary to what people might think. A few of them, and you really don't need anything else.
What I also love about these dim sum places is that they serve green tea with your meal. How great is that?! Instead of a junk soda, this tea is amazing. Some people don't like the bitter taste, I also like it a tad weak, and not too strong. Do give these buns a go, you'll be amazed how delicious they are!
Chinese food is so tasty, I absolutely love it! And since we talked about Chinese appetizers, although it's not a dim sum, another great choice for a party are the chicken satay skewers. There is something about that delicate flavour that make Chinese food perfect, and these vegetarian dim sum buns are no exception. Worth a try!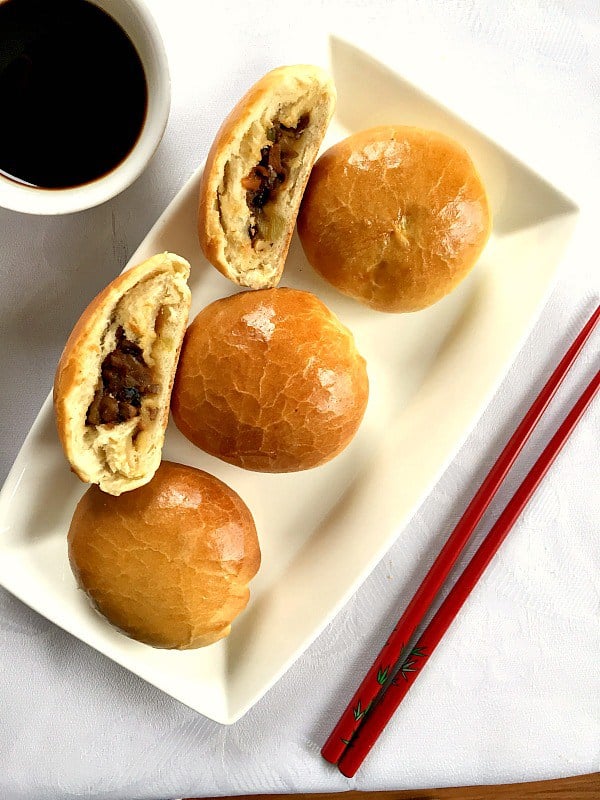 If you've tried my BAKED CHINESE BUNS WITH MUSHROOM FILLING or any other recipe on the blog then don't forget to rate the recipe and let me know how you got on in the comments below, I love hearing from you! You can also FOLLOW ME on FACEBOOK, and PINTEREST to see more delicious food and what I'm getting up to.
Baked Chinese Buns with Mushroom Filling
Baked Chinese Buns with Mushroom Filling, a fantastic Asian delicacy. They make a great choice for party appetizers, are easy to make and so fluffy.
Ingredients
For the dough:
2 1/4

cups

of plain flour

2 1/2

tsp

dried fast-action yeast

1/4

tsp

salt

1

tbsp

caster sugar

1/2

cup

warm water

3

tbsp

vegetable oil

1

egg

beaten
For the filling:
200

g

brown mushrooms

1

carrot

1/4

turnip

2

spring onions

1

garlic clove

2

cm

fresh ginger root

1

tbsp

soy sauce

1

tbsp

vegetable oil

1

tsp

fish sauce

1

tbsp

hoisin sauce

1/2

tbsp

sesame oil
For the egg wash mixture:
Instructions
To make the dough, combine the water, yeast and sugar and set aside for 10 minutes, the mixture will become frothy.
To make the dough, combine the water, yeast and sugar and set aside for 10 minutes, the mixture will become frothy.

In a large bowl, sift the flour, add the yeast mixture, egg, oil and salt and knead well for about 5 minutes, until the dough becomes elastic and does not stick to the hands. Use a bit more flour if necessary.

Shape the dough into a ball.

Lightly oil the bowl and the dough, cover with clingfilm and a clean tea towel and leave to prove in a warm place for 1-2 hours, until the dough doubles its volume.
To make the filling, chop the mushroom finely, peel and grate the carrot and turnip.
Heat up the vegetable oil in a wok.

Chop the spring onions, garlic clove and ginger, and stir fry for 1 minute.

Add the mushrooms, carrot and turnip, and stir for about 2-3 minutes.

Mix in the soy sauce, hoisin sauce, sesame oil and fish sauce.

Remove from the pan and allow the filling to cool.

Transfer the dough to the work surface, roll it so it can have about 1/2 cm thickness, then cut it in rounds of approximately 4-5 cm in diameter. You can use a larger cup to cup the circles.

Place a tablespoon of the mushroom filling in the middle of each circle, then seal well with your fingers, and shape into small balls.

Preheat the oven to 200 degrees C. (390 degrees Fahrenheit).

Arrange the balls on a baking tray, brush the buns with the egg wash mixture and bake for 10-15 minutes until golden.

Serve warm!
Recipe Notes
To see the measurements in cups and ounces, please click on the US CUSTOMARY link.

The amount of ingredients listed can be adjusted depending on the number of servings you need, just click on the number 6 next to SERVINGS.
Nutrition Facts
Baked Chinese Buns with Mushroom Filling
Amount Per Serving
Calories 217
Calories from Fat 153
% Daily Value*
Total Fat 17g 26%
Cholesterol 81mg 27%
Sodium 633mg 26%
Potassium 367mg 10%
Total Carbohydrates 11g 4%
Protein 6g 12%
* Percent Daily Values are based on a 2000 calorie diet.