This Authentic Spanish tortilla recipe, the very famous Tortilla española is the most delicious potato omelette, and one of many amazing tapas that the Spanish cuisine is well known for.
A few basic ingredients like potatoes, eggs, onion and garlic are combined into a most satisfying dish that can be enjoyed pretty much any time of the day. Serve it as a hearty breakfast, appetizer or a meal on its own; you can never go wrong with a good old tortilla.
Although the term tortilla might create a some sort of confusion, this recipe has nothing to do with the Mexican wrap. It's probably closer to the Italian fritatta, although usually tortilla is pan-fried rather than baked.
I did try once to bake it, but l found that the taste was a tad less appealing, although l guess one may argue it was on the healthier side. My husband jokes that anything fried is tastier, even a shoe would taste great if you fry it. Correct!
Tapas are usually appetizers or snacks that are very popular in Spain. Anything (super delicious) of a smaller-size portion could be considered a tapa, and they are usually served as a nibble before lunch or dinner.
Now, imagine what a party you could throw with some delicious tapas! Food like this makes me wish l visited Spain, l would probably eat there until l pop. So much to choose from!
I did, however go to a local Spanish restaurant that only serves tapas. While the food was ok, what shocked me were the prices. One teeny tiny slice of tortilla was about £5!!! Seriously? With £5 l can make a tortilla big enough to feed the entire block of flats. Ok, l may be exagerating now, but still. £5??? What a rip off!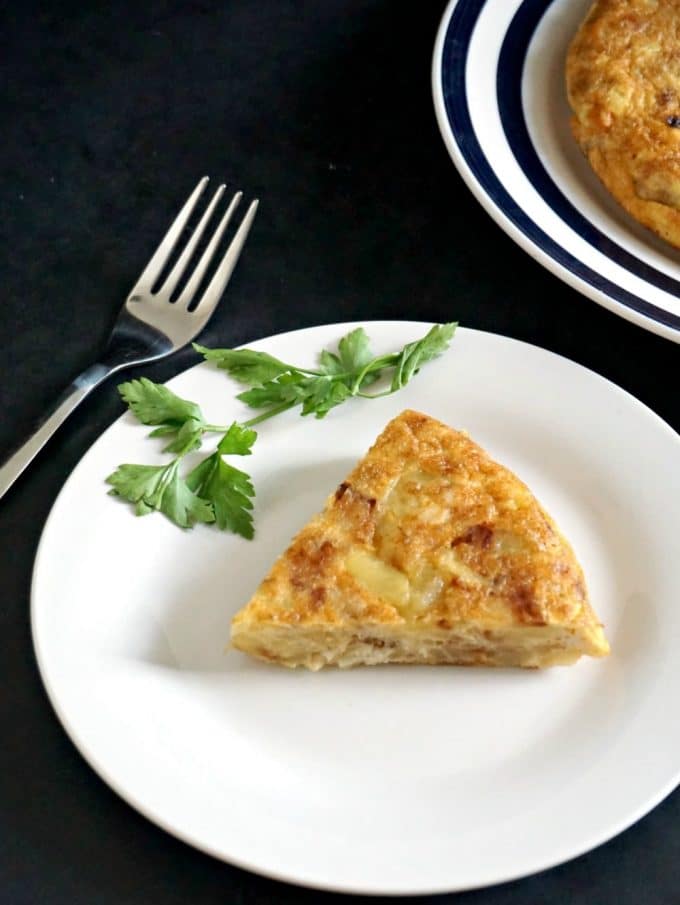 The very first dishes that come to my mind when l think of the Spanish cuisine are paella and, of course, tortilla. Ah, and anything chorizo. But there are so many other delightful dishes that l should really cook more often.
I had the very first taste of a proper tortilla some years ago when l was living in London. My flatmate, Leticia, a lovely Spanish girl, made a fantastic tortilla and l knew the dish will be my favourite.
It just tastes like nothing else in the world. If l have a choice between tortilla and the fanciest dish prepared by a top Chef, l would probably choose tortilla. Unless that Chef happened to be my personal Chef and l lived in a palace. Then, yes, l would eat those fancy dishes every single day 😂
A few tips to make the perfect Spanish tortilla every time
Make sure the potatoes are cut in thin small cubes, they will fry a lot faster and the omelette will come together nicely. You can fry the chopped onion at the same time or separately, but do not fry the garlic at the same time. It will burn quickly and become bitter.
Also, no need to drench the potatoes in a ridiculous amount of oil. We want to shallow fry them. Once the omelette goes in the pan, again, add a tiny amount of oil. It will be tricky to turn it over using a plate if there's lots of oil, you could end up burning your hands badly.
And, last, but not least, keep it smaller. It you go for a huge tortilla, the egg might not cook properly in the middle. No one likes raw egg!!!
Fry it on a low heat, so that it can cook through and keep a nice golden colour, rather than brown. And that's it, really, a real Spanish feast from the comfort of your own home. And a cheaper feast too!
If you've liked this Authentic Spanish Tortilla Recipe | Tortilla Española or any other recipe on the blog, then don't forget to rate the recipe and let me know how you got on in the comments below, I love hearing from you! You can also FOLLOW ME on FACEBOOK, and PINTEREST to see more delicious food and what I'm getting up to.
Authentic Spanish Tortilla Recipe | Tortilla Española
Authentic Spanish tortilla recipe | Tortilla española os a delicious potato omelette, one of the very best Spanish tapas. Made with a few simple ingredients like potatoes, eggs, onion and garlic, this is a most satisfying dish that can be served either as a breakfast, appetizer ir a meal of its own.
Ingredients
2

large potatoes

1

small onion

2

garlic cloves

4

medium eggs

1/4

tsp

salt

a pinch of black pepper

2 1/4

tbsp

vegetable oil
Instructions
Peel and cut the potatoes in small and thin cubes. Chop the onion and garlic finely.

In a frying pan, add two tablespoons of oil and fry the potatoes and onion until tender. Add the garlic, fry for a further 30 seconds and remove from the heat.

Transfer the fried potatoes, onion and garlic on a plate lined with kitchen towl so they can cool slightly.

In a bowl, whisk the eggs well with salt and pepper.

Add a quarter of a tablespoon of oil to a non-stick frying pan.

Combine the eggs with the potatoes, onion and garlic and mix well.

Add the mixture to the pan and cook gently on a low heat until the edges become golden. The top won't be set yet.

Shake the pan a bit. Place a plate large enough to cover the pan on top of it and quickly flip the tortilla over.

Cook on the other side until completely set. Use the back of a spoon to press gently over the tortilla so that the middle can be cooked properly.
Nutrition Facts
Authentic Spanish Tortilla Recipe | Tortilla Española
Amount Per Serving
Calories 101
Calories from Fat 45
% Daily Value*
Total Fat 5g 8%
Cholesterol 81mg 27%
Sodium 109mg 5%
Potassium 270mg 8%
Total Carbohydrates 8g 3%
Protein 4g 8%
* Percent Daily Values are based on a 2000 calorie diet.
Save