Fancy a refreshing treat? These 3-ingredient mango lassi popsicles are not only so very yummy, but also healthy. With silky Greek yogurt, milk and delicious mango pulp with no refined sugar added, they surely will become your guilt-free new favourite popsicles. Baby and toddler friendly.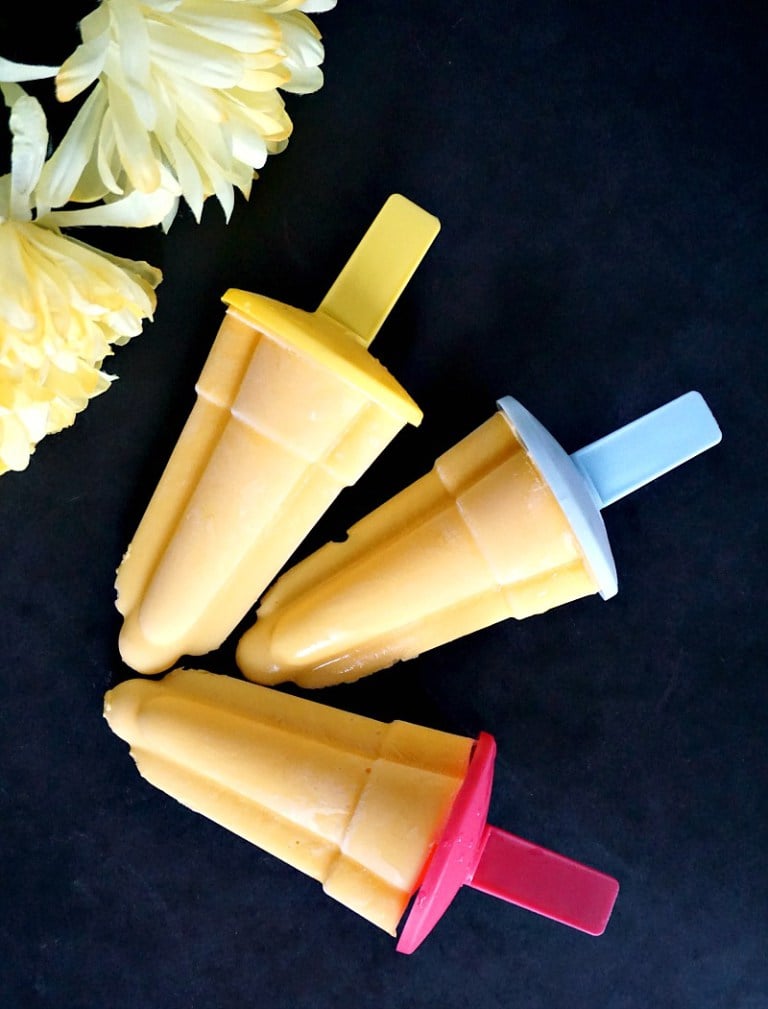 If you like the oh-so-tasty mango lassi, then these popsicles are your thing. Better than any 3 ingredient desserts that take time preparing, my mango popsicles taste even better than they look.
With summer in full swing, that's the kind of recipe we so badly need. Especially if you are set to keep your waistline. But anyway, I'm back!!! You might have noticed that I have been away from the food blogging world for two full weeks; that's pretty long, isn't it? Although l haven't really been away from food, unfortunately.
And that's because I came back from our holiday to Romania with a few extra kilos. I haven't been brave enough to face the scales yet, but l can tell l'm heavier. I blame mum though, for cooking too much yummy food. Even my husband was telling me that everytime he looked at me l was eating something.
Although, come on, don't you all take advantage when someone else cooks and you just relax? Well, holidays with small children aren't quite that relaxing, but you get my point.
How to make mango lassi popsicles?
Homemade, yummy scrummy, easy to make, and even easier to demolish. Totally kid-friendly popsicles, by the way. Another bonus point.
No need for sugar, you just need to make sure the mangoes are perfectly ripen and juicy. Or if you happen to find canned mango pulp, that's good too.
All you need to do is combine all the ingredinets together, pour the mixture onto the popsicle moulds, and job done! The Greek yogurt is creamy and perfectly silky, I prefer using this, but if you have normal plain yogurt, that should do too.
If you make these popsicles for babies and toddlers, make sure you use full-fat dairy products! Little ones need the good kind of fat (plus it tastes better!!!)
What are the best mangoes for these popsicles?
Now, l'm no expert in mangoes, but l know there are different varieties out there, with slightly different flavour and texture. In my local supermarkets, l can find throughout the year those mangoes with green and red skin, which are pretty large. They don't always taste great, not quite sure when they are in season.
However, in summer time, l can find a different variety at a local corner shop that sells fresh fruit and vegetables, these ones are a lot smaller, and the skin is yellow. They are a lot pricier, but also sweeter. They really taste great. l hear people say they are Indian mangoes. They really are the best.
However, if you can't find these mangos l'm talking about, any variety of mango would do. But as l said, it has to be fully ripen. They are great in any summer dessert, or smoothies. I've got this delicious Mango and banana smoothie which you'd also love. Bring on the mangoes!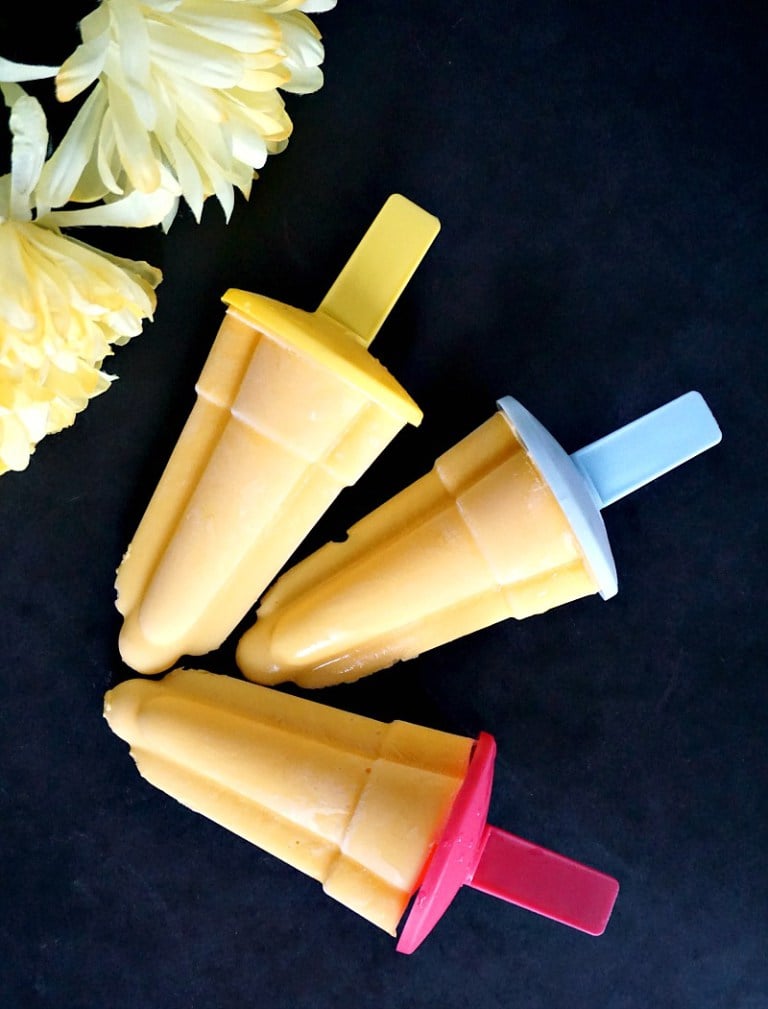 If you've liked my MANGO LASSI POPSICLES or any other recipe on the blog then don't forget to rate the recipe and let me know how you got on in the comments below, I love hearing from you! You can also FOLLOW ME on FACEBOOK, and PINTEREST to see more delicious food and what I'm getting up to.
3-Ingredient Mango Lassi Popsicles
3-ingredient mango lassi popsicles, healthy and delicious with no refined sugar added. If you like mango lassi, then these mango popsicles are for you. Better than any 3-ingredient desserts, and surely the best summer treat possible.
Keyword:
baby led weaning recipes
Ingredients
1

cup

mango pulp

1

cup

Greek yogurt

1

cup

milk
Nutrition Facts
3-Ingredient Mango Lassi Popsicles
Amount Per Serving
Calories 82
Calories from Fat 9
% Daily Value*
Fat 1g2%
Cholesterol 5mg2%
Sodium 38mg2%
Potassium 100mg3%
Carbohydrates 12g4%
Protein 4g8%
Vitamin A 1010IU20%
Vitamin C 5.4mg7%
Calcium 87mg9%
Iron 5mg28%
* Percent Daily Values are based on a 2000 calorie diet.
Save
Save