This vegan white bean mash with garlic, rosemary and chives makes a delicious side dish that is packed with protein and fibre and is low in fat. It is also a great alternative to the mashed potatoes, although, l must say, it is hard to choose between the two of them, as l like them both very much.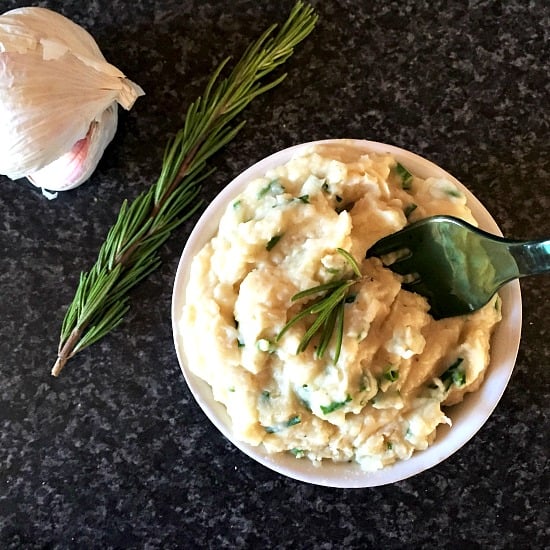 With the Orthodox Easter coming up next Sunday, this white bean mash is an excellent choice if you would like to fast during the Holy Week. As you might know already, the Orthodox fasting is pretty strict when it comes to what food is allowed, so any meat or meat products, eggs and diary products are forbidden.
Many people will choose to fast during the Holy Week, and some would have already been fasting right from the beginning of Lent.Whether you fast or not, butter bean mash is a healthy side dish that  will impress even those who are not so keen on beans.
The wonderful trio of garlic, rosemary and chives simply transform this dish, making it so flavourful that is very hard to believe it is vegan. As you might know, l love garlic and l get overly excited when l cook with it and tend to use a lot. My partner would often joke saying that l had another garlic moment. You can use less, if you are not a garlic fan. Do have a try!
Any beans would work well here, cannellini, kidney beans, black beans, etc To make the white bean mash is really simple, if you choose the canned beans, then it only takes about 10 minutes or under, since they are cooked already.
You can also go for the dry beans, in which case you will have the soak them first for a few hours, ideally overnight, then boil them in a few waters until they become soft.
If sounds like a more work this way, so if you are short of time, then the canned beans are the super quick way. They are very cheap, inexpensive, but so tasty. Great with any kind of bread, toast, English muffin, potato pancakes, etc Excellent as an appetizer or even a nice spread for breakfast.
If you've tried this WHITE BEAN MASH RECIPE or any other recipe on the blog then don't forget to rate the recipe and let me know how you got on in the comments below, I love hearing from you! You can also FOLLOW ME on FACEBOOK, and PINTEREST to see more delicious food and what I'm getting up to.
Vegan White Bean Mash with Garlic
This vegan white bean mash recipe with garlic, rosemary and chives makes a delicious side dish that is packed with protein and fibre and is low in fat.
Ingredients
1

tin

butter beans

(400 g)

2

sprigs

rosemary

4

garlic cloves

4

tbsp

chopped chives

1/2

tsp

salt

1/4

tsp

pepper

1

tsp

tomato puree

2

tbsp

olive oil
Instructions
Drain the beans and rinse under cold water.

In a pan, add the olive oil and heat it up on a low to medium heat.

Use a garlic presser to mash the garlic, and add it to the pan together with 1 sprig of rosemary and tomato purée.

Stir for a few seconds, then in go the beans and continue to stir for about 5 minutes.

Remove the rosemary sprig, season the beans with salt and pepper.

Blitz everything in a food processor until you get a smooth paste.

Add the finely chopped chives, l prefer not to mash them, they give a nice texture if left chopped.

Transfer to a bowl and decorate with rosemary.

Serve chilled from the fridge.
Nutrition Facts
Vegan White Bean Mash with Garlic
Amount Per Serving
Calories 136
Calories from Fat 126
% Daily Value*
Total Fat 14g 22%
Sodium 583mg 24%
Potassium 41mg 1%
Total Carbohydrates 2g 1%
* Percent Daily Values are based on a 2000 calorie diet.