Stuffed Butternut Squash with Couscous and Vegetables, a delicious vegetarian dish inspired by the colours of Autumn. A delicious dish for your Thanksgiving dinner, but also great all year around.
And even the taste makes us think of Autumn, the delicate sweetness of the roasted butternut squash combined with the awesome fluffy texture of the couscous make a great meal that even fussy ones can't refuse.
There's still some time left to prepare all those amazing dishes for Thanksgiving. Autumn is still here, although, judging by the weather and the christmassy atmosphere, it looks more like winter.
So, why not add one more dish to that never-ending list of goodies you have planned for the big day? It's dead easy to prepare this couscous stuffed squash, and will surely be a big hit.
This simple roasted butternut squash is comforting, filling, just perfect. And meat-free, which makes it a light dinner option in case you have had enough of heavy meals and need a change, more precisely a healthy one.
Couscous can't be easier to cook. All it needs is boiling flavourful liquid (or just water) to make a meal in less than 5 minutes. It can be plain and boring on its own, l know. But once it absorbs the wonderful broth, it becomes sheer goodness. Even my fussy-pants daughter likes it. It really must be nice then!!!
Add some extra cheese for a total cheesy experience. If you choose not to top the squash with cheese, then you've got a wonderful dish suitable for vegans too. So many ways to transform this dish, just make it the way you most like it!
MORE BUTTERNUT SQUASH RECIPES:
Butternut squash risotto balls
One-pan butternut squash sausage pasta
Butternut squash and sweet potato stew
If you've tried my STUFFED BUTTERNUT SQUASH or any other recipe on the blog then don't forget to rate the recipe and let me know how you got on in the comments below, I love hearing from you! You can also FOLLOW ME on FACEBOOK, and PINTEREST to see more delicious food and what I'm getting up to.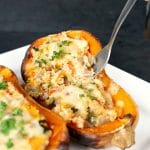 Stuffed Butternut Squash with Couscous and Vegetables
Simple roasted butternut squash stuffed with couscous and vegetables, a delicious vegetarian dish inspired by the colours of Autumn.
Ingredients
1

medium butternut squash

1

onion

1/2

courgette

(zucchini)

1

red pepper

2

cups

vegetable stock

(500 ml)

1

tbsp

vegetable oil

1/2

cup

wholemeal couscous

(120 g)

1/4

cup

grated Cheddar cheese

2

tbsp

tomato puree

1/2

tsp

salt

black pepper to taste

fresh parsley
Instructions
Preheat the oven to 200 degrees C.

Cut the butternut squash in half lengthwise.

Scoop out the seeds and place the two halves on a baking tray.

Bake for an hour until the flesh is soft.

Heat up the oil in a pan and add the onion chopped finely.

Fry for 2-3 minutes until it softens, then add the chopped courgette and red pepper, give them a good stir, add the vegetable stock and boil for 15 minutes.

Use a spoon to scoop out the flesh from the butternut squash, leaving about 1 1/2 cm around the edges.

You can add some of the flesh to the pan. I enjoyed the rest of it on its own, it's super delicious!

Take the pan off the heat, add the couscous and place a lid on the pan.

After 5 minutes, remove the lip the fluff the couscous up with a fork.

Season with salt and pepper and mix in the tomato purée.

Stuff the butternut squash halves with the couscous, sprinkle some grated cheese over, and bake in the oven for a further 5-10 minutes.

Garnish with freshly chopped parsley.
Nutrition Facts
Stuffed Butternut Squash with Couscous and Vegetables
Amount Per Serving
Calories 513
Calories from Fat 108
% Daily Value*
Total Fat 12g 18%
Cholesterol 14mg 5%
Sodium 1641mg 68%
Potassium 1795mg 51%
Total Carbohydrates 92g 31%
Protein 14g 28%
* Percent Daily Values are based on a 2000 calorie diet.
Save
Save