Flan without condensed milk or crème caramel, an indulgent flourless dessert that simply melts in your mouth. The perfect dessert for any party, these individual pots of heaven are sheer pleasure.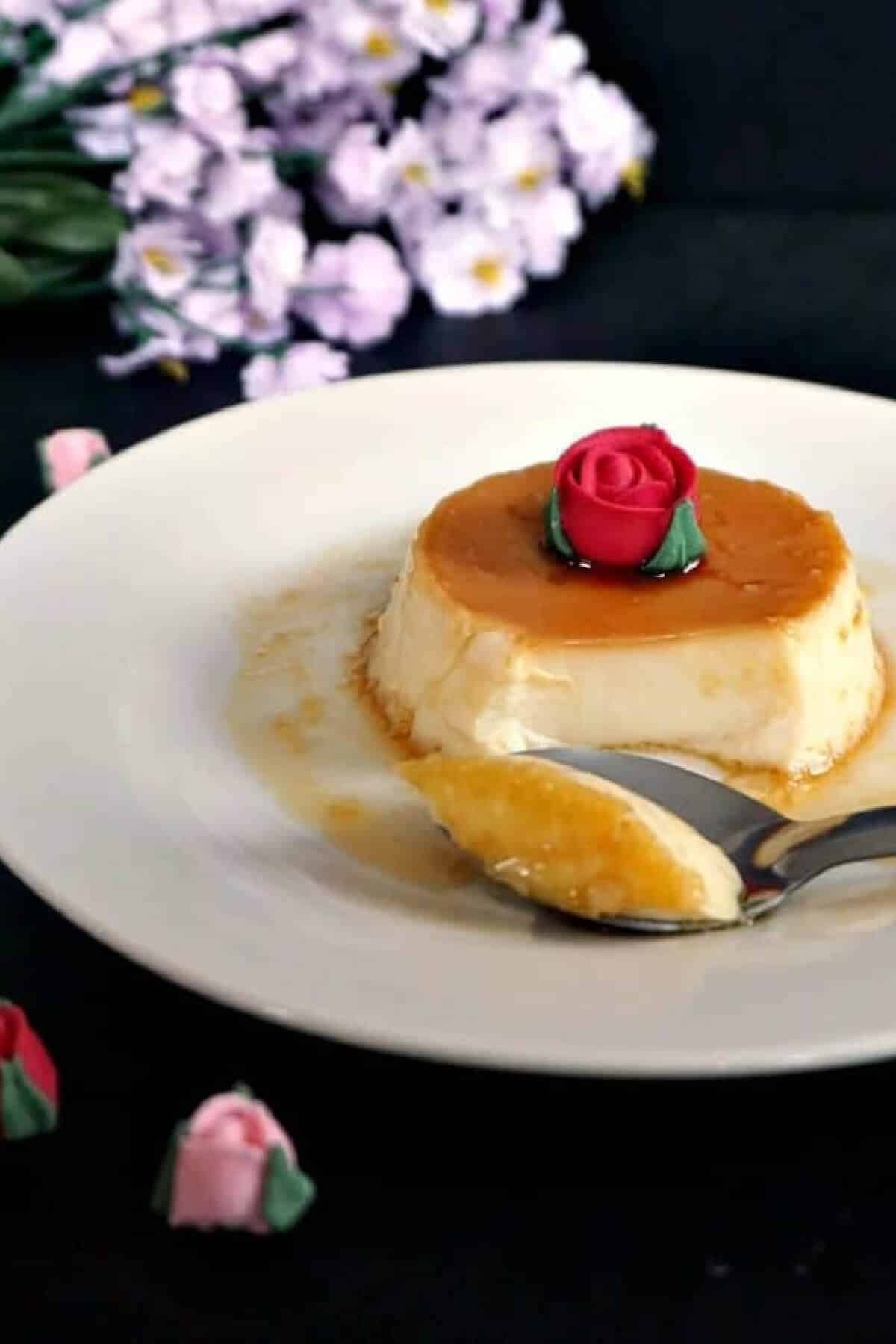 Jump to:
Crème Brûlée Vs. Crème Caramel
There is some sort of confusion perhaps between the classic crème brûlée and this crème caramel. Although the technique is pretty similar, and the final result no doubt is as delicious, crème caramel or flan is usually baked in a ramekin that has been lined with caramel on the bottom.
Crème brûlée has sugar sprinkled on top, which is then burnt using a cooking blow torch. I think l prefer the crème caramel tough, it looks so pretty when turned upside down, but of course, you can just dig in and eat it straight from the ramekin, without bothering removing it first.
Ingredients needed to make flan
eggs - at room temperature
milk - full-fat is best, as it's not as watery
egg yolk - not a whole egg
icing sugar
sugar - I used granulated sugar, but caster is also ok
cold water
vinegar
vanilla extract - or any other extract
Step-by-step photos and instructions
Don't panic thinking it's difficult to make, oh no! Nothing simpler, the basic ingredients are eggs, milk and sugar. You can flavour it with vanilla extract if you wish. To make the custard:
beat the eggs and egg yolk well until they increase their volume and the colour is pale yellow
gradually whisk in the warm milk
add the icing sugar and vanilla extract and mix well to get a smooth mixture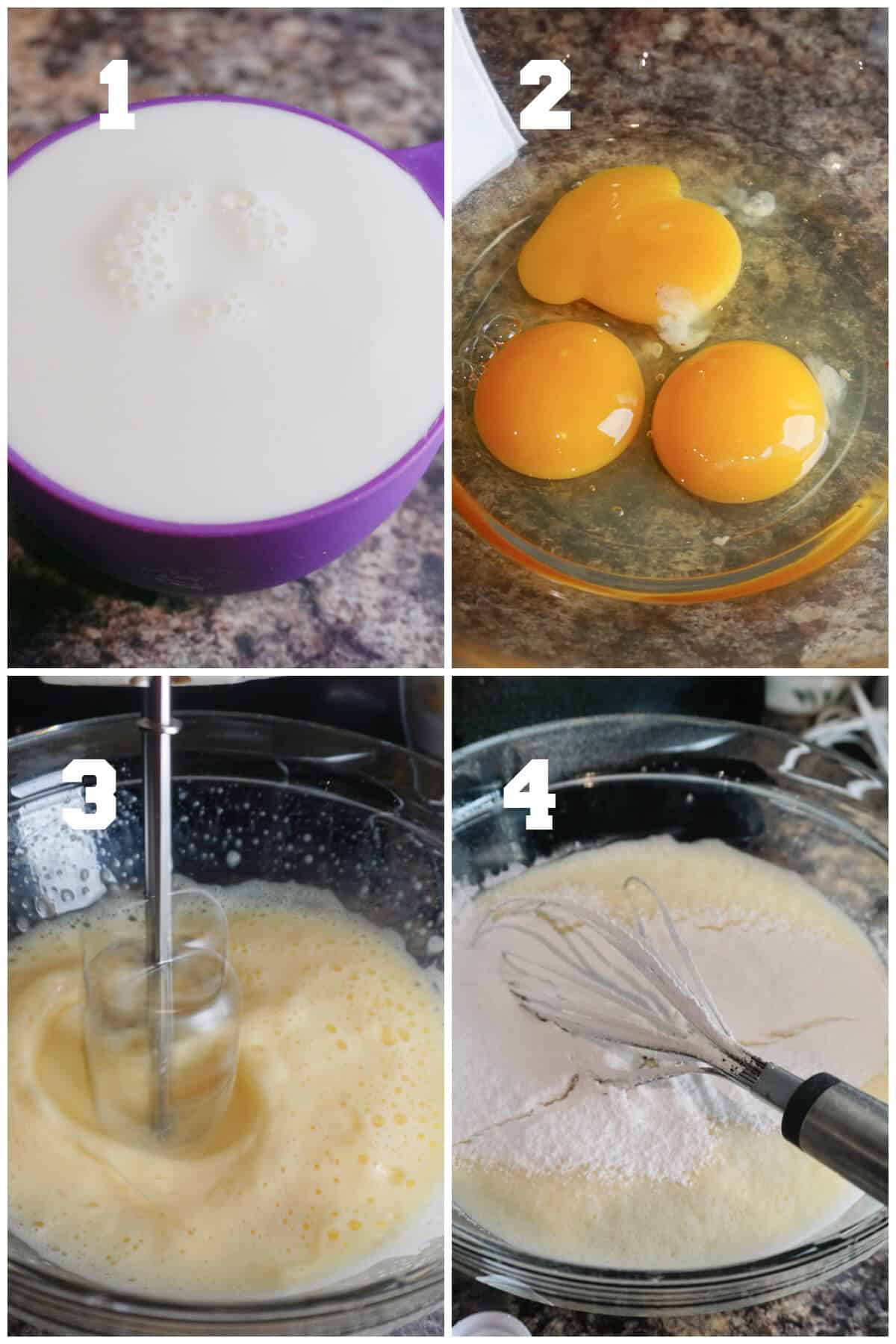 To make the caramel:
add the water, sugar and vinegar to a pan set over a low heat
NOTE! The vinegar prevents the sugar from crystalizing, the caramel won't taste like vinegar at all. Alternatively you can use lemon juice.
leave to simmer for 25-30 minutes until the syrup changes the colour to a light brown
NOTE! I don't recommend stirring the caramel, as it could crystalize on the edges of the pan, and ruin the whole caramel. It is better to leave it to cook undisturbed, but do keep an eye on it, as it can burn quickly when it's ready.
How do I know? Well, let's just say I wanted to test what happens if the heat it too high 🙂 It does burn, and badly, with smoke in the whole kitchen and everything. Not nice at all!
when the caramel is ready, divide it between the 4 quickly, as it hardens, then divide the custard mixture
arrange the ramekins on a deep baking tray, half fill with water, then bake at 170 degrees Celsius (340 Fahrenheit) for 40 minutes or until firm to touch and settled.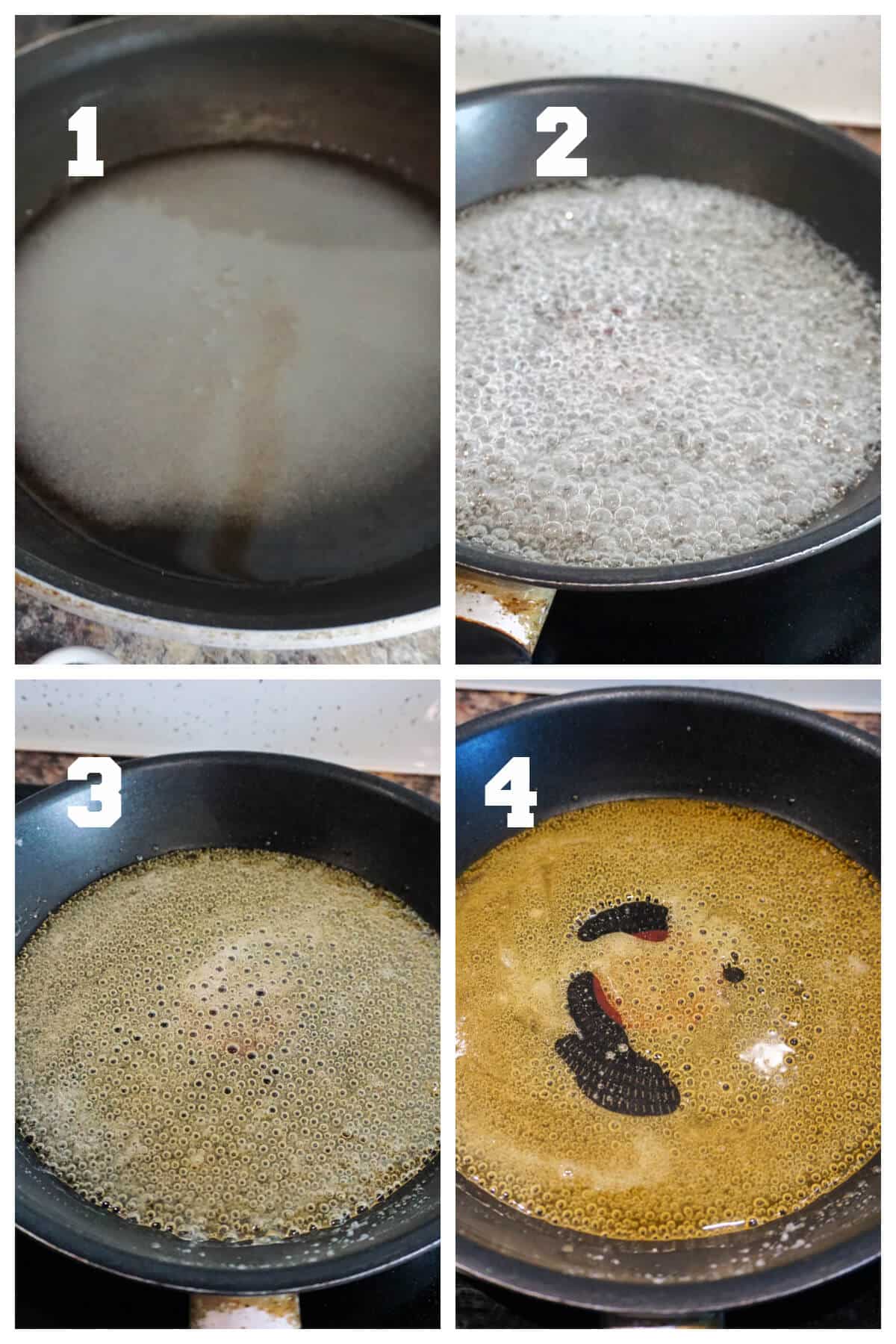 Expert tips
There is no gelatine in this flan, it settles beautifully once it's baked. Always serve the dessert chilled, the taste is tons better, otherwise warm it might taste eggy, plus the caramel won't have time to soften and top the flan nicely.
It is the lovely caramel flavour that together with the vanilla touch make this dessert one of its kind. Such a silky texture, and no flour used at all.
The flan keeps well in the fridge, it actually tastes even better the next day. Serve it as a special dessert for like Valentine's Day menu, and be sure to impressed your loved one.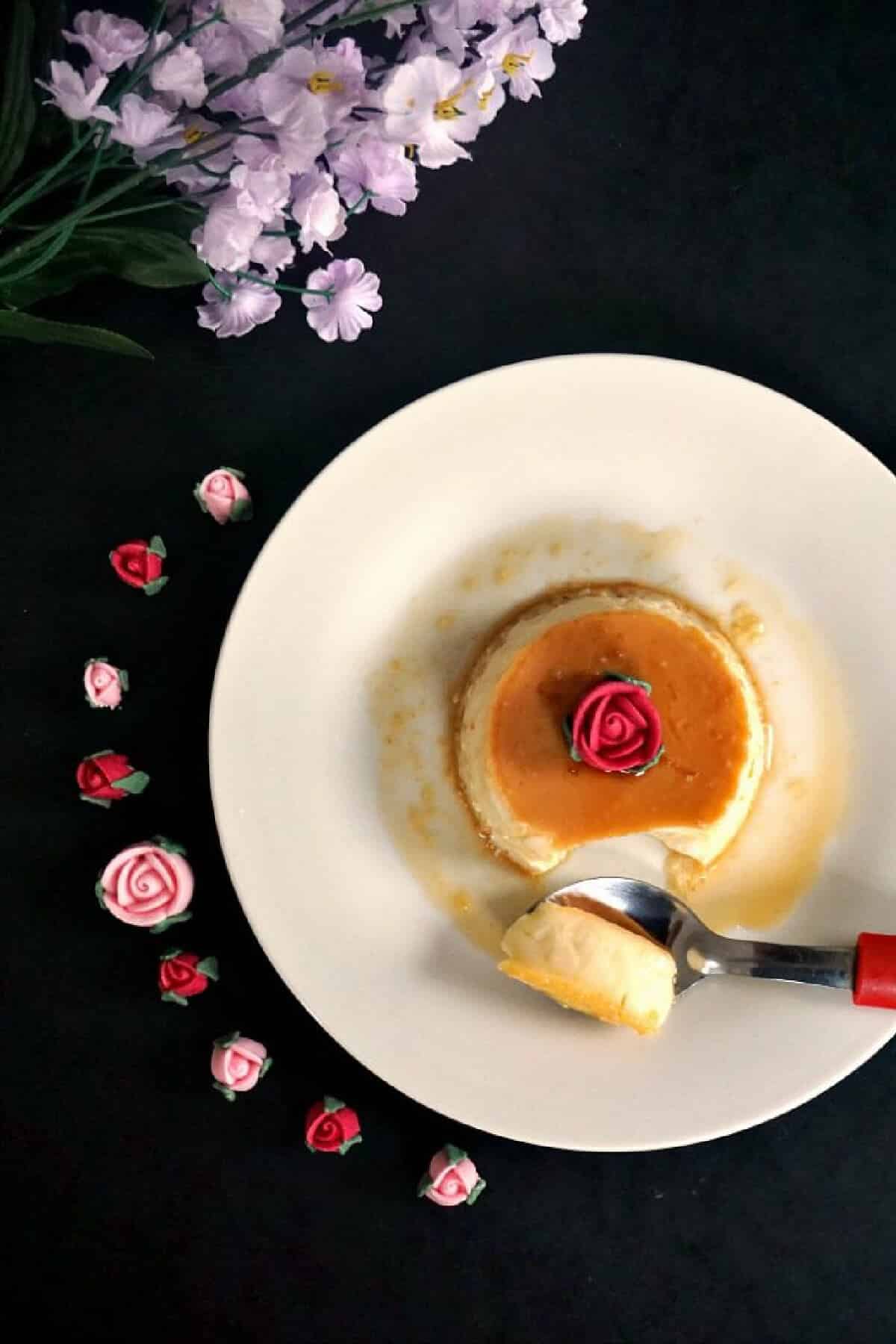 If you've tried my FLAN WITHOUT CONDENSED MILK or any other recipe on the blog then don't forget to rate the recipe and let me know how you got on in the comments below, I love hearing from you! You can also FOLLOW ME on FACEBOOK, and PINTEREST to see more delicious food and what I'm getting up to.
Flan without Condensed Milk
Flan without condensed milk or crème caramel, an indulgent flourless dessert that simply melts in your mouth. The best dessert for any party, these individual pots of heaven are sheer pleasure. The flan is delicious and easy to make, and it looks so amazing, all the guests will be impressed. Silky, creamy, sweet, what a treat! If you are looking for a dessert for a special occasion, this flan is all you need.
Print
Pin
Rate
Ingredients
2

eggs

250

ml

full-fat milk

1

egg yolk

40

g

icing sugar

50

g

granulated sugar

25

ml

cold water

½

teaspoon

vinegar

1

teaspoon

vanilla extract
Instructions
In a pan, warm up the milk until it gets to the boiling point, then remove from the heat.

Beat the eggs and egg yolk until they double their volume and get a pale yellow colour, then add them to the milk, whisking well.

Add the icing sugar and vanilla extract, and mix again to combine, making sure you have a smooth consistency. Set aside.

To make the caramel, add the granulated sugar, water and vinegar to a pan set over a low heat.

Leave to simmer undisturbed for 25-30 minutes until the syrup turns into a light brown colour.

Preheat the oven to 170 degrees C (340 F).

Divide the caramel between 4 ramekins, making sure the bottom of the ramekins is well covered with an even layer of caramel.

Use a ladle to divide the egg mixture between the 4 ramekins too, then arrange them on an ovenproof dish.

Add hot water to the dish, so that the ramekins are half covered in water.

Bake for approximately 35-40 minutes until the crème caramel is set and firm to touch.

Leave to cool down to room temperature, then refrigerate for at least 3-4 hours, ideally overnight.

Run a sharp knife around the edges, place a small plate on top of the ramekin, then flip it over to release the crème caramel. Alternatively, you can serve it straight from the ramekin.

Enjoy!
Notes
To see the measurements in cups and ounces, please click on the US CUSTOMARY link.

The amount of ingredients listed can be adjusted depending on the number of servings you need, just click on the number next to SERVINGS.
Nutrition
Calories:
174
kcal
|
Carbohydrates:
25
g
|
Protein:
5
g
|
Fat:
5
g
|
Saturated Fat:
2
g
|
Cholesterol:
136
mg
|
Sodium:
61
mg
|
Potassium:
112
mg
|
Sugar:
25
g
|
Vitamin A:
285
IU
|
Calcium:
89
mg
|
Iron:
0.5
mg
Save
Save