Mini Mushroom Pies, an excellent meat-free appetizer for parties and gatherings. Easy to put together, full of flavour and delicious.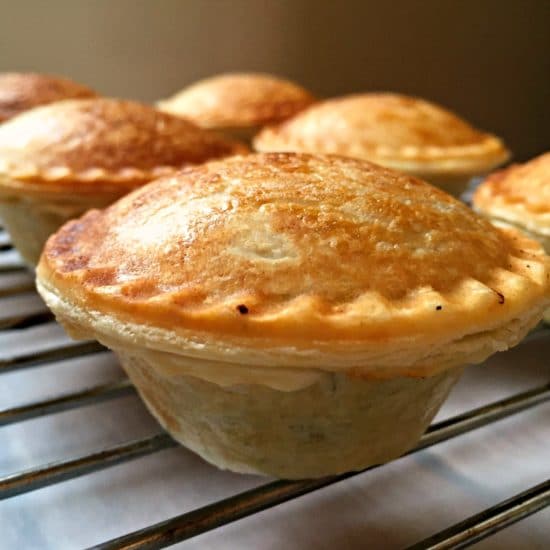 Hands up who likes pies! I certainly do, and can't have enough of them. Whether you go for the savoury or sweet version, you know you are in for a treat. I was not aware that the humble pie can be traced as far back as the ancient times.
Of course, it was not quite as the pie we know today. But if we talk about modern pies, the British ones are known to be the best. And there is no room for argument here. Chicken and leek or chicken and mushroom pies are definitely the favourite.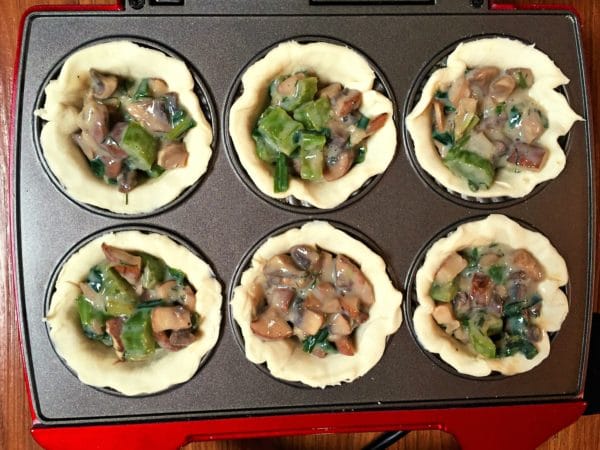 My mini pies, although meat free, are so delicious. And making them was super easy thanks to my Mini Pie Maker. I simply love it! These must be the prettiest-looking pies l've ever made. The pie maker saves you time, energy and, most importantly, it's mess free. All pies have the same shape, oh, and guess what, no soggy bottom.
And that's because they are baked to perfection. What l also like are the non-stick top and bottom cooking plates, you can easily remove the pies when they are done. It only takes about 10 minutes or so to have them ready.  Quick, isn't it! And when you are sick and tired of pies (although that is impossible, if you ask me) you can also make mini tarts, sweet or savoury.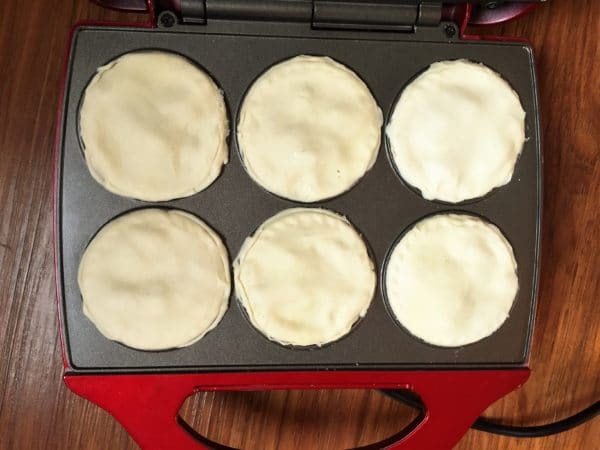 Now, if you do not have a pie maker, not to worry at all! You can very well use a muffin tin, the regular size, and have the pies baked in the oven. I might get the timings wrong, since I have not tried them in the oven, but I think they would be best baked at about 180 degrees Celsius, or 350 Fahrenheit for about 20 minutes or so, but obviously do keep an eye on them.
And don't worry too much if they don't have the perfect shape, the taste is what matters after all. And that's where you are a winner. The pies make an excellent snack for the kids's school lunch, or a nice after school snack, when little tummies get hungry and need a quick boost of energy.
A little tip here: the filling must be completely cooled off, whether you use the pie maker or the oven. Warm filling usually translates to soggy pies. Other than that, enjoy your pies, they are delicious!
If you've tried my MINI MUSHROOM PIES or any other recipe on the blog then don't forget to rate the recipe and let me know how you got on in the comments below, I love hearing from you! You can also FOLLOW ME on FACEBOOK, and PINTEREST to see more delicious food and what I'm getting up to.
Mini Mushroom Pies
Mini Mushroom Pies, an excellent no-meat appetizer for parties or gatherings.
Ingredients
250

g

closed cup mushrooms

2

celery sticks

1

small onion

2

spring onions

2

garlic cloves

1

cup

milk

1

tbsp

plain flour

25

g

butter

fine sea salt

ground black pepper

dill to taste

1

ready rolled puff pastry
Instructions
Cut the onion, garlic and spring onions.

Melt the butter in a large frying pan and add the onions and garlic.

Fry gently until soft, then chop the celery sticks and mushrooms and fry together on a low to medium heat until tender.

Mushrooms have a high water content, once all the water has been released and absorbed, add the milk and flour and mix well with a wooden spoon until you get a creamy texture.

Remove from the heat, season well with salt, black pepper and dill.

Set aside to cool completely.

Dust some flour on the working surface and place the ready rolled puff pastry. Use a round cookie cutter or a glass to cut 12 rounds. 6 will be needed for the bottom and 6 for the top of the pies. I found that the bottom ones is best to be slightly larger than the ones that form the top.

Line each of the lie maker moulds with one of the larger pastry round.

Fill each pie with the mushroom mixture, then top each pie with the smaller pastry lids.

Securely close the pie maker and switch it on.

Cook for about 10 minutes, then switch the pie maker off and carefully remove the pies.
Recipe Notes
To see the measurements in cups and ounces, please click on the US CUSTOMARY link.
The amount of ingredients listed can be adjusted depending on the number of servings you need, just click on the number next to SERVINGS.
Nutrition Facts
Mini Mushroom Pies
Amount Per Serving
Calories 305
Calories from Fat 180
% Daily Value*
Total Fat 20g 31%
Cholesterol 13mg 4%
Sodium 163mg 7%
Potassium 283mg 8%
Total Carbohydrates 25g 8%
Protein 6g 12%
* Percent Daily Values are based on a 2000 calorie diet.