Japanese Udon Noodle Soup with miso and shiitake mushrooms, a simple recipe packed with amazing flavours. And you have your meal ready in less than 15 minutes; it can't get any better than that. A vegan-friendly recipe.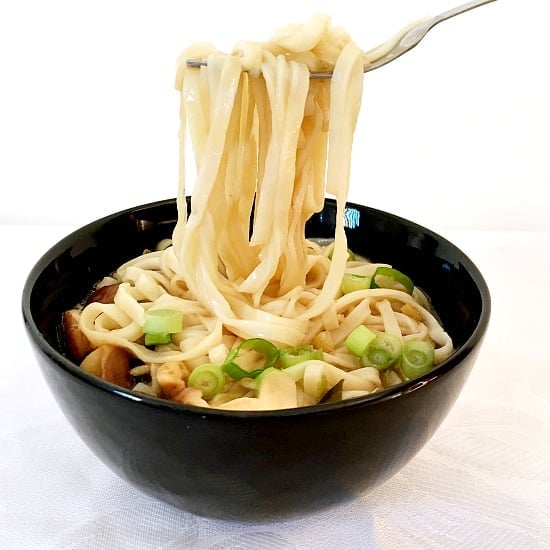 I could never stick to one particular cuisine, and on my blog you can find recipes from all over the world. l'm always open to new ideas when it comes to cooking, and always willing to try different dishes.
I know some people find it difficult to try new food they are not used to, and even when they go on holiday abroad.
These people will only go the restaurants where their traditional food is served. I guess it's personal choice, and there is no right and wrong here. My theory is, as long as the food is front of me smells and looks alright, l can give it a go, why not.
There is only a certain foods I could never ever try, and that is either too gross, or just too weird for my taste buds. Although that changes sometimes. I was only literally disgusted by the look of prawns/shrimps, and I just love them now. I guess one's taste does change.
The miso udon noodle soup has become one of my favourite now, not just because it is so delicious, but also because it's perfect for those days when you need to come up with a quick dish without compromising on taste.
UDON NOODLES
I love noodles of any kind, and l find udon noodles to be a lot less heavier than egg noodles, for example. When you finish your meal, you don't feel so full that you are about to burst. So one extra point here.
And you know what's another great thing about them? They are ready in just 5 minutes, about the time it takes to make a packet of instant noodles that are full of rubbish.
And then, everybody talks about how healthy miso soup is. I absolutely love it, and buying the red miso soup paste shouldn't be too difficult, I think all bigger supermarkets would have it in the International aisle.
These are the dried udon noodles, the fresh ones are a lot thicker, and probably more popular. I like both versions though.
SHIITAKE MUSHROOMS
Most recipes would call for dried shiitake mushrooms, which again should be found in the International aisle of any supermarket, or local Asian stores. But if you happen to find fresh ones, do go for it.
They have a delicate texture and flavour, and really make this soup flavourful and delicious. But if you really can't find them, feel free to use any other type of mushrooms.
You can add any vegetables to it, or tofu, if that's something you like and you prefer to keep the soup vegan friendly, otherwise feel try to add meat or seafood as well. It might not be a pure authentic Japanese recipe, but it's so super yummy, you have to give it a go.
Looking for more noodle recipes? What about my Home-made chicken noodle soup? It is soothing, delicious and so healthy too. Hard to choose between the too, really!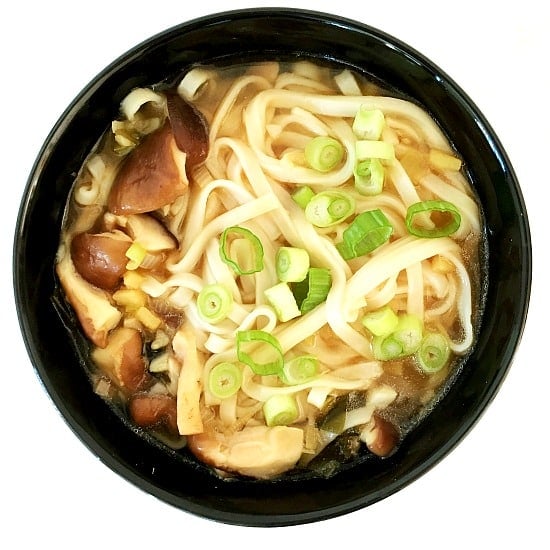 If you've tried this UDON NOODLE SOUP or any other recipe on the blog then don't forget to rate the recipe and let me know how you got on in the comments below, I love hearing from you! You can also FOLLOW ME on FACEBOOK, and PINTEREST to see more delicious food and what I'm getting up to.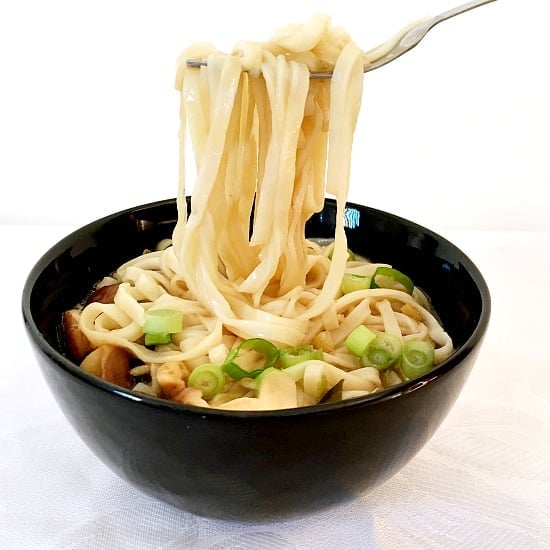 15-Minute Japanese Udon Noodle Soup with Miso
15-Minute Japanese Udon Noodle Soup with Miso, a vegan soup that is ready in well under 15 minutes. Delicious and flavourful, this soup gives comfort food a new meaning.

Ingredients
1/3

package

udon noodles

1/2

cup

fresh shiitake mushrooms

1

spring onion

2

garlic cloves

2

cm

ginger root

1

tsp

vegetable oil

1

cup

water

1

tbsp

red miso paste
Instructions
Peel and chop the onion and ginger finely, then chop the white end of the spring onion.

Heat up the oil in a pan, add the garlic, onion and ginger and stir for 10-15 seconds.

Slice up the mushrooms and add them to the pan.

Stir for a further 10 seconds, add water and leave to boil for 5-10 minutes until the mushrooms are tender.

Meantime, cook the noodle according to the package instructions, udon noodles usually need about 5 minutes to be ready.

Drain the water and transfer the noodles to a bowl.

When the mushrooms are ready, mix in the miso paste and remove the pan from the heat.

Add the soup to the bowl and garnish with the remaining spring onion.

Serve immediately.
Recipe Notes
If you'd like to see the measurements in CUPS and OUNCES, please click on the US CUSTOMARY link.

The amount of ingredients can be adjusted according to the number of servings you need, please click on the number of servings to change it.
Nutrition Facts
15-Minute Japanese Udon Noodle Soup with Miso
Amount Per Serving
Calories 321
Calories from Fat 36
% Daily Value*
Total Fat 4g 6%
Sodium 1235mg 51%
Potassium 189mg 5%
Total Carbohydrates 58g 19%
Protein 13g 26%
* Percent Daily Values are based on a 2000 calorie diet.
Save
Save
Save
Save