Homemade cranberry sauce with orange juice and brown sugar, the best sauce to serve with your Thanksgiving or Christmas turkey. Ready in just 10 minutes if you use fresh cranberries, or 20 mintues if you use frozen ones.
Oranges and cranberries are at their best in the cold season. And if you combine them into a zesty sauce, you know that you have the ultimate cranberry sauce with orange juice. The brown sugar adds the subtle sweet kick, making it the easiest and best sauce you can possibly have over the festive season.
When l was a child, oranges were not easily available in my country, so every time we had oranges, this was such a big thing, the whole house was infused with a christmassy aroma. And Santa was usually bringing us sweets and bananas and oranges, and l was always over the moon.
True, nowadays they are easily available everywhere, but they only have this fresh aroma around Christmas. To me, oranges smell like Christmas. The cranberry sauce might be new to me, since we don't really serve it at Christmas in Romania, but I love it now, and really enjoy it with meat.
In Romania winters can be pretty harsh, with temperatures dropping to -30 or so in some parts of the country and lots of snow. I remember being extatic every time we had a white Christmas.
Those were really happy days. Through baking and cooking traditional dishes,  l get to live again the whole magical Christmas l once had as a child.
The sauce is very popular in the UK and not only.  Any shop would sell fresh or frozen cranberries or cranberry sauce around this time of the year, but making it yourself takes only 10-20 minutes and it has a lovely sharp citrussy taste.
Why buy a store-bought sauce that is way too sweet and you can hardly taste the fruit in it? Homemade is the best way, plus you can make as much as you need, no need to buy a whole jar if you are going to use less.
If you buy more cranberries and oranges, you can also make a nice batch of Cranberry & orange shortbread cookies, for another festive treat. Plus, no one will ever complain about them, they really are yummy.
You could try cranberry sauce without sugar, but I personally find it bitter, but every person is different, you might like it this way. Or you might want to use more sugar, if you'd rather have it sweeter. Cinnamon is another great addition, if you decide to use it for a boost of aroma.
I tried it with fresh cranberries and with frozen ones, and I honestly could not find any difference in taste. The only difference is in the cooking time. The fresh ones will cook quicker, no more than 10 minutes, where the frozen ones need a bit longer, about 20 minutes.
You might want to use a hand blender to make the whole cranberry sauce smoother once it is cooked, I actually quite like it this way.
No need to make it super smooth though. If you want to make a cranberry sauce with orange zest only, then use half a cup of water instead of the orange juice.
 If you've liked my HOMEMADE CRANBERRY SAUCE WITH ORANGE JUICE or any other recipe on the blog then don't forget to rate the recipe and let me know how you got on in the comments below, I love hearing from you! You can also FOLLOW ME on FACEBOOK, and PINTEREST to see more delicious food and what I'm getting up to.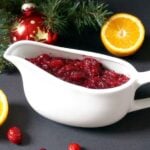 Homemade Cranberry Sauce with Orange Juice
Homemade cranberry sauce with orange juice, the best sauce to serve with the Thanksgiving or Christmas Turkey.
Keyword:
THANKSGIVING SIDES
Ingredients
400

g

frozen cranberries

2

oranges

6

tsp

of dark muscovado sugar
Instructions
Grate the oranges and then cut it in half and use a citrus squeezer to squeeze the juice out.

Add the juice and sugar to a pan and simmer for a few minutes until the sugar has disolved.

Tip the cranberries in and simmer for a further 15 minutes or until the sauce thickens.

Use a hand blender to blend it to a smoother consistency.

Transfer to a bowl and serve cold.
Recipe Notes
Click on the US Customary link to see the measurements displayed in cups and ounces.

The servings can be adjusted by clicking the number next to Servings.
Nutrition Facts
Homemade Cranberry Sauce with Orange Juice
Amount Per Serving
Calories 95
% Daily Value*
Sodium 3mg 0%
Potassium 203mg 6%
Total Carbohydrates 24g 8%
Protein 1g 2%
* Percent Daily Values are based on a 2000 calorie diet.