Easy Crispy Oven Baked Chicken Wings seasoned with garlic, paprika, salt and pepper, a healthy appetizer for every party. It's such a simple recipe, but these really are the best wings, and they taste just like the fried ones. Low carb and gluten free too, and so delicious!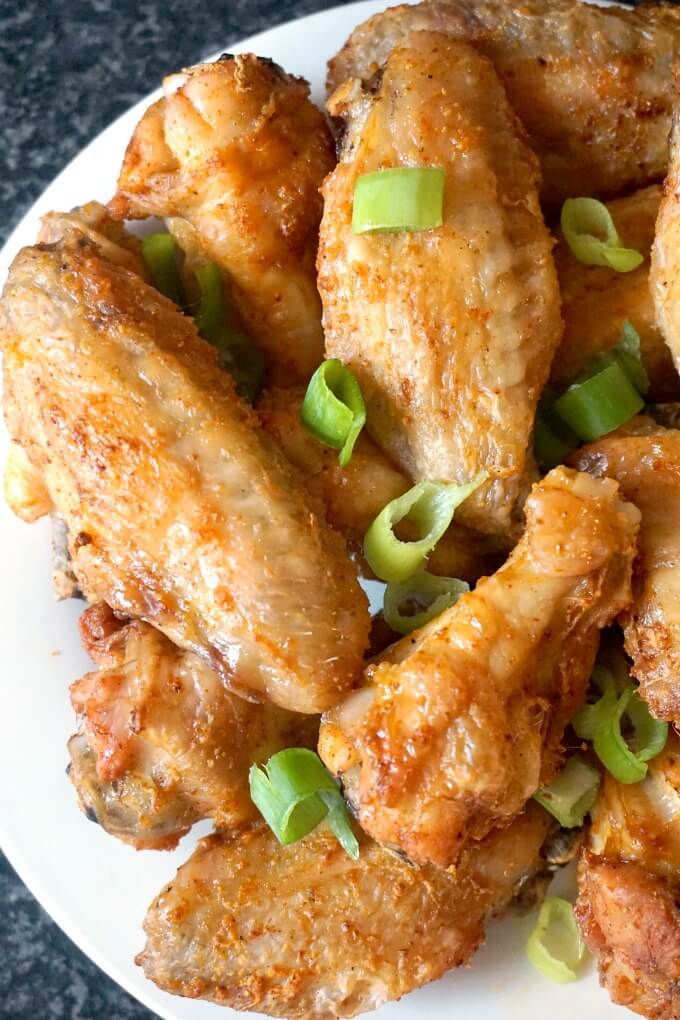 No, I am not trying to blow my own trumpet, or ok, maybe only a little bit, but seriously, these extra cripsy oven baked chicken wings are baked to perfection! Oh, my! If I could even impress my husband, they must be really good! Well, not sure about impressed, but I took his" oh, yeah, they are really good" like the biggest compliment ever. A big round of applause for me!!!
If it funny actually how I rarely bake chicken wings, although they are not only cheap, but also finger-licking good. I did try a few times in restaurant some good chicken wings, but at home I am usually a chicken breast or thighs girl. Now, things have changed, someone is going to be baking loads of chicken wings from now on.
Chicken Wings – the best finger food for every party or celebration
Do you know what, once again it was proved that the best flavours come from simple ingredients. A few ugly-looking chicken wings, a bit of salt, a bit of pepper, some garlic powder, a tiny bit of paprika, and ta-daahh: the best appetizer in the world!!!
Game day, party, picnic, family gathering, you name it! Chicken wings to the rescue, they are great for every occasion. And, the most important party of the year, the New Year's Eve party! Surely, you must have a big batch of chicken wings ready!
How do you make crispy chicken wings in the oven?
Wait, I have not told you about the secret ingredient to get these beauties extra crispy. It's the plain and boring baking powder. It does sound weird, I know, but trust me, you must use it!!!
Chicken wings can be so fatty, I could not believe my eyes that they could release fat taking into account that no oil whatsoever was used to toss them in.
So, while the meat itself stays nice and tender, the skin crisps up and becomes so yummy. Does baking powder make chicken wings crispy? Yes, but that's not all.The oven temperature is also essential.
How long to bake wings for and at what temperature?
After you coat the chicken wings with the baking powder and seasoning, set the oven at a lower temperature, 150 degrees Celsius (300 degrees Fahrenheit) and bake them first for 30 minutes.
The lower temperature will allow the fat to break, and after the 30 minutes, increase the temperature to 220 degrees Celsius (425 degrees Fahrenheit) and bake for a further 35 to 45 minutes until they are beautifully golden and crispy.
You do have to turn them on the other side before you increase the temperature, just to make sure they are baked nicely on both sides. Another good idea is to line a baking tray with nonstick paper and place the chicken wings on a rack that goes on top of the tray. Trust me, you will thank me for that, you really don't want the oven all messy and smokey from that fat dripping from the wings.
Are baked chicken wings healthy?
Definitely! While in most cases I agree that fried food is tasty, these wings actually taste a lot nicer baked. I can't possibly image them being drenched in a lot of oil, they would be way too greasy and oily.
Baking is the right way, it so is! I know, it does take longer, but in the end you will realise the wait was so worth it! So if you want healthy and easy baked chicken wings, you are in the right place. Another recipe that I loved was my Homemade chicken nuggets recipe, where the nuggets had been baked rather than fried.
Again, a smashing success! Healthier options are not always boring! Not at all, healthy recipes can be so delicious and easy to make. Any sauce goes well with these wings, I know many people go for the Buffalo sauce, but I am a simple girl, I prefer the good old ketchup. Don't get me wrong, they are tasty too without any sauce whatsoever, but you know, just in case.
The garlic and paprika can also be left out, just salt and pepper work here too, but I love the kick they get if you do use them. Now, let's have some extra crispy baked chicken wings with garlic and paprika, they are calling my name!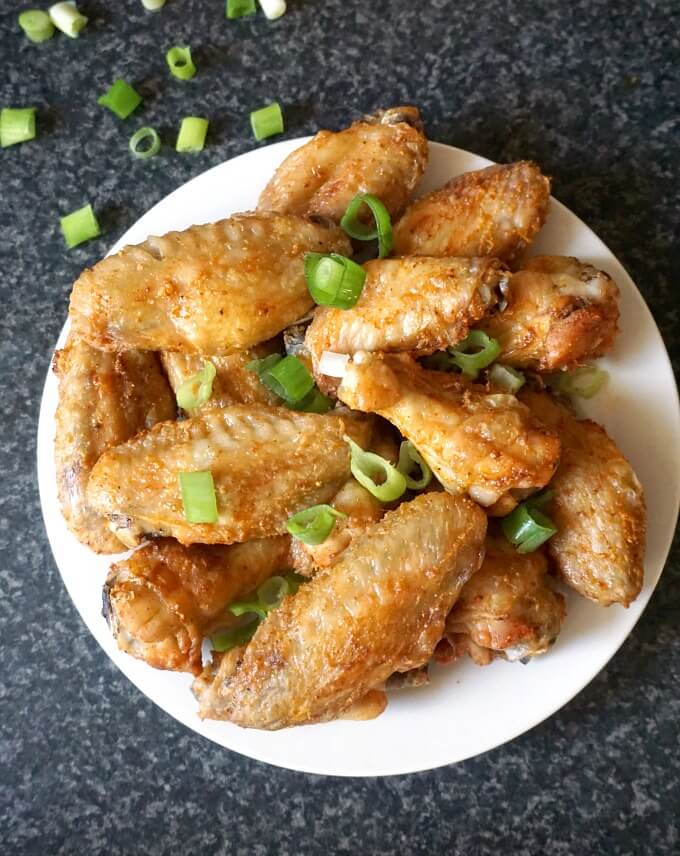 If you've tried these HEALTHY CRISPY OVEN BAKED CHICKEN WINGS or any other recipe on the blog then don't forget to rate the recipe and let me know how you got on in the comments below, I love hearing from you! You can also FOLLOW ME on FACEBOOK, and PINTEREST to see more delicious food and what I'm getting up to.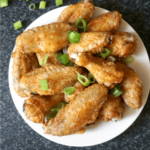 Easy Crispy Oven Baked Chicken Wings
Easy Crispy Oven Baked Chicken Wings with a touch of paprika and garlic, a fantastic appetizer for any big celebration like Game Day or indoor/outdoor parties. A lot better than the fried ones, these wings are absolutely delicious.

Keyword:
chicken party food
Ingredients
10

chicken wings

1

tbsp

baking powder

1/2

tsp

salt

1/8

tsp

black pepper

1

tsp

garlic powder

1/2

tsp

paprika
Instructions
Preheat the oven to 150 degrees Celsius (300 degrees Fahrenheit).

Stretch out the chicken wings and cut out the wing tips, then separate the drumette and the vingette.


Discard of the tips, then place the other pieces into a sealable bag,


Add the baking powder, salt, pepper, garlic and paprika, seal the bag and give it a good shake so that the chicken pieces can be coated evenly.


Line a baking tray with nonstick paper, place a rack on top of the tray, then arrange the chicken wings on the rack.


Bake for 30 minutes, then remove from the oven and flip the wings on the other side.


Increase the temperature to 220 degrees Celsius (425 degrees Fahrenheit) and bake for a further 35 to 45 minutes or until the wings are golden and crispy.


Remove from the oven and serve warm.

Nutrition Facts
Easy Crispy Oven Baked Chicken Wings
Amount Per Serving
Calories 54
Calories from Fat 27
% Daily Value*
Fat 3g5%
Cholesterol 18mg6%
Sodium 134mg6%
Potassium 99mg3%
Protein 4g8%
Vitamin A 65IU1%
Vitamin C 0.2mg0%
Calcium 29mg3%
Iron 0.3mg2%
* Percent Daily Values are based on a 2000 calorie diet.
Save
Save
Save
Save
Save