Cremeschnitte or Cream Slices, a fabulous dessert with a flaky puff pastry base, topped with a rich vanilla crème pâtissière and silky whipped cream and pastry flakes. Super easy to make, and so delicious!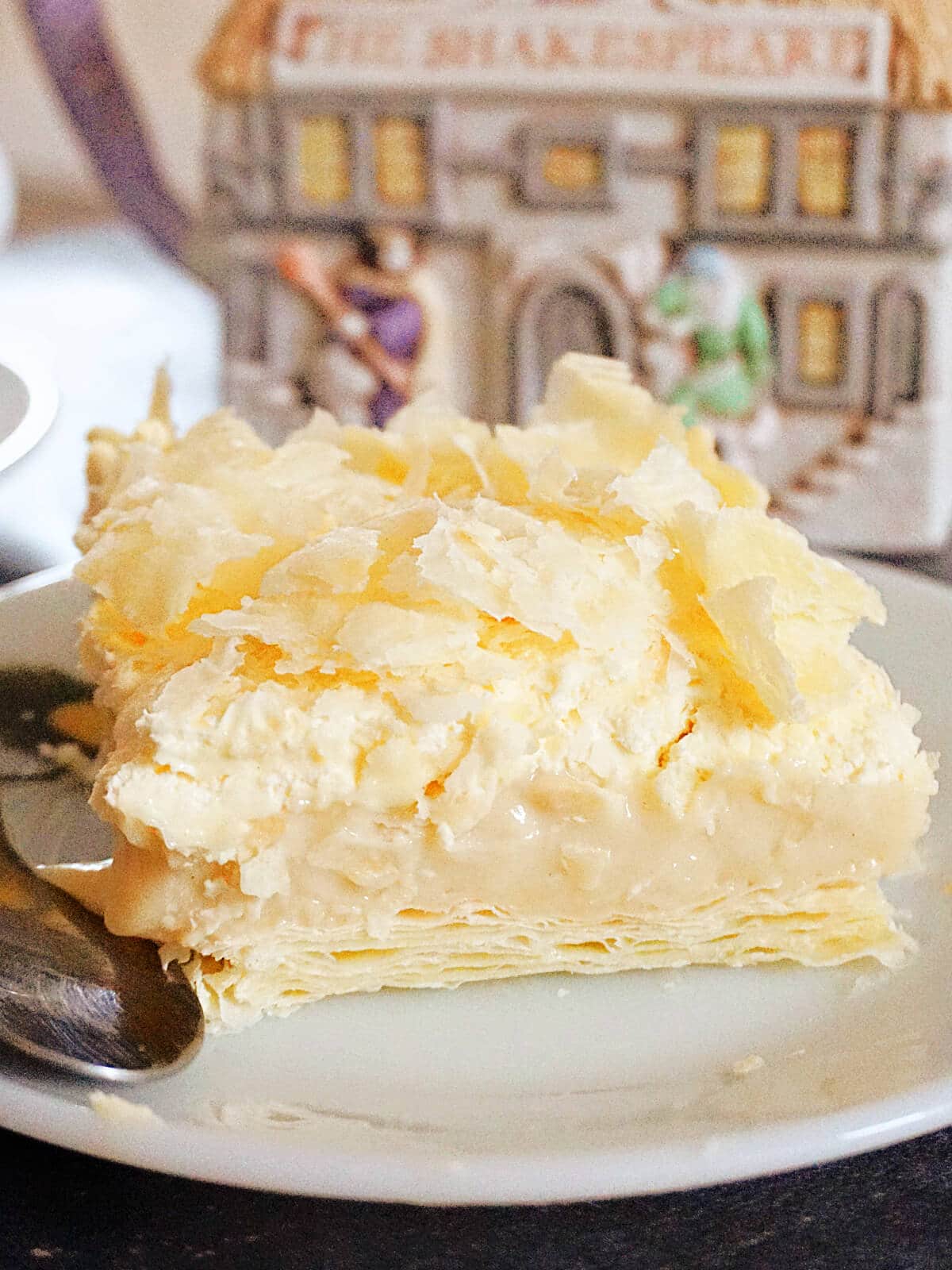 What is Cremeschnitte?
Cremeschnitte is a very popular dessert in Europe and it is translated as Cream Slices. It is much loved in Romania as well, l've loved it ever since l was a child, and we call it Cremșnit .
It's made of a puff pasty base, topped with one layer of vanilla cream, and another layer of whipped cream, then sprinkled puff pasty flakes all over.
My mum has made it countless times, but l must say that this is my very first try at making it. This desert is sheer pleasure, so creamy and sweet. There are probably many variations of this Cremeschnitte, but my version is a lot simpler. No need to make the base from scratch, puff pastry works just fine.
You can also top the dessert with another puff pastry layer, but I find that flaking it helps with the slicing, as it's a lot neater and easier to cut.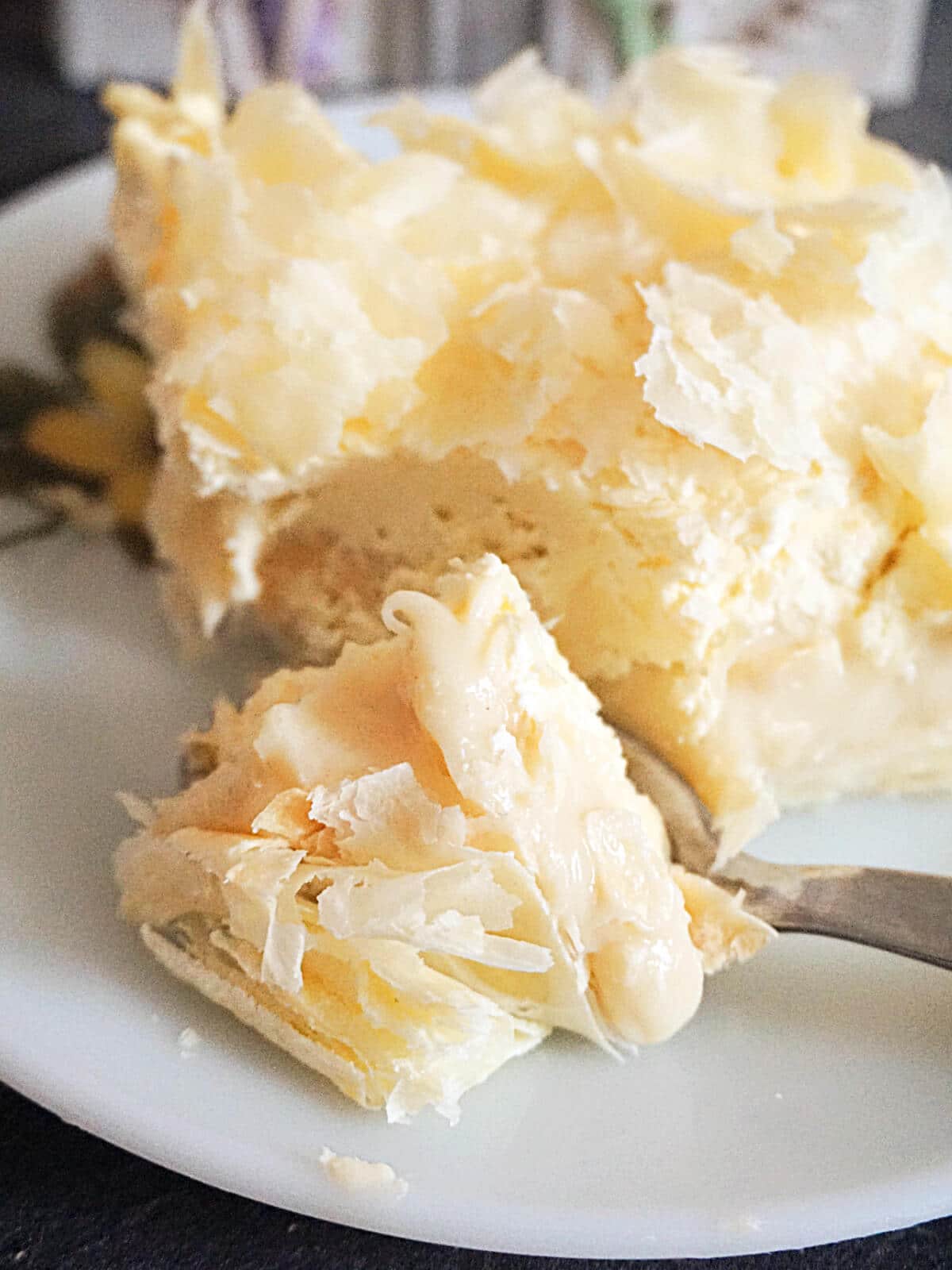 Step-by-step photos and instructions
The base is made of ready-rolled puff pastry, which is baked until golden, then once it's cooled down, it's topped with vanilla cream, whipping cream and sprinkled with puff pastry flakes. Since that is an easy job, let's get the cream ready:
pour half of the milk in a pan set over a medium heat
add the sugar and let it simmer for 2-3 minutes
the other half of the milk is mixed with the flour - whisk well to avoid lumps forming, or pass it through a sieve if it's not completely smooth
pour the flour mixture over the sugar mixture, add the egg yolks and vanilla extract, and whisk well until the cream thickens
remove from the pan and leave to cool slightly
add the butter cut into cubes, and mix well to incorporate it
leave to cool completely in the fridge
cut the puff pastry in half, spread the cream over on half, then top it with the whipped cream beaten until stiff
flake the remaining puff pastry, and scatter it all over the top
refrigerate for at least 2-3 hours to firm up well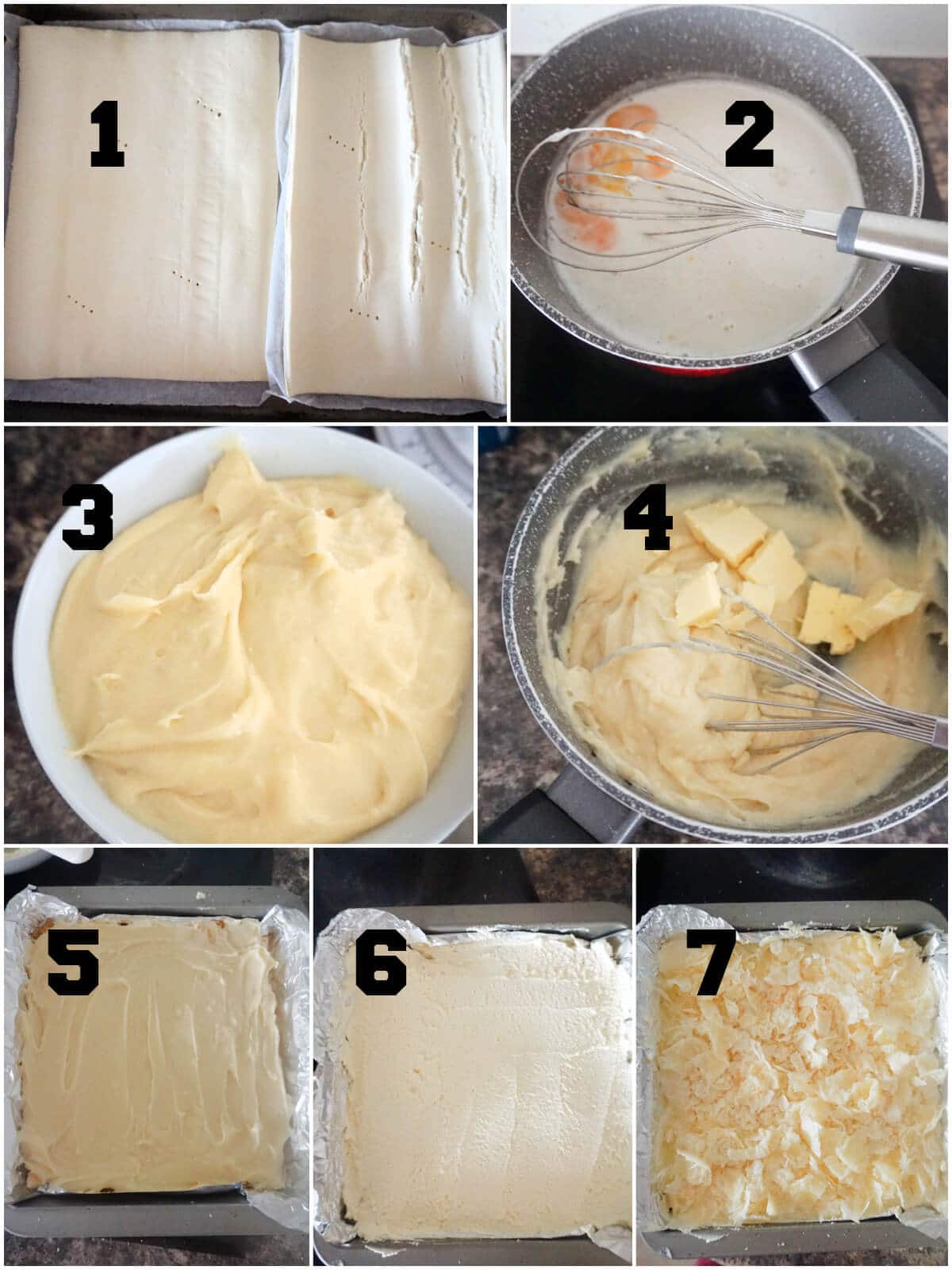 Vanilla cream for cakes
What l love about the vanilla cream is how easy it can be made. I used it before for my eclairs, without the egg yolks though. The egg yolks give a cream a pale yellow colour, as opposed to a whiter one if not used, but with or without egg yolk recipe works perfectly fine.
The plain flour can be replaced with cornflour or corn starch - one thing is crucial though for this recipe, the cream needs to be thick otherwise it will collapse when we try to slice the dessert.
It tastes amazing, it's rich, yet way healthier than those sachets of calories you buy in stores. Cremeschnitte is actually a super easy dessert, despite appearances. Do try this yumminess, it's heaven!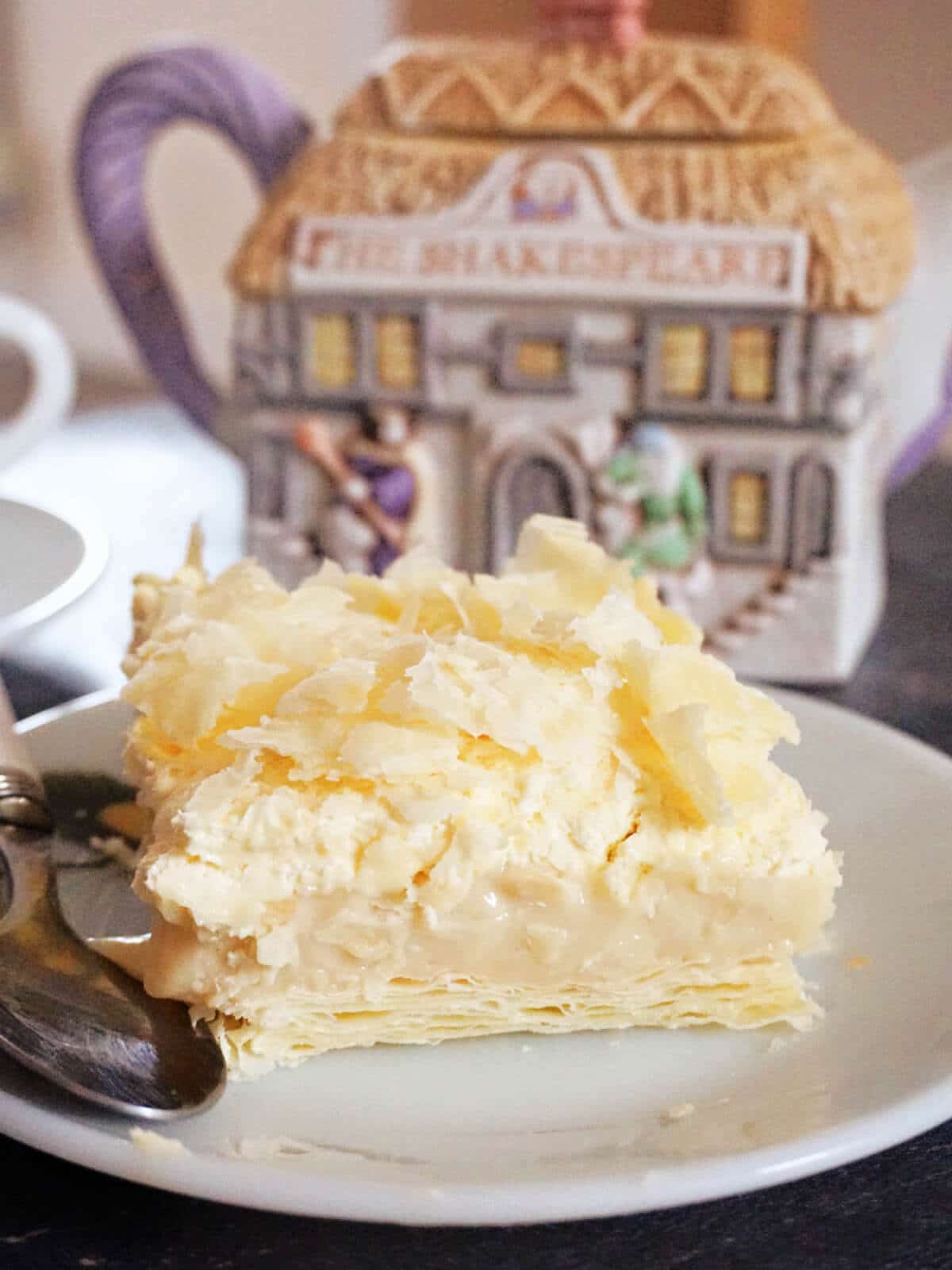 If you've tried my CREMESCHNITTE RECIPE or any other recipe on the blog then don't forget to rate the recipe and let me know how you got on in the comments below, I love hearing from you! You can also FOLLOW ME on FACEBOOK, and PINTEREST to see more delicious food and what I'm getting up to.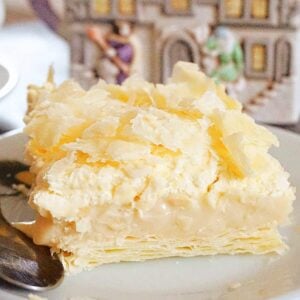 Cremeschnitte Recipe
Cremeschnitte, a fabulous dessert with a flaky puff pastry base, topped with a rich vanilla crème pâtissière and silky whipped cream and pastry flakes. Super easy to make, and so delicious! The dessert is translated cream slices, and it's just that, yummy cream sandwiched by pastry. A great dessert for every celebration!
Print
Pin
Rate
Ingredients
1

ready-rolled puff pastry

500

ml

milk

100

g

plain flour

80

g

caster sugar

3

egg yolks

50

g

butter

300

ml

whipping cream

1

teaspoon

vanilla extract
Instructions
Pour 250 ml of milk in a jug and add the flour. If you do not have flour, cornflour (corn starch) can be used instead.

Whisk until smooth, or pass through a sieve if there are any lumps formed.

Add the other 250 ml of milk to a pan together with the sugar, and simmer over a low heat for 2-3 minutes, then add the milk and flour mixture and whisk well.

Add the egg yolks and vanilla extract and continue to whisk until the cream thickens well.

Remove from the heat, leave to cool slightly, and add the butter cut into small cubes.

Mix well until the butter is fully incorporated and set aside to cool completely in the fridge.

Pour the whipping cream in a large bowl and beat it with an electric mixer until it forms stiff peaks.

Preheat the oven to 200 degrees C. (398 Fahrenheit).

Place the ready rolled puff pastry on the back of a baking tray, prick it with a fork in a few places, and pop it in the oven for about 15 minutes or until golden brown.

Remove from the oven and leave it to cool.

Cut the puff pastry in half. Place one half on a large plate and top it first with the cream, then with the whipped cream.

Crush the other half of the puff pastry and use the flakes to sprinkle over the cake.

Refrigerate for at least 4 hours, ideally overnight before slicing the cake.
Notes
To see the measurements in cups and ounces, please click on the US CUSTOMARY link.

The amount of ingredients listed can be adjusted depending on the number of servings you need, just click on the number next to SERVINGS.
Nutrition
Calories:
436
kcal
|
Carbohydrates:
35
g
|
Protein:
5
g
|
Fat:
30
g
|
Saturated Fat:
14
g
|
Cholesterol:
128
mg
|
Sodium:
147
mg
|
Potassium:
121
mg
|
Sugar:
12
g
|
Vitamin A:
805
IU
|
Vitamin C:
0.2
mg
|
Calcium:
96
mg
|
Iron:
0.9
mg
The recipe has been updated with more text and more photos.
Save