Healthy Swedish Meatballs in a rich gravy sauce, served on a bed of fusilli pasta; a complete meal for a family dinner. Satisfying, easy to put together, and really tasty.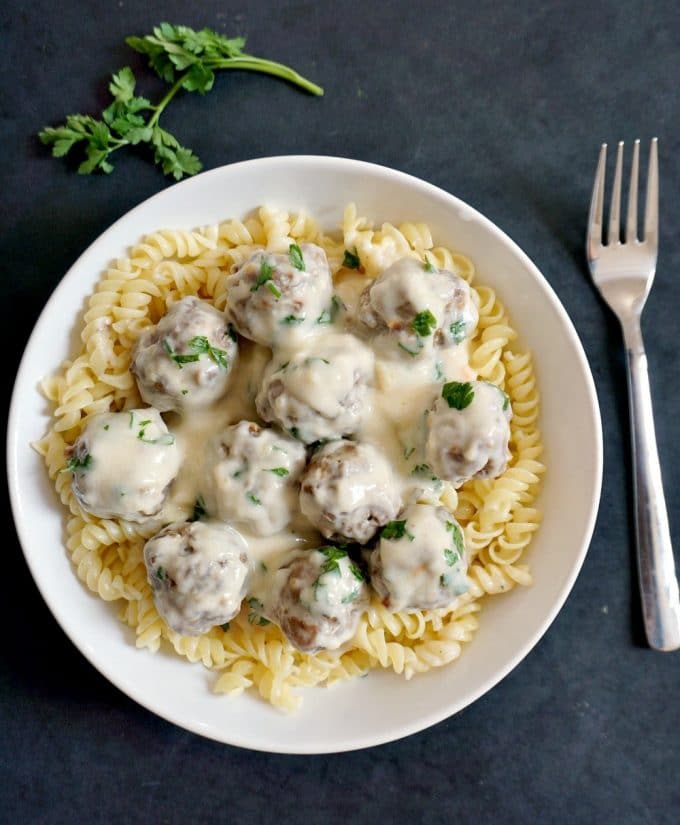 If I have a choose one dish I always go back to when l have no idea what else to prepare for dinner, this has to be pasta. With any sauce, with or without meat or other vegetables, job done, everybody's happy. It really is as simple as it sounds. And in about 99% of cases, it goes down a treat with the whole family, fussy little munchkins included.
The Italian meatballs with tomato sauce are perhaps one of the world's most popular dishes. But you'd be surprised how tasty and equally famous the Swedish meatballs are. The rich gravy sauce is, in my opinion, the star of the show. It makes the whole dish taste absolutely beautiful.
I am all for a nice gravy, I really enjoy it on a nice hearty Sunday roast or with some good old sausages and mash. The boring ketchup or tomato sauce doesn't come anywhere near a good homemade gravy.
But this Swedish gravy sauce is something else. The addition of sour cream makes it silky and flavourful. I could really have it anytime of the day. It's this very sauce that makes the Swedish meatballs different from any other meatball recipe.
Now, for my meatballs I have used only ground beef, but a combination of beef and pork is also popular, just choose whatever mince you like. I don't cook with pork as much, just because my husband is not really a great fan of it, for no obvious reasons other than fussiness, but hey ho.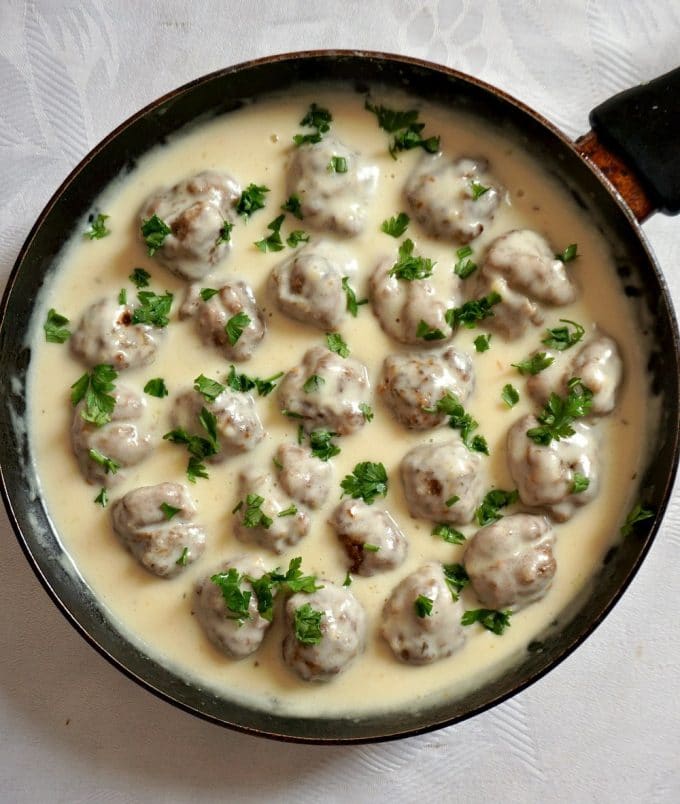 I chose to serve the Swedish meatballs with pasta, but you can go for noodles. spaghetti or even rice too, it's just a matter of whatever you have in your pantry, don't go out of your way to buy the fusilli pasta.
I happen to have fusilli because my toddler seems to be a monkey when it comes to any other pasta shape and refuses to eat. Toddlers are weird creatures, by the way!!!
Anyway, why healthy Swedish meatballs? Well, not only they have some hidden grated carrot mixed in, but they are also baked. I know that frying them in the pan reduces the cooking time considerably, but baking is a much healthier way. To avoid the meatballs drying out, using vegetable oil is a must, especially if the ground beef is lean without much fat in.
If you have plenty of leftovers after your dinner, the meatballs and sauce can safely be frozen in a tupperware to be enjoyed on a different day. They can easily be re-heated in the microwave or oven, I tend to freeze some food for emergency times when I don't have time to cook. And trust me, that happens a lot if my little ones are all over the place and I can't possibly be in the kitchen.
Talking about that, how do you people get to cook and do all the housework, and basically have a life if you have small children?Most of the days, if l don't have anything urgent to do, both girls are absolute angels, playing nicely and minding their own business.
But once l step inside the kitchen to get cooking, then hell breaks loose. Baby starts screaming, toddler whinging or destroying the rest of the house, an absolute chaos. Thank goodness for nap times, otherwise we'd only survive on junk take-aways!!!!
If you've tried this HEALTHY SWEDISH MEATBALLS or any other recipe on the blog then don't forget to rate the recipe and let me know how you got on in the comments below, I love hearing from you! You can also FOLLOW ME on FACEBOOK, and PINTEREST to see more delicious food and what I'm getting up to.
Healthy Swedish Meatballs
Healthy Swedish Meatballs in a rich gravy sauce, served on a bed of fusilli pasta; a complete meal for a family dinner. Satisfying, easy to put together, and really tasty.
Ingredients
For the meatballs
450

g

minced (ground) beef

1

small onion

1

carrot

1

slice white bread

1/2

cup

full-fat milk

1

tbsp

freshly-chopped parsley

1

tsp

ground allspice

1/2

tsp

salt & pepper

1

tbsp

vegetable oil plus cooking spray

1

large egg

1.2

cup

plain flour
For the sauce
1 1/2

cup

beef stock (broth)

3

tbsp

sour cream

a pinch of black pepper

parsley to garnish

1

knob of butter

1

tbsp

flour
Instructions
To make the meatballs, peel and grate the onion and carrot and add them to a large bowl together with the beef and egg.

Cut the slice of bread into cubes, and soak in milk. Squeeze out the excess milk and add the bread to the other ingredients.

Season with salt, pepper, add the allspice, parsley and vegetable oil and mix well to combine.

Shape out meatballs, depending on their size you should get more or less 24 meatballs.

Cover them with flour, shaking any excess off them, arrange on a baking tray, spray deliberately with cooking oil, and bake in the pre-heated oven at 180 degrees Celsius (360 Fahrenheit) for 30 minutes.

In a pan, add the butter and allow it to melt. Whisk in the flour and stir for 30 seconds, then add the beef stock and continue to stir until it thickens slightly.

Mix in the sour cream and the black pepper, and stir for about 2-3 minutes.

Add the meatballs and stir for a further 2 minutes.

Remove from the heat and garnish with fresh parsley. Serve immediately with pasta.
Recipe Notes
To see the measurements in cups and ounces, please click on the US CUSTOMARY link.
The amount of ingredients listed can be adjusted depending on the number of servings you need, just click on the number next to SERVINGS.
Nutrition Facts
Healthy Swedish Meatballs
Amount Per Serving
Calories 548
Calories from Fat 270
% Daily Value*
Total Fat 30g 46%
Cholesterol 128mg 43%
Sodium 623mg 26%
Potassium 667mg 19%
Total Carbohydrates 38g 13%
Protein 28g 56%
* Percent Daily Values are based on a 2000 calorie diet.