Spinach Roll Ups with Ham and Cream Cheese, an easy and incredibly tasty appetizer for your Christmas or New Year's Eve Party, or any other party or gathering. Finger food at its best!
It's that time of the year when we need to come up with a list of fancy appetizers to impress all our guests. There is Christmas, New Year's Eve Party, then lots of other smaller parties too. We can't possibly serve just some boring sandwiches. And then, first impression does count. Always!
These spianch rolls up not only look great, but also taste great. The spianch sponge is a fantastic alternative to the tortilla wraps, and it surely looks posh enough to grab anyone's attention. You won't believe how ridiculously easy to make this is, and it only needs about 10 minutes in the oven.
If you have people complaing about how fattening party foods usually are, this appetizer will cheer them up. It's tons healthier and lighter than any store-bought wraps and rolls you could buy. Even spianch haters will be likely to give them a try and ask for more.
And you know what is great about these spianch roll ups? They can be enjoyed throughout the year, there is no seasonal ingredients needed, so you know any party will be a smashing success, no matter when you throw it.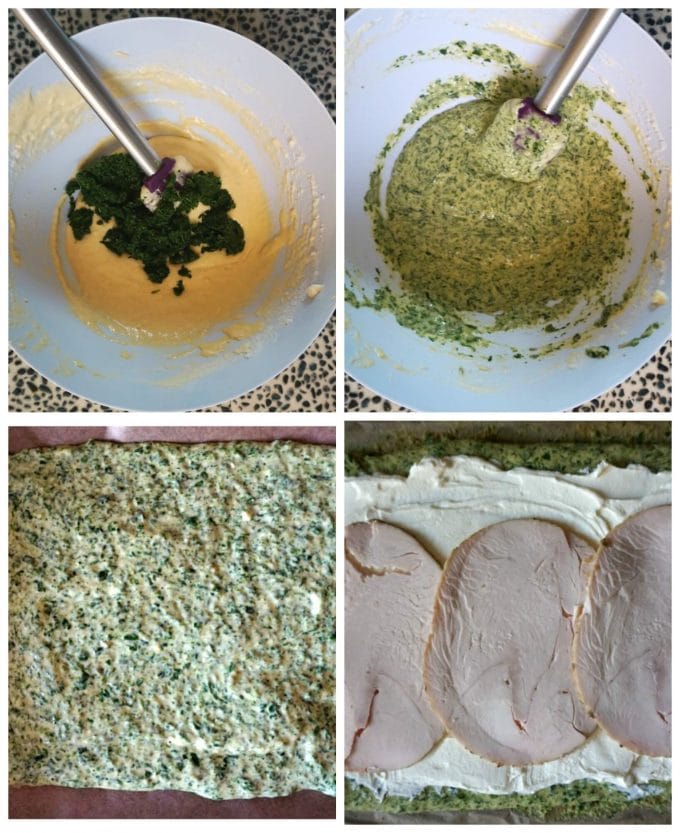 How to make the spinach sponge
Nothing simpler! Even a beginner will be able to get a perfectly fluffy and light sponge. It's basically a savoury version of the classic  Homemade Chocolate Swiss Cake Rolls. So, no sugar, vanilla extract and any other sugary stuff in it. You can easily get it ready in 5 minutes or so.
You do need to beat the egg whites until they form soft peaks, that will ensure a fluffy sponge. Also, don't skip the baking powder and vegetable oil, they also play their part in making a lovely sponge.
Even if you use a baking paper for the tray, I would still grease and flour it a bit, just ot make sure the sponge does not stick to it while it bakes. You will have headache if it breaks, rolling will be a complete desaster.
Also, once it is out of the oven, roll it straight away, then leave it to cool before adding the cream cheese and ham. If you let it cool first before rolling, it might break again. Roll it pretty tightly, so that it you can get nice roll ups when you slice it.
Once it's rolled, cover it with kitchen foil and refrigerate for at least 3-4 hours before cutting it. I would defintiely make it the night before the party, better have it nice and coll, and sliced nicely, than rush on the day.
You can also add some feta cheese to the cream cheese, or even goat's cheese, but I found that just cream cheese and its own is delicious enough, so I didn't add anything else. The ham can be replaced with thinly sliced chicken, turkey, smoked salmon or any vegetarian or vegan ham.
Fresh vs. frozen spinach
If you have fresh spinach, by all means, feel free to use it. But I find that the frozen one is absolutely amazing. It is already chopped, so you can just throw it in water and bring to a boil to thaw it quickly.
Do make sure you squeeze out any excess water and let it to cool before adding it to the batter. I used about 2/3 of a cup (thawed and squeezed), but if you want a brighter and denser green colour, you can use oen cup or one and a half.
And there you have it, some fingerlicious spinach rolls ups to get any party started. Grab some now, they won't last long!
If you've liked my SPINACH ROLL UPS WITH HAM AND CREAM CHEESE or any other recipe on the blog then don't forget to rate the recipe and let me know how you got on in the comments below, I love hearing from you! You can also FOLLOW ME on FACEBOOK, and PINTEREST to see more delicious food and what I'm getting up to.
Spinach Roll Ups with Ham and Cream Cheese
Spinach Roll Ups with Ham and Cream Cheese, an easy and delicious appetizer for the New Year's Eve Party, Christmas or any other party or gathering. Grab some now, they won't last long.
Ingredients
4

eggs

4

(heaped) tbsp

plain flour

1/2

tsp

baking powder

3

tbsp

vegetable oil

2/3

cup

frozen spinach (thawed and water squeezed)

a pinch of salt

3

ham slices

400

g

cream cheese
Instructions
To make the sponge, separate the egg whites from the egg yolks.

Beat the egg whites with a pinch of salt until they form stiff peaks.

Add the eggs, flour,baking poweder and mix well, then add the oil and spinach and mix again.

Pre-heat the oven to 180 degrees Celsius (356 Fahrenheit).

Line a baking tray with non-stick baking paper, and lightly grease and flour it.

Spread the batter over, and bake it in the oven for 10 minutes.

Remove from the oven, and gently roll it,then wrap into a clean kitchen towel, and leave to cool completely.

Unroll it, spread the cream cheese over, and arrange the ham slices, then roll it tightly from the bottom up.

Wrap the roll in kitchen foil and refrigerate for at least 3-4 hours before slicing.
Recipe Notes
Click on the US Customary link to see the measurements displayed in cups and ounces.

The servings can be adjusted by clicking the number next to Servings.
Nutrition Facts
Spinach Roll Ups with Ham and Cream Cheese
Amount Per Serving
Calories 185
Calories from Fat 153
% Daily Value*
Total Fat 17g 26%
Cholesterol 95mg 32%
Sodium 217mg 9%
Potassium 137mg 4%
Total Carbohydrates 2g 1%
Protein 5g 10%
* Percent Daily Values are based on a 2000 calorie diet.