Red White and Blue Popsicles, the ultimate summer treat. Juicy strawberries, creamy mascarpone, banana and coconut cream, and blueberries. With no refined sugar added, these popsicles are suitable for the whole family, from little to big ones.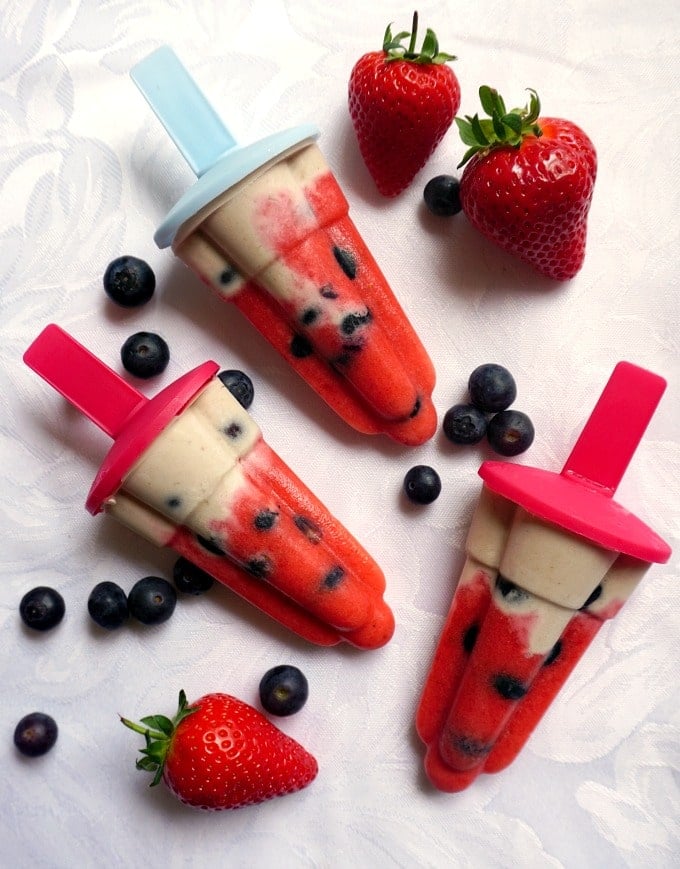 The UK experiences 20+ degrees Celsius (about 79 Fahrenheit), we are already talking about hot days. I know, at this temperature, you can hardly talk about a decently warm day,  but trust me, over here it is hot!!!
In summer, temperatures rarely go past 20 degrees Celsius, so to have anything beyond 25 is already too much. It's like everything starts melting and things start going wrong causing miserie.
You really don't want to commute on such days. Not that it lasts, it's probably a heat wave coming from nowhere and going away in a few days, then back to cool days. So, less moaning, and more enjoying the weather!!!
And what works better on such day than a cold bottle of water and a nice popsicle (ice lolly)? Any fruit can be turned into a frozen treat, and if you want to take things further, add some mascarpone and coconut cream and you get the best treat, and that guilt free.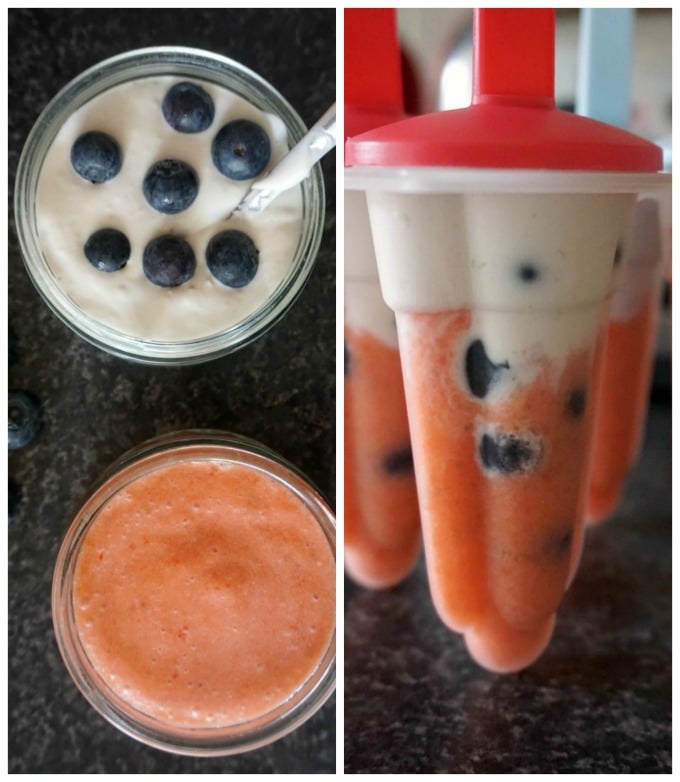 As you know, l love strawberries, they are my absolute favourite fruit and summer without them is not the same. And blueberries and yum too, and are an amazingly healthy snack. Or add them to any dessert, and you are in for a treat.
These red white and  blue popsicles are just what you need for your 4th of July celebrations if you live in the US.  A great thing about fresh fruit is that they are naturally sweet, so less sugar, if any, is needed. Local markets are the place to go for these beauties, they will be fresh and fully ripen, as opposed to a supermarket where they might not be as tasty.
SO DO USE JUICY AND FULLY RIPEN FRUIT for these popsicles, you will get to taste the real deal, and there will be no need whatsoever for added sugar. But, if you really think they are just not sweet enough, you can add some honey or maple syrup.
If you make them for little ones though, I really wouldn't add anything sweet, they really don't need any. Having the frozen thing does the trick with my older daughter, she has such a sweet tooth (just like mummy), but when she eats these popsicles, she never complains about them not being sweeter.
And the creaminess of the mascarpone and coconut cream adds that extra flavour to make it tastes more like a proper ice cream. You can make a third layer of blended blueberries, or you can just add them whole, that's entirely up to you.
How to remove the popsicle from the popsicle mould
If you want a different, but equally delicious flavour, how about my 3-Ingredient Mango Lassi Popsicles? They are just devine, and go as well as these red white and blue popsicles.
But, the main question is, regardless what flavour you choose, how do you get the frozen popsicle out of the mould? Simple, just dip it in hot water for a few seconds, and ta-daah, some crazy magic happens, the popsicle comes out in no time. Now, just enjoy these beauties and relax, summer's here to stay, hopefully.
If you've tried my RED WHITE AND BLUE POPSCILES or any other recipe on the blog then don't forget to rate the recipe and let me know how you got on in the comments below, I love hearing from you! You can also FOLLOW ME on FACEBOOK, and PINTEREST to see more delicious food and what I'm getting up to.
Red White and Blue Popsicles
Red White and Blue Popsicles with strawberries, creamy mascarpone, banana and coconut and blueberries, a delicious and refreshing summer treat with no refined sugar added.
Keyword:
4th of july treats
Ingredients
1

cup

fresh strawberries

1

cup

fresh blueberries

250

g

mascarpone cheese

120

g

coconut cream

1

banana
Instructions
Add the strawberries to a blender together with one tablespoon of coconut cream.


Blitz until smooth, then remove from the blender and transfer to a bowl.


Clean the blender, and add the mascarpone and the remaining cocout cream together with the banana, and blitz again until smooth.


Divide the strawberry mixture between the popsicle moulds, add a few bluberries to each mould, then top with the cream mixture.

Freeze for at least 2 hours. To remove the popsicle from the mould, simply dip it into hot water for 2-3 seconds, it should then come off easily.

Recipe Notes
The servings can be adjusted by clicking the number next to Servings.

Add honey or maple syrup if you like the popsicles sweeter
Nutrition Facts
Red White and Blue Popsicles
Amount Per Serving
Calories 292
Calories from Fat 225
% Daily Value*
Total Fat 25g 38%
Cholesterol 41mg 14%
Sodium 24mg 1%
Potassium 191mg 5%
Total Carbohydrates 12g 4%
Protein 4g 8%
* Percent Daily Values are based on a 2000 calorie diet.
Save
Save
Save