No-Bake Mini Sweet Potato Cheesecakes with cream cheese, and the very best spice of the Fall: cinnamon. Delightfully light and indulgent, these pretty little pots of yumminess will be the star of your Thanksgiving dinner. Or just make every day special by having a special dessert that is so embarrassingly easy to make.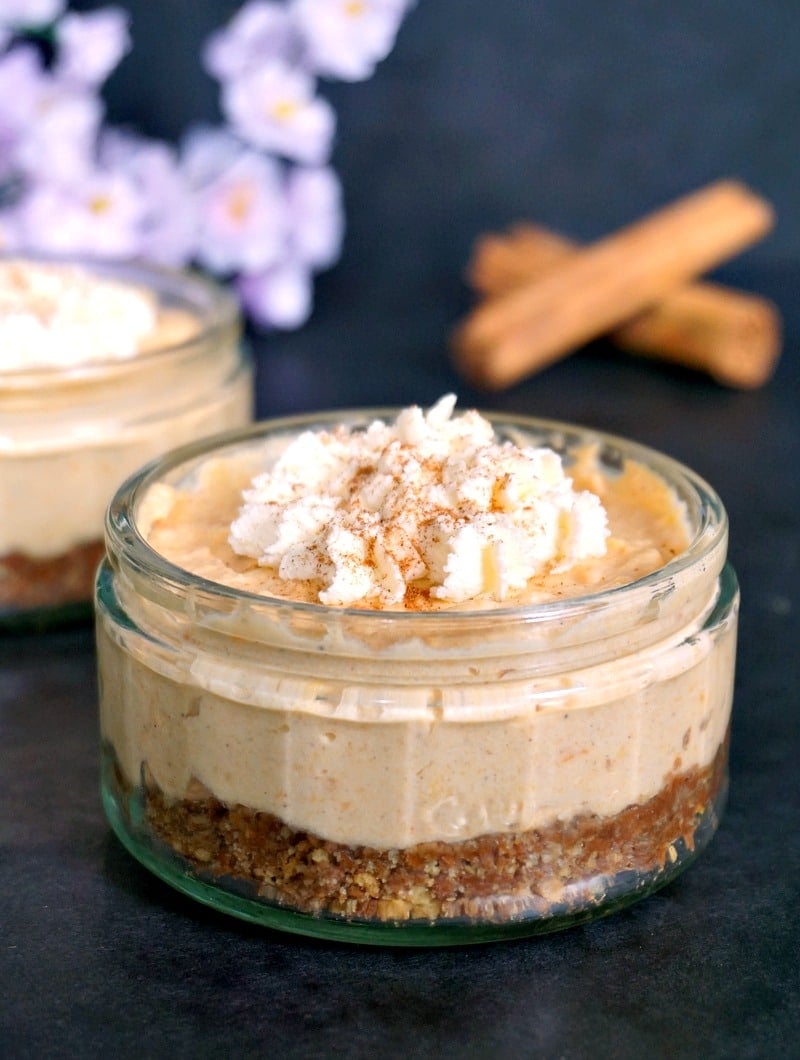 It's not quite a new thing to use veggies in desserts. I have baked before a very yummy Carrot Cake, and I've baked Zucchini Muffins, and my Avocado Chocolate Mousse is an absolute delight.
And since pumpkin is the very king of the Autumn baking, it was only fair that sweet potatoes were used in baking too. I did actually use them previously in my Pumpkin and Sweet Potato squares, but did not think they would work so well in a cheesecake too. Well, they so do!!!
I find that the sweet potatoes are the very best substitute for pumpkin in most recipes. And, unlike pumpkin, sweet potatoes are available all year round. Hooray to that! Although, of course, when it comes to Halloween and carving pumpkins, then, yes, sweet potatoes can't be used. But, other than that, go ahead and tweak any recipe, and you'd be surprised how well they work.
Cinnamon in sweet potato cheesecake
I don't know if it's just me, but I could easily use cinnamon in everything. From desserts, to drinks, to main dishes, snacks, anything that's edible. It just tastes so divine, that is hard to resist it.
And healthy too, by the look of things, as it has been used since ancient ages for its medicial value. Apparently it can also help with weight loss. But that's not to say you can eat desserts containing cinnamon all day long, as I doubt you'd get the results you are after.
Anyway, this powerful spice really is the very best thing you can get. And there is no wonder why it's the favourite spice in so many dishes. This cheesecake, for example, would be so boring without it. And it makes a fine pair with the sweet potatoes, they certainly are made for each other. Love is everywhere, isn't it?
desserts with Sweet potatoes
You may have noticed I don't post as many desserts lately as I used to do. I have been trying to be good and eat less sugary stuff, but it's not easy, I let you know. My salvation comes from the fact that I cook for my toddlers too, and for them I always go for the healthier options anyway.
Sweet potatoes are an excellent addition to a dessert, given their naturally sweet taste. Plus, they bring moisture and a smooth texture.
Now, like any cheesecake, these mini yummy things are really easy to make. All they require is a bit of beating, a bit of mixing, and that's pretty much really. So, let's roll up our sleeves and proceed!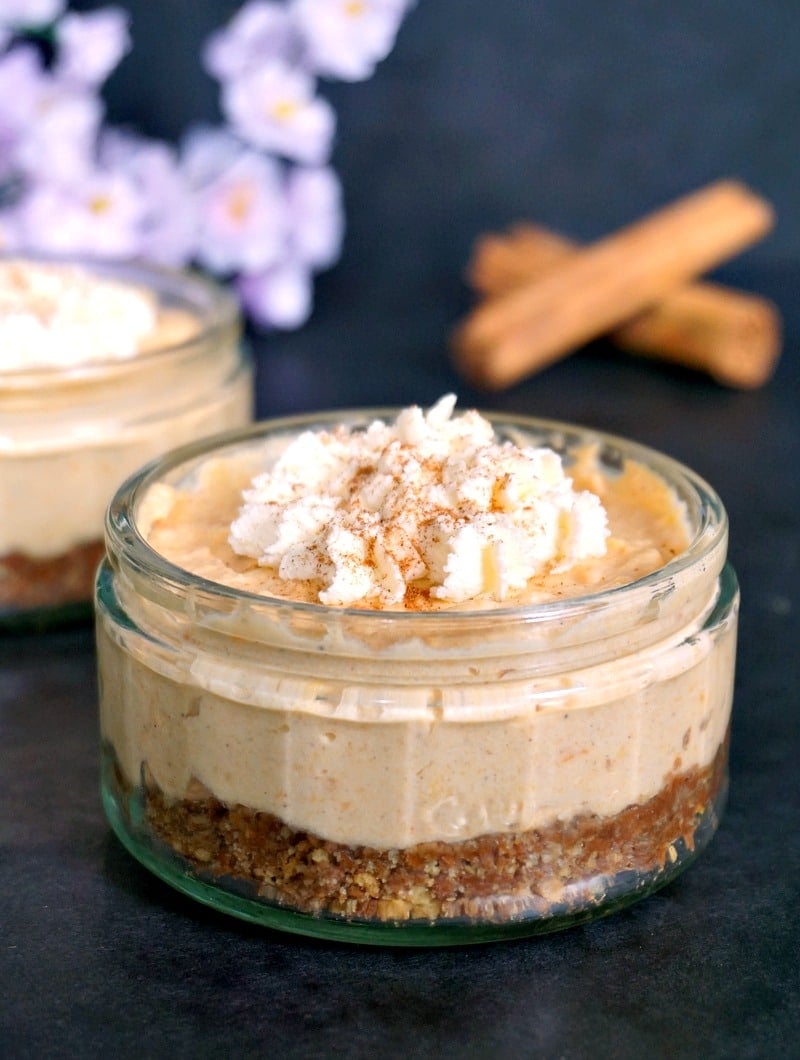 If you've liked my NO-BAKE SWEET POTATO CHEESECAKES or any other recipe on the blog then don't forget to rate the recipe and let me know how you got on in the comments below, I love hearing from you! You can also FOLLOW ME on FACEBOOK, and PINTEREST to see more delicious food and what I'm getting up to.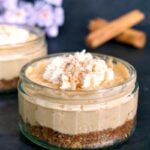 No-Bake Mini Sweet Potato Cheesecakes
No-bake mini sweet potato cheesecakes with cream cheese and lots of cinnamon, an indulgent dessert, perfect for Fall. Super easy to make, and so delicious, these cheesecakes are the very best treat for your Thanksgiving dinner!

Keyword:
desserts with sweet potatoes
Ingredients
300

ml

thick double cream/heavy cream

150

g

full-fat cream cheese

1

cooked medium sweet potato

(baked or boiled)

6

digestive biscuits/Graham crackers

150

g

milk chocolate chips

1

tbsp

ground cinnamon

1

tbp

vanilla sugar

1/2

tsp

vanilla extract
Instructions
Place the biscuits in a plastic bag and use a rolling pin to bash them into fine crumbs. Alternatively, throw them into a food processor and blitz to crumbs.


Add the chocolate chips to a heat-proof bowl melt over a pan of simmering water. Mix the melted chocolate with the biscuits.


Divide the mixture between 4 pots or rameskins, use a spoon to gently press the mixture down, and refrigerate.


Place the cream cheese and thick double cream into a large bowl and use a hand mixer to beat everything well until it forms stiff peaks.


Reserve a quarter of the mixture for decorating.


Peel and mash the sweet potato, then add it to the cream together with the cinnamon, vanilla sugar and vanilla extract.

Divide the cream cheese between the 4 rameskins and refrigerate for at least 2-3 hours.

Place the remaining cream into a piping bag and decorate each mini cheesecake.

Sprinkle some more cinnamon on top.
Recipe Notes
To see the measurements in cups and ounces, please click on the US CUSTOMARY link.

The amount of ingredients listed can be adjusted depending on the number of servings you need, just click on the number next to SERVINGS.
Nutrition Facts
No-Bake Mini Sweet Potato Cheesecakes
Amount Per Serving
Calories 712
Calories from Fat 459
% Daily Value*
Fat 51g78%
Cholesterol 149mg50%
Sodium 330mg14%
Potassium 254mg7%
Carbohydrates 57g19%
Protein 7g14%
Vitamin A 6300IU126%
Vitamin C 1.5mg2%
Calcium 175mg18%
Iron 1.8mg10%
* Percent Daily Values are based on a 2000 calorie diet.
Save
Save
Save
Save
Save