Healthy no-bake chocolate oat bars with peanut butter and apple sauce, a quick and guilt-free snack to boost your energy whenever your sweet tooth craves some sugar. Vegan and gluten free, only 4 ingredients is all it takes, and l promise you these cereal bars are way better than any store-bought so-called healthy cereal bars. No need to turn the oven on either, they are ready in no time.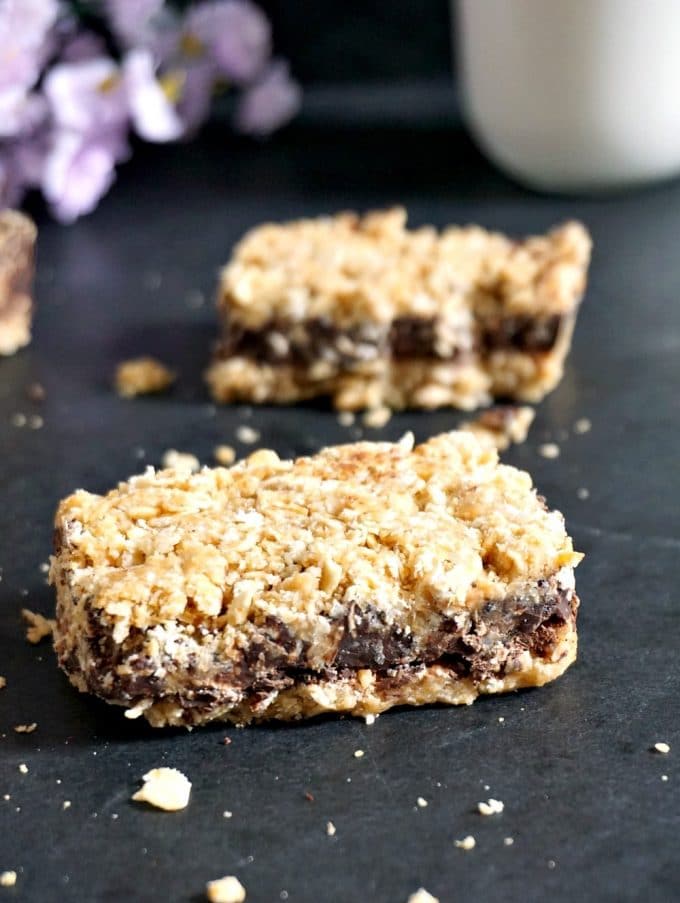 After making the Rice krispies peanut butter balls, l knew that peanut butter and oats make a fine pair together, so l tried another delicious snack using these 2 amazing ingredients. I don't know why before l was under the impression that oats won't soften well unless they are baked. Not only they soften nicely, but they also work so well in no-bake snacks.
I first tried this recipe with honey, rather than apple sauce, but l wasn't quite happy with the result. I though honey and peanut butter didn't really get on well taste wise. There was something else l was after. And then l tried the apple sauce, and the taste was exactly what l wanted. A tiny little bit of sharpness to give the bars a good healthy kick.
Wait, l know what some may say, since when  is chocolate healthy? Well, dark chocolate is healthy. The good quality one with no nasty ingredient has been proven to have countless health benefits.
It's good for the heart, it's rich in antioxidants, it reduces the risk  of stroke, cholesterol,and it's good for the brain, no name just a few. The cocoa percentage has to be at least 60 per cent, and obviously, the higher, the better.
Some people don't enjoy the bitter taste, and prefer the sweetness of the milk chocolate, but l thik l don't mind the dark one. However, if you really don't like dark chocolate, feel free to use milk chocolate in this recipe. Again, a good-quality one is better, to keep the bars on the healthier side.
Are these bars good for breakfast? Absolutely, get yourself a cup of tea, coffee or a nice glass of milk, and enjoy. They really work wonders, getting you ready for the long day ahead. Speaking of long days, mine are ridiculously long, little ones always make sure of that. Bring me all the energy bars, l so need them!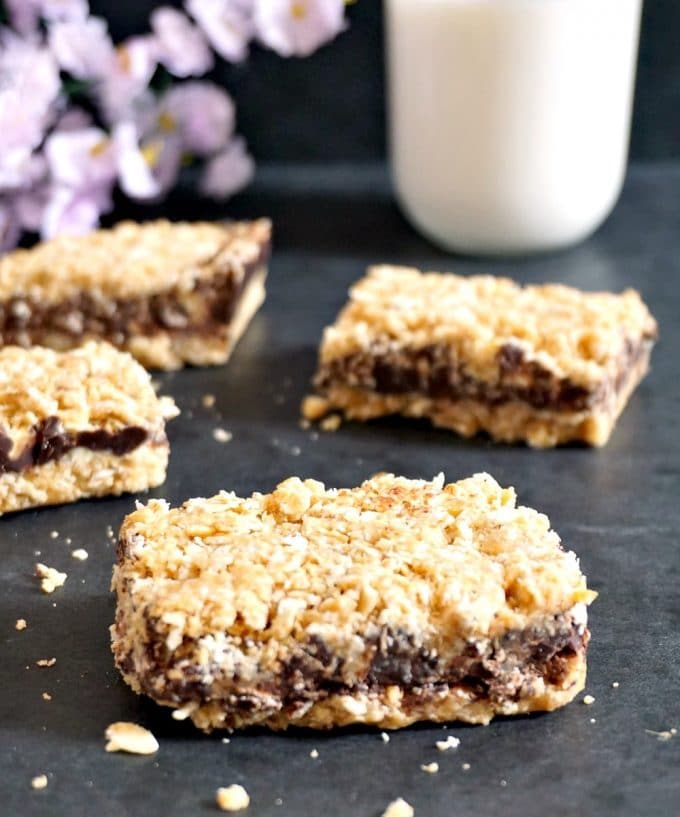 Apart from the nice taste, the dark chocolate keeps the bars well together. The oat mixture can be a tad crumbly, since there is no butter at all. Once the chocolate cools down and hardens, the bars can be cut perfectly well.
Just in case you feel it's a bit difficut to cut them, a good trick is to run a sharp knife under hot water for a few seconds. This trick works with any dessert that has a layer of melted chocolate.
As far as the tray is concerned, use either a square or rectangle one, a non-stick tray is ideal. Mine is a 20X20cm, but if it's smaller or larger, it doesn't matter much. You can also line it with non-stick baking paper if you want to remove the bars quickly, although l think it's better to cut the bars while they are in the tray.
The easiest part is eating them, of course 🙂 I managed to cut 6 bars out of the ingredients used, so use more if needed. The keep well in an air-tight container, and can be made the night before. And that's it, a healthy home-made snack that is so delicious.
If you've liked my HEALTHY NO-BAKE CHOCOLATE OAT BARS or any other recipe on the blog then don't forget to rate the recipe and let me know how you got on in the comments below, I love hearing from you! You can also FOLLOW ME on FACEBOOK, and PINTEREST to see more delicious food and what I'm getting up to.
Healthy No-Bake Chocolate Oat Bars
Healthy no-bake chocolate oat bars with peanut butter and apple sauce, a quick and guilt-free snack to boost your energy whenever your sweet tooth craves some sugar.
Ingredients
2

cups

jumbo rolled oats

5

tbsp

smooth peanut butter

3

tbsp

apple sauce

180

g

dark chocolate
Instructions
In a bowl, combine the oats with the peanut butter and apple sauce.


`Line half of the mixture onto a 20x20cm (7x7 inches) tray, and press it down with the back of a spoon.


Break the chocolate into pieces, transfer to a heat-proof bowl, and place over a pan of simmering water to melt.


Remove from the heat, pour the chocoate over the oat mixture, and top with the other half of the mixture.


Leave to cool for at least 2-3 hours, so that the chocolate can harden.


Use a sharp knife to cut 6 bars.

Recipe Notes
Click on the US Customary link to see the measurements displayed in cups and ounces.

The servings can be adjusted by clicking the number next to Servings.
Nutrition Facts
Healthy No-Bake Chocolate Oat Bars
Amount Per Serving
Calories 362
Calories from Fat 171
% Daily Value*
Total Fat 19g 29%
Sodium 88mg 4%
Potassium 412mg 12%
Total Carbohydrates 38g 13%
Protein 9g 18%
* Percent Daily Values are based on a 2000 calorie diet.
Save
Save
Save