Delicious 30 minute healthy meals, a collection of recipes that are quick and easy to make. They cater for all tastes and life styles, and are worth a try.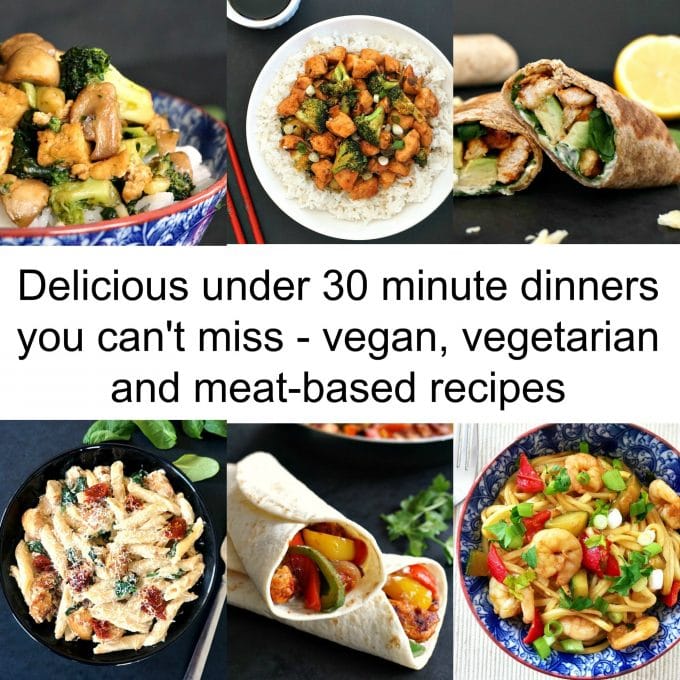 It may not sound achievable, but trust me, it is. I know how hectic evenings can be, as a mum of a 21 month old girl and a 9 week old baby girl, having spare time is a story of the past.
I simply cannot afford to spend too long in the kitchen, although l would love too, so l have to be practical and wise about cooking quick and nutritious food. So a 30 minute quick healthy dinner is a must in my house.
Whether you are vegan, vegetarian, or a hard core meat fan, there is plenty to choose from. My recipes are easy, and you really do not need to be an experienced cook in order to get these dishes on the table. Just follow the instructions and enjoy, they really are yummy!
Meat-based 30 minute healthy meals
Chicken alfredo pasta with sun-dried tomatoes and spinach – perfect for a quick midweek meal, it doesn't just fill hungry tummies, but it also pampers your taste buds. Rich and  creamy alfredo sauce, tender garlicky chicken and nutritious sun-dried tomatoes and spinach; this it dinner taken to the very next level.
Chicken and broccoli stir fry with rice  – the perfect choice if time is short, but you don't want to compromise on taste. Healthy, easy to make, and delicious, what a winner!
Chicken tikka masala, the easy way – a delicious curry recipe that is super easy to make, yet aromatic and so comforting. Who needs to spend money on a take-away when you can make it at home?
Classic spaghetti carbonara recipe – if you like pasta, you will love this classic Italian dish. No cream, no complicated sauces, just the real deal. Just one portion won't be enough, that's for sure.
Garlic prawn spaghetti with spinach – ideal for a midweek dinner when time is ever so precious. Flavourful, filling, and so garlicky. If you like prawns, this is a recipe for you.
Mexican chicken fajitas – make a lovely light super healthy supper that is ready in no time. Forget about diet books or expensive meals, eating the right food to keep yourself happy has never been easier. Mexican food is so popular all over the world, and this dish must be one of the favourite.
Spicy prawn noodles – with courgettes and red peppers, a delicious Asian dish bursting with the most amazing flavours. This recipe is ready in well under 30 minutes.
Sweet and sour chicken with vegetables – a tasty dish ready in about 15 minutes. So much better and a lot healthier than any take away. Serve it with rice or noodles for a truly Asian feast.
Grilled chicken, avocado and spinach wholemeal wrap – makes a super healthy and delicious meal, especially when time is short and preparing a big meal is not an option. Also a great choice when you are on the go; save yourself a few good pounds you would otherwise spend on a not-that-great bought sandwich, this wrap is sheer goodness.
Vegetarian and vegan 30 minute healthy meals
Butternut squash and sweet potato stew – Warm, comforting and filling, vegetarian and vegan friendly. Such a great recipe that costs so little, yet you get so much goodness.
Mushroom pepper stir fry with rice – my favourite recipe when l want something nutritious and delicious without spending too much time in the kitchen. A great under 30 minute dinner idea. Vegetarian and vegan friendly.
No meat bolognese sauce with bulgur wheat – Served with bulgur wheat, rice, pasta or quinoa, this sauce is a great alternative to the classic beef bolognese.
One-pan pesto quorn meat free pieces with veggies – a light vegetarian meal for everyone to enjoy. It might not have meat in it, but it certainly is filling and flavourful; the pesto works so well with the quorn, while the asparagus, tomatoes and peppers bring a nice colour and crunch. The dish can be made vegan by replacing the regular pesto, which usually has parmesan in it, with a dairy-free version.
Pea stew with quorn sausages –  Healthy, flavourful and easy to make, stews are a great way of using up vegetables, as anything can go in. My pea stew with quorn sausages makes a light, yet tasty meal that can be enjoyed with family and friends.
Tofu, broccoli and mushroom stir fry with basmati rice – a delicious under 30-minute dinner that is vegan and gluten free. Satisfying, packed with all the nature's goodness and super easy to make, this is perfect if you want a meat-free meal that is light, nutritious and delicious.
Vegan leek and black olive stew – a recipe that is very loved in Romania, and that is so flavourful and surprisingly filling.
Save
Save