18 October, 2016
Pumpkin and sweet potato pies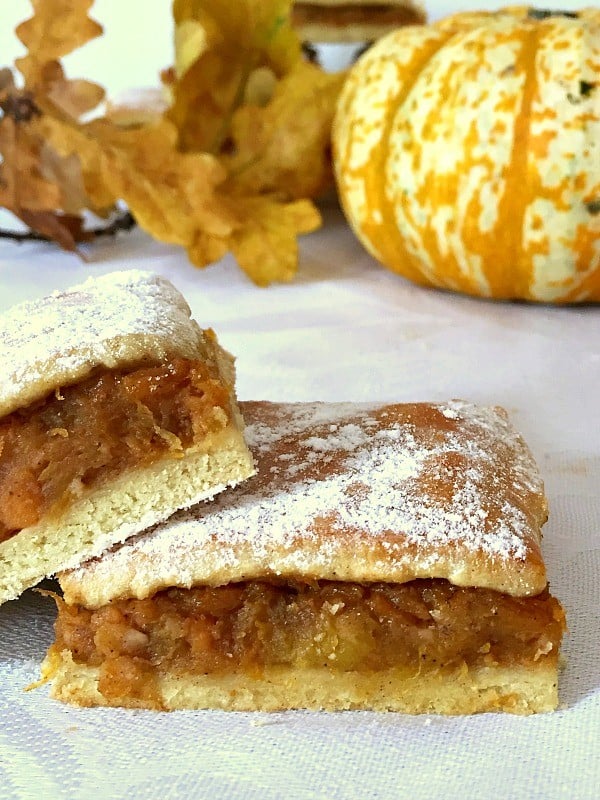 Comments : 2 Posted in :
Desserts
,
Fall recipes
on
by :
Daniela Anderson
Tags:
autumn desserts
,
fall dessert
,
fall recipes
,
how to make pumpkin pie
,
pies
,
Pumpkin and sweet potato pies
,
pumpkin pie
,
pumpkin recipes
,
sweet potato pie
Pumpkin and sweet potato pies, Autumn's finest and most beloved dessert. This is one recipe you gotta try!
It's pumpkin season, whoo- hoo! Grab one nice pumpkin before it ends up being carved for Halloween, they are not around for too long, unfortunately. In the UK, at least, you can only find pumpkins in supermarkets in October, Halloween over, and they are all gone. Shame tough, there are so many yummy recipes you can make. And, unlike in the USA, you won't find canned pumpkin anywhere. I know, how bad is that! I do try to make the most of it once l find some nice pumpinks, not all are sweet and best for cooking. Otherwise, l guess the next best thing are sweet potatoes, which can be easily found all year around and they taste pretty similar, don't you think so?
My version of pumpkin and sweet potato pies are a bit different from what people might picture when thinking of a pie. Let's say these are the Romanian-style pies. Oh, but they are so delicious. If you live in the countryside, happy you! Lots of pumpkins everywhere, and most people will bake these pretty yummy little things. And, if you like cinnamon too, then you hit the jackpot, this recipe is just fabulous. You can use canned pumpkin if you have, otherwise you can bake one like l did. So, shall we get started?  Oh, yes! 🎃
Pumpkin and sweet potato pies
Ingredients:
For the filling:
1 medium pumpkin (or 3 cups pumpkin purée )
3 large sweet potatoes (2 cups sweet potato purée)
2 tbsp caster sugar
1 tbsp ground cinnamon
1/4 tsp vanilla extract
For the crust:
400 g plain flour
7 tbsp full-fat milk
4 tbsp caster sugar
7 tbsp vegetable oil or melted butter
2 eggs
1/2 tsp vanilla extract
1tsp bicarbonate of soda
a pinch of salt
1 tsp semolina
Method:
For the filling, cut the pumpkin in half, scoop out the seeds, then arrange it on a roasting tray together with the sweet potatoes in their skin.
Bake at 220 degrees C until tender.
Peel the sweet potatoes and scoop out the flesh from the pumpkin, add them to a bowl,  then use a fork to mash them well.
Mix in the sugar, cinnamon and vanilla extract and allow to cool completely.
To make the crust, add the milk, sugar and oil to a pan and bring it to a boil.
Remove from the heat, and allow it to cool.
Once it has cooled down, beat one egg in and add the vanilla extract too.
In a large bowl, mix the flour, bicarbonate of soda and salt, then make a well in the middle and add the wet ingredients.
Use your hands to work the dough until soft and no longer sticky.
Shape it into 2 balls, then roll the first one so that it can cover the bottom of a baking pan that had been oiled and floured ( I used a large rectangle baking tray).
Sprinkle one teaspoon of semolina over the bottom dough sheet, then spread the filling evenly, sprinkle one more teaspoon of semolina over it, and top it with the second dough sheet. Semolina is perfect if you want to avoid soggy bottoms when you bake a crust.
Beat the egg and brush it over the pie.
Bake in the preheated oven at 180 degrees until golden, depending on your oven it might take about 20-30 minutes, but do check the oven regularly.
Allow it to cool and sprinkle powdered sugar over it.
Enjoy! 🙂
Save
2s COMMENTS